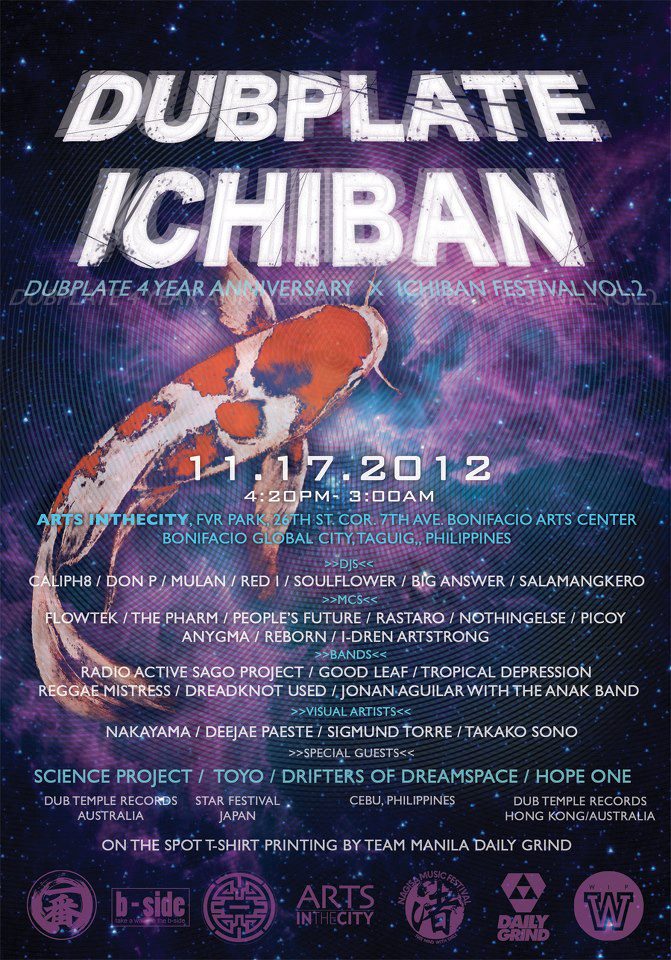 Happy 4th Birthday DUBPLATE!
3 International Guests (AUS/HK/JAPAN) + 6 Live Bands + 8 DJs/ Live Sets + 8 MCs + 4 Visual Artists all in 1 day/night event happening on November 17 at Arts In The City.
DJs
Big Answer Sound
Caliph8
Don P
Mulan
Red-I
Souflower
Salamangkero
SPECIAL GUESTS
Drifters Of Dreamspace (Cebu, PH)
Science Project (Dub Temple Records, AUS)
Hope One (Dub Temple Records, HK/AUS)
Toyo (Star Festival, JPN)
BANDS
Radio Active Sago Project
Good Leaf
Dreadknot Used
Reggae Mistress
Tropical Depression
Jonan Aguilar and Anak Band
MCs
Rastaro
Flowtek
Reborn
Anygma
The Pharm
Peoples Future
Nothing Else
I-Dren
Artstrong
VISUAL ARTISTS
Nakayama
Dee Jae Paeste (SF/NY)
Sigmund Torre
Takako Sono (Japan)
Live T-Shirt Silk Screening by: TEAM MANILA/ DAILY GRIND
What is Nagisa Music Festival?
Nagisa is centered around a massive outdoor sound stage, rocked by a multitude of DJs and artists that span a wide range of musical genres. The whole place is decked out with eye candy visuals and art installations, assortment of vendor's booths and food stalls, as well as Workshop areas where people can mix it up. It is truly an interactive lifestyle and art festival enjoyed by people of all ages. Nagisa is held twice a year, one in Tokyo and one in Osaka with a running total of more than 200,000 event goers since it's humble inception in 2003.
Check out: http://www.nagisamusicfestival.jp/
Powered by:NAGISA Music Festival /O-Plus /B-Side/WIP Caps/ Team Manila
Related Posts