The Chad Muska signature Skytop legacy continues with the much-anticipated pre-release of the Skytop IV. Skytop purists will love the return to the high top style, and the subtle allusions to its ancestors, but that's where the familiarity ends because there's little else about the shoe's radical design that is common to anything, even its own groundbreaking heritage.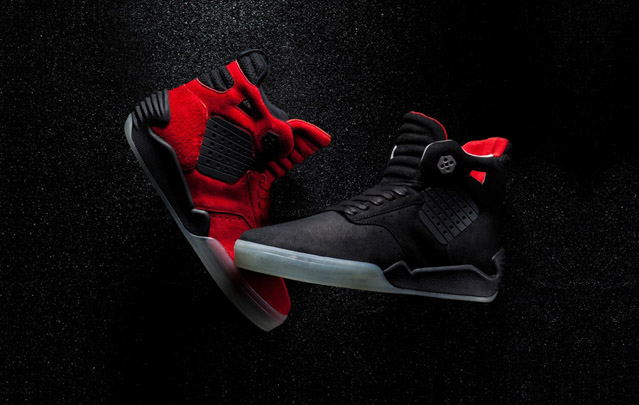 The first limited edition model that is being pre-released for the holidays is outfitted in a deep, black waxed suede. A short list of the many features includes Black TPR inset pad that accepts pyramid rivets for affixing removable padded shroud (shroud is available for holiday styles only), short eye stay with a long clean vamp, ribbed padding on an extra tall tongue and heel inset, industrial-style arm bar with hexagonal rivet detail, durable red heel pull, padded red and grey mesh lining, lightweight black SUPRAFOAM midsole with a ridged heel accent and unique sidewall line and translucent rubber outsole.
Both of the holiday Skytop 4's will have a limited edition removable "Shroud" collar
The Skytop 4 "Black Friday" and "Christmas" limited edition models will be available at SNEAK PEEK Shangri-La mall on December 24, 2013 for PHP 7990.00.
Check out facebook.com/suprafootwearphilippines for details.
Read more about Chad Muska here: http://www.huckmagazine.com/features/chad-muska/