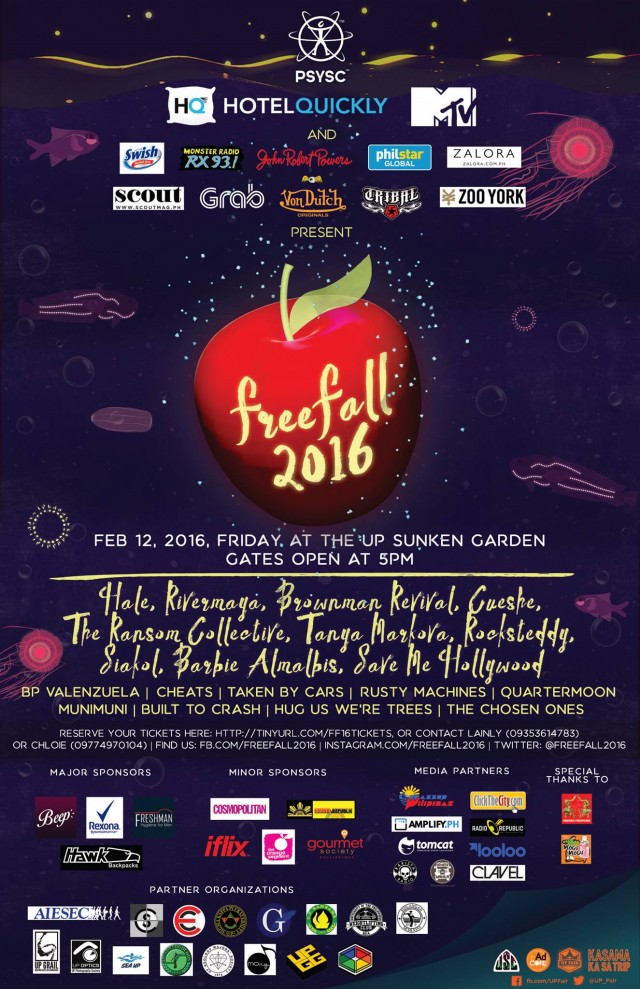 Delve Deeper Into a Cause
TGIFFF, Thank God, It's Free Fall Friday! Feel free to fall in love all over again this February as the UP Philippine Society of Youth Science Clubs (UP PSYSC) presents, UP Fair: Free Fall.
Free fall is the best music festival in the metro. Indulge yourself in good music, food, and company in an evening of solidarity on February 12, 2016 at the UP Diliman Sunken Garden.
Catch your favorite bands as they perform live in Free Fall. Enjoy good music from Hale, Rivermaya, Brownman Revival, The Ransom Collective, Tanya Markova, Rocksteddy, Cueshe, Barbie Almalbis, Siakol, Save Me Hollywood, joined by special performances from BP Valenzuela, Cheats, Taken by Cars, Rusty Machines, Quarter Moon, Munimuni, Built to Crash, Hug Us We're Trees, and The Chosen Ones!.
Prepare to be enthralled as Free Fall brings you a special light show . Prepare to fall deeper in love as you witness a dazzling pyromusical to give you the best UP Fair experience. More than providing an evening of enjoyment, Free Fall unites us towards a single cause. It also inspires us to become instruments for providing a better future for our fellowmen.
The proceeds of Free Fall 2016 will fund the construction of a science library in the remote village of Balabac, Palawan.
UP PSYSC is a non-government, non-profit, and non-stock organization which aims to promote the public understanding of science, technology, and the environment among the youth through conducting science activities such as seminars, symposia, summer camps, and school quiz competitions. For 45 years, it has been successfully and vigorously upholding its thrust, help us make this endeavor possible.
For ticket inquiries, please contact Lainly Quilantang (+63 998 424 7354) and Chloie Cabreros (+63 977 497 0104).