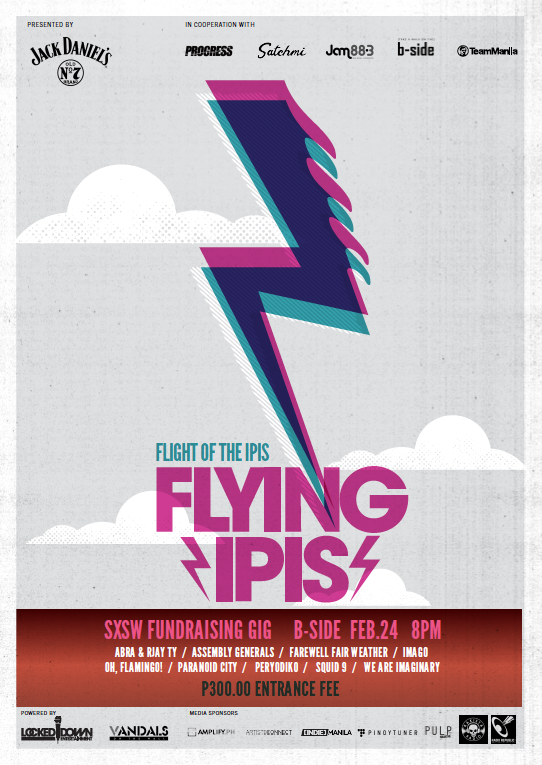 The all-girl local punk band Flying Ipis has been making the rounds as they've made headlines for being the only Filipino band invited to perform at the South By Southwest Festival in Austin, Texas (USA) this March 11-20, 2016.
But in order to get to where they wanna go, Flying Ipis needs your help– OUR help to raise funds to fly to SXSW and represent!
Join us and the girls of Flying Ipis on FEBRUARY 24, 2016 (WEDNESDAY) at B-SIDE (The Collective, Malugay St., Makati City) for a night of music unification and a sharing of the love with more of your favorite local acts: ABRA & RJAY TY, ASSEMBLY GENERALS, FAREWELL FAIRWEATHER, IMAGO, OH, FLAMINGO!, PARANOID CITY, PERYODIKO, SQUID 9, and WE ARE IMAGINARY.
Entrance is only at PHP300.00 and you can already help Flying Ipis out!
If you won't be able to make it to the party, here are three more ways you can help the girls out:
Pledge via Text Message. Text FLYING IPIS <AMOUNT> to 2158-3668. You can contribute 20, 50, 100 & 200. Imagine if 1,000 of us will text Php20 each, that's Php20,000 already!
Crowdfunding Pledge. Visit the FLIGHT OF THE ROACHES TO SXSW ArtistConnect page and choose the amount you want to pledge. You can contribute from Php250 ($5.22) to Php20,000 ($418). Each amount will not only help the band but you can also get some premium Ipis items — from exclusive stickers, kacha bag, t-shirt, airplane tickets, and even a 30-minute private Flying Ipis gig!
Spread the word about it. Post this feature on your Facebook wall or Twitter feed and tag your friends that you know can help. Maybe a friend from the US, UK, or any parts of the world who believes in Filipino music or music in general and can support this cause!
(via indiemanila.com) 
Related Posts