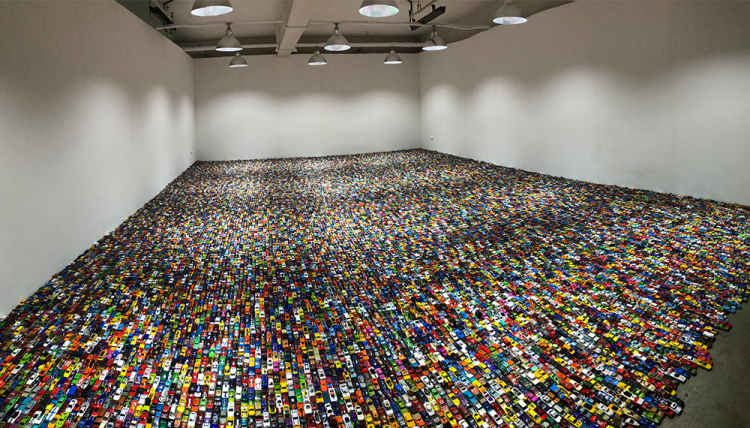 The biggest and the most anticipated art exhibit in the Philippines took place at The Link in Makati last March 1-4, 2018, the four-day event becoming a social occasion for artists, art enthusiasts, and even to those who simply wanted to do something different on a weekend and explore a different world with friends and family.
One of the most distinct habits of us, living in the digital generation, is to take photos. We've listed the most photographed artworks of fair-goers on Instagram and here are the few of their favorites.
Jake Verzosa
For the first time this year, Art Fair Philippines included a special photography section. Jake Verzosa, among other artists, was able to exhibit photographs that celebrate The Last Tattooed Women of Kalinga. Verzosa's is a series of portraits that showcase the art of tattooing in Northern Philippines. It captures the Kalinga women, including the legendary Whang-Od, as it ponders the dying art of tattooing called "Batok", a northern intricate ritual for nearly a thousand years.
Nilo Ilarde
"The Art Fair is Full of Objects, More or Less Interesting; I Wish to Add 24,124 More"
Sea of Cars by Nilo Ilarde became an instant attraction to fair-goers. It features 24,124 cars and it's one of the most photographed artworks for its overwhelming collection of die-cast cars from Hot Wheels, filling up the carpark hall venue.
Yeo Kaa
Delve into Yeo Kaa's world of contrast: comforting pastel colors combined with child-like animation that could've existed in noon-time cartoons and coloring books. This Art Fair 2018, Yeo Kaa exposed not the violent side of her works but the vulnerable side of someone suffering from depression as it tackles toxic relationships, and how one merged from those hurdles. Her artworks were all over feeds, being so relatable–especially those who have overcome or might still be struggling through emotional abuse.
On the brighter note, this life-size Yeo Kaa doll also cheered-up lots of fairgoers. Even Tim Yap and Maxine Magalona couldn't resist this eye candy.
Clairelynn Uy
A shroud of violence is all over the Philippines. Clarelynn's This Too Shall Pass is a plead to stop any violent acts. This is a simple movement to put a stop to violence, an ingrained culture rooted in patriarchal society and even in the nation's politics.
Anton Del Castillo
Anton Del Castillo is known for his signature "gas mask" to all of his artworks; whether it's a painting or a sculpture. This year, the crowd was captured by his free-standing sculpture fiberglass installation, Backstabber.
Mark Salvatus
Mark Salvatus is an intermedia artist that gives us glimpses on the subject of urbanization and socio-economic groundwork, the likes of which can be seen and observed in densely-populated areas. His crowd-favorite work is called For Haiku (2012); collected photographs of tags in different cities during his travels in Japan, United States of America, Australia, Indonesia, and of course, the Philippines.
These are the pieces that have been flooding your feeds during the Art Fair Week! These are just a few among the hundreds of pieces that have mesmerized fair-goers. Will we see you next year?
Related Posts