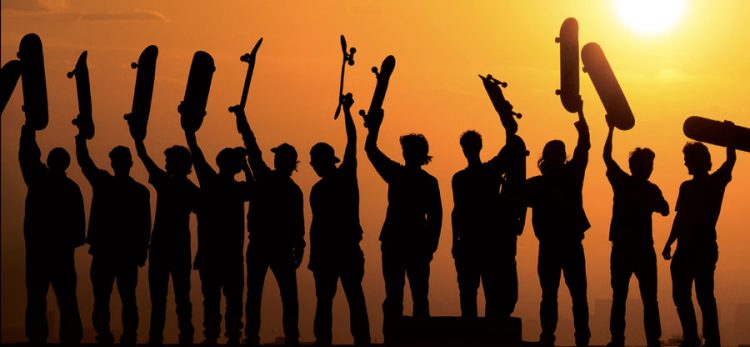 Skateboarding has come a long way from the early 2000s sparkplug that ignited the scene; where skate spots are surrounded with frustrated dudes smashing their boards, and some stoned dudes lying around, with your Discman blasting Sum41. Of course, everyone hated (and secretly loved) Avril Lavigne's "Sk8er Boi", just because.
BUT SKATE IS NOT DEAD, DEAR FRIENDS. So here are eight short films and docus you must watch, from the early 2000s to the latest, featuring the local and international skate scene.
#1:  Pretty Sweet
Engulfed with excellent cinematography,  as the creators play around fun and stunning optical techniques, Pretty Sweet is truly a masterpiece. Girl and Chocolate have created a creative alliance in producing one of the most known skate videos that your brothers have probably seen at least thrice, featuring Sean Malto, Mike Mo Capaldi, Guy Mariano, Marc Johnson and more.
Here's the link to some Pretty Sweet music to shred to: Pretty Sweet and Chocolate Girl Soundtrack. 
You're welcome.
#2: WeLegendary Summer Escapade
WeLegendary has been blessing our local Youtube feeds with their skate video montages and compilations for the better part of a decade. This video, partnered with Gatorade and Emerica, introduces the young dogs in the skate scene. WeLegendary has been supporting the novices since Day 1. This one transition from the eclectic vibe of the streets to refreshing summer trips as they introduce new members of their team.
#3: All This Mayhem
All This Mayhem will give you a juicy view of corporate-sponsored skateboard competitions. This skate documentary film features the sidelining and self-destruction of Australian skateboarding stars, the Pappas Brothers, the duo back then nemeses of Tony Hawk. What makes this film interesting is not its tragic outline of the had-beens, but how they introduced the Aussies who were trying to plant their feet on American concrete, trying to conquer the vertical skateboard scene with all their guts.  If you're looking for something to push you to grind on weekends, this is the perfect film to watch.
#4: We Are Blood
Three years after the release of Pretty Sweet, the same creators done it again in We Are Blood; legendary skateboarders travel the world "to push the boundaries of what's possible on a board" as they so aptly put it. Directed by Ty Evans, cinematography is crisper and wider this time as skate stars Sean Malto, Paul Rodriguez, Jean Thomas and more execute them jaw-dropping tricks at different spots all over the world. This is the biggest and wildest skate video production–yet.
#5:  Journey of the Beasts
The Journey of the Beasts is a film documentary of German skaters exploring Asia. Produced by Titus, and directed by the award-winning director Sebastian Linda, the film is filled with three intense weeks of skateboarding, Pacific heat, and breathtaking Asian scenery.
#6:  Tagad
Tagad is a sneak peek at the ever-growing skate scene in Cebu City. Visit the skate parks and hidden spots as they follow three skaters through the rough streets of Cebu. Connect with these fellow local skaters as they discuss the ups and downs, and the struggles of the Philippine skate scene.
#7: Yeah Right!
The rise of the skate scene marked in the early 2000's, Yeah Right is one of the most loved skate vids of the era. Go old school and just grab a beer, and find yourself a decade later looking back at the things that were. Featuring Eric Koston, one of the holy trinity of big-budget skate films, along with Mike Caroll, Mark Johnson and more.
#8: Backstreet Atlas
Ride has just created their brand new segment, Push, where individuals can submit their works and have them pushed to a wider audience. This submission came from two skaters' experience of skating from Boston to New York, meeting different kinds of people, from insane kinds of places.
Follow + subscribe to CLAVEL:
Related Posts