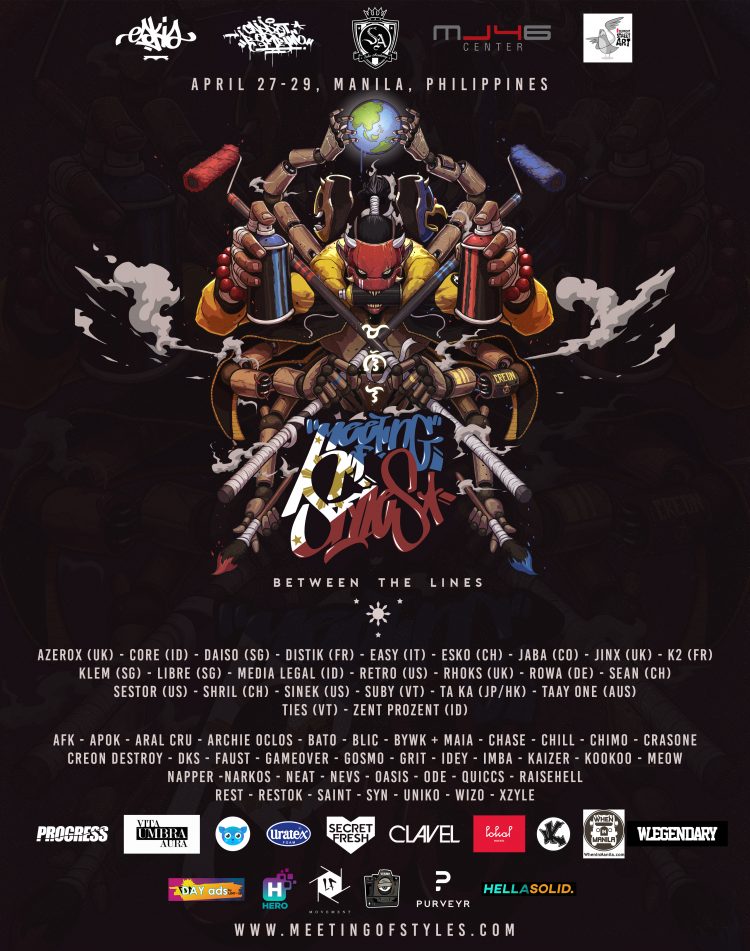 Now on its fifth (5th) year, Meeting of Styles Philippines is the local leg of a worldwide graffiti event happening in Paranaque City on April 27-29.
The "International Meeting of Styles" (MOS) is an international network of graffiti artists and aficionados that began in Wiesbaden, Germany in 2002. This time CarrotBombing, the main organizer of the event, has partnered with MJ46 Center and Mobile App Kumu to deliver a bigger and more exciting event.
Kumu is a platform for Pinoy power by making life easier and bringing communities close. It's a global group of creatives, technologists, entrepreneurs, and diehard fans of a Filipino Culture bursting with creativity and potential.
On its fifth (5th) year, MOS PH will be held on MJ46 Center located at Red Flower Compound, Elizabeth St. Cor. Sun Valley Drive, Paranaque City. A factory outlet store that is big and spacious just like in the US where it's so common, and where all walks of life converge looking for a good deal. Even more timely, since everyone's becoming bargain hunters. If you canprovide products of good quality at an affordable price then that's really what people are looking for. People who have never thought of buying branded items now have the opportunity to own them.
The first day of the event is a kick-off party at Lokal Hostel Roof Deck by invitation on Friday 27th followed by the Main event on 28th-29th that will include different activities including all painting day session, custom sneakers exhibit, hip-hop concert, raffle and more.
This event is made possible by the support of  When in Manila, CLAVEL, Purveyr, Lokal Hostel as our main partner Hotel Accommodation, Secret Fresh, Uratex, WeLegendary, Progress, Vita Umbra Aura, Underground Kulture, Hero TV, RG Visuals, Day Ads. IsupportStreetArt and Eskis.
For more updates please click here.
For live updates, you can check it via Facebook.
ARTIST LINEUP
International
Azerox (UK)
Daiso (SG)
Distik (FR)
Easy (It)
Esko (CH)
Jaba (Co)
JinX (UK)
K2 (FR)
Klem (SG)
Retro (US)
Rhoks (UK)
Rowa (DE)
Sean (CH)
Sestor (US)
Shril (CH)
SINEK (US)
Suby (VT)
Ta ka (KP/HK)
Taay one (AUS)
Ties (Vt
Local
Afk
Apok
Aral Cru
Archie Oclos
Bato
Blic
Bywk + Maia
Chase
Chill
Chimo
CRAS ONE
Creon
Destroy
Dks
Faust
Gameover-
Gosmo
Grit
Idey
Imba
Kaizer
Kookoo
Meow
Napper
Narkos
Neat
Nevs
Oasis
Ode
Quiccs
Raisehell
Rest
Restok
Saint
Syn
Uniko
Wizo
Xzyle
Related Posts