We Highlight Three Powerful, Active Women Paving The Way To A Strong Future,
Featuring The Nike Women's Metallic Sheen Collection
The dawn has broken and now we are all basking in the sunlight in the age of the woman–a joyful farewell to the damsel in distress archetype and sayonara to the fragile femininity once expected of ladies everywhere. Today we celebrate diverse, electric, and driven women who take the world by the horns and live their best lives–asking no permission and giving no apologies.
We feature three such women whose individual passions have not only inspired their fellow womankind, but the manner and strength with which they have conducted themselves have turned our heads in rapt attention.
Bea Fabregas
Radio DJ | Events & TV Host
We learn from Bea Fabregas the power in finding your voice and using it for truth. Bea has been hosting since college starting with her stint as a UAAP courtside reporter for the University of the Philippines and up to the present as a Magic 89.9 DJ, and a television & events host.
Also a former varsity tennis player of her alma mater, Bea tells us about how the strength and discipline vigorously honed then has now been carried into her daily life now, with her followers devotedly tracking and emulating her morning workouts.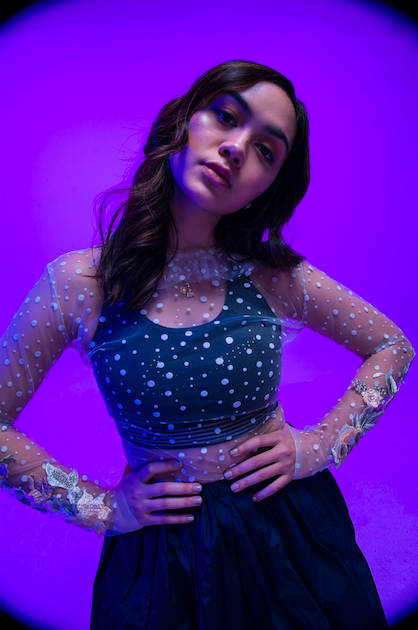 We've discovered that tennis is your sport of choice. How did you get into it?
I started playing tennis when I was 7 [years-old], which is technically already late if you really want to pursue a career as a pro tennis player. My dad was a tennis [player] and eventually got a scholarship in the States. I was so impressed by that growing up. I wanted to make sure I was going to be able to do this for my parents and so I just really trained hard. I didn't get to go to school in the States but tennis led me to an athletic scholarship in UP Diliman, and I wouldn't trade that for anything.
What was the toughest thing you had to overcome with getting into the sport?
Despite my love for it, tennis is a lonely sport. There's a lot of hours where it's just you and your coach, or you and the trainer hitting for hours. It was hard of course to miss out on social stuff because I had to work-out or run or whatever it is I had to do. But when you actually see the result of your hard work on the court, you understand what the sacrifices are, even at a young age. I feel like that's something I've been able to apply to life in general too.
What does a day in the life of Bea Fabregas look like?
My day starts really early! I'm up at 5:00AM because it takes me a couple of minutes to get out of bed, but once I'm up it's straight to my coffee machine. I brew my coffee and get ready for my workout at 6:00AM. I finish at around 7:30AM and then it's time to get ready for my radio show at 9:00AM. I'm done there by noon, and it depends what I have scheduled after that–whether it's an event, hosting, or taping. Usually my mornings are the only thing set about my life and so that's why I love following a schedule.
Let's take a shot at power. Your work as a radio DJ and host bears a significant amount of responsibility. Are you conscious of the influence you have?
I'm absolutely aware of this. Before I was a DJ and a host, I was once a student that would tune in to Magic 89.9 every day, and hearing some of the women on air shaped the way I wanted to build my future. I understand that it's not exactly common to be one holding a mic–and there's so much power in that. Your thoughts, your values and what you stand for are basically being judged and heard by whoever is listening.
"It's so important that you're grounded in what's true and right even if we're mostly on air to entertain."
I consider it a privilege and I'm very thankful to God that I'm able to say that I landed my dream job. Every day, whether I'm hosting or on the radio, I just want to make people smile or laugh. Even if it's as simple as distracting them from the insane traffic they're going through, that's more than enough for me.
Has there been an instance in your career that you realized just how much power your words or actions actually have on your audience? 
I don't think there's one specific experience. But I think everyone can relate to this and say that social media is such a big part of our lives now, and then combine that with being on-air. Sometimes I have people message me that my work-outs, [which] I post in the morning, motivate them to squeeze a workout in for the day–which absolutely melts my heart by the way. Or they message that they love watching my Instagram Stories and I find it super sweet?! ️Also, most radio DJs will tell you that there are strangers that approach us to talk about what was being discussed on-air or just say [that] they tune in [to] the show every day. People are listening, and people are watching, and I believe you should always be held accountable for what you say and post!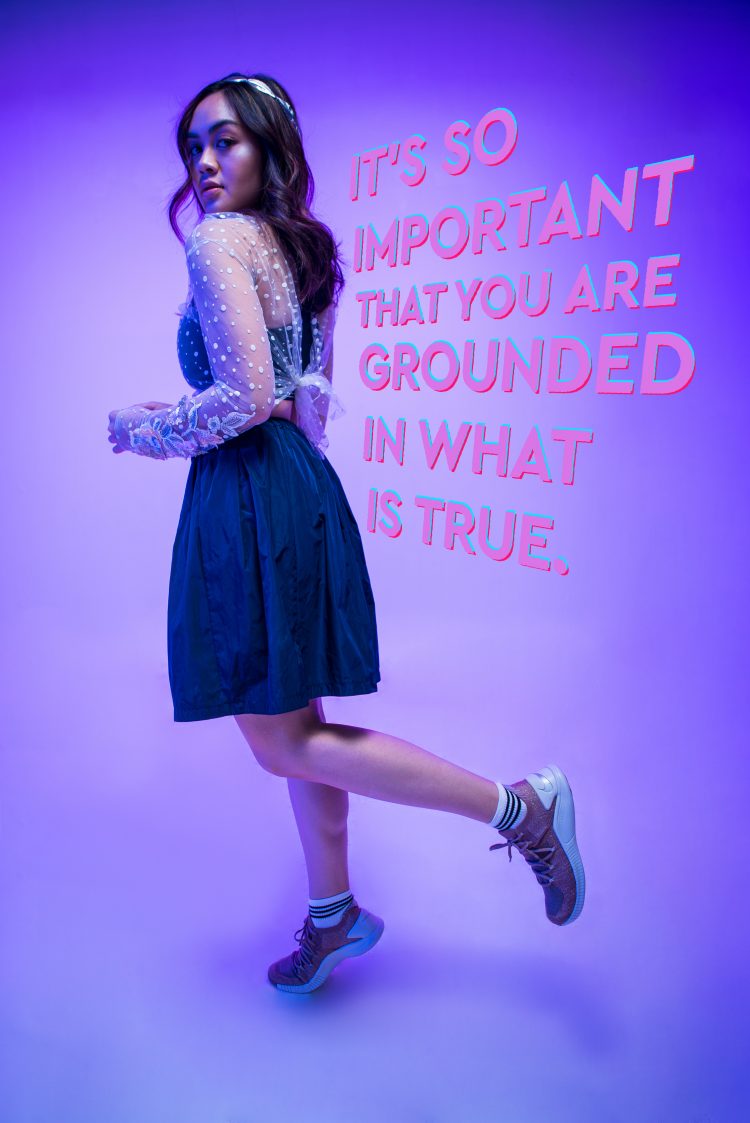 There are also frustrations when it comes to achieving and then surpassing your goals in life, whether it's personal or professional. How do you take these frustrations in stride?
I think you always need a very stable support system. My family is crazy supportive of what I do, my best friends are my biggest fans (not by choice), and my boyfriend is literally the most supportive man on earth. It helps that he's been a radio DJ and broadcaster longer than I have and he always knows what to say when I'm stressing over stupid things. I guess you have to understand that life has difficult seasons. As long as you're working hard, then there's nothing to worry about because you're growing in character, whether you're aware of it or not.
If there's one thing that working in your industry has taught you, what would it be?
Not to obsess over the small things. You have to allow yourself to make mistakes and not beat yourself up about it for an entire week. I'm pretty obsessive that way and I am so hard on myself but hey, we're all works in progress. Everyone I look up to has taught me to learn to be vulnerable and let things go after it happens, good or bad.
"Don't get too high on good experiences. Enjoy it, take it all in, then wake up and work hard again."
Who are some of the most powerful women that you look up to?
Easily the Williams sisters. Venus and Serena are literally my heroes. Rachel Nichols and Doris Burke! I love the way they report and handle themselves in a league and industry that's predominantly men. My mom, of course. She's been married to my dad for 31 years, managing her business for 20 [years], and she raised five kids. That ain't no joke.
Isabell Wolfe
CrossFit Athlete, Indoor Cycling Instructor
Say hello to Isabell Wolfe, our new favorite bad-ass. She's an indoor cycling instructor at Electric Studio, which even in itself is no easy feat, but she's one of the strongest CrossFit athletes in Manila, being part of the Top 3 athletes in the Rx Femal Division at the previously held Manila Throwdown last May 2018.
We're thrust into the world of the professional athlete whose own experiences, both positive and negative, have helped shape Isabell into the strong, empowered woman she has grown into today. Isabell tells us of her struggles and inspires us with her mindset in overcoming them.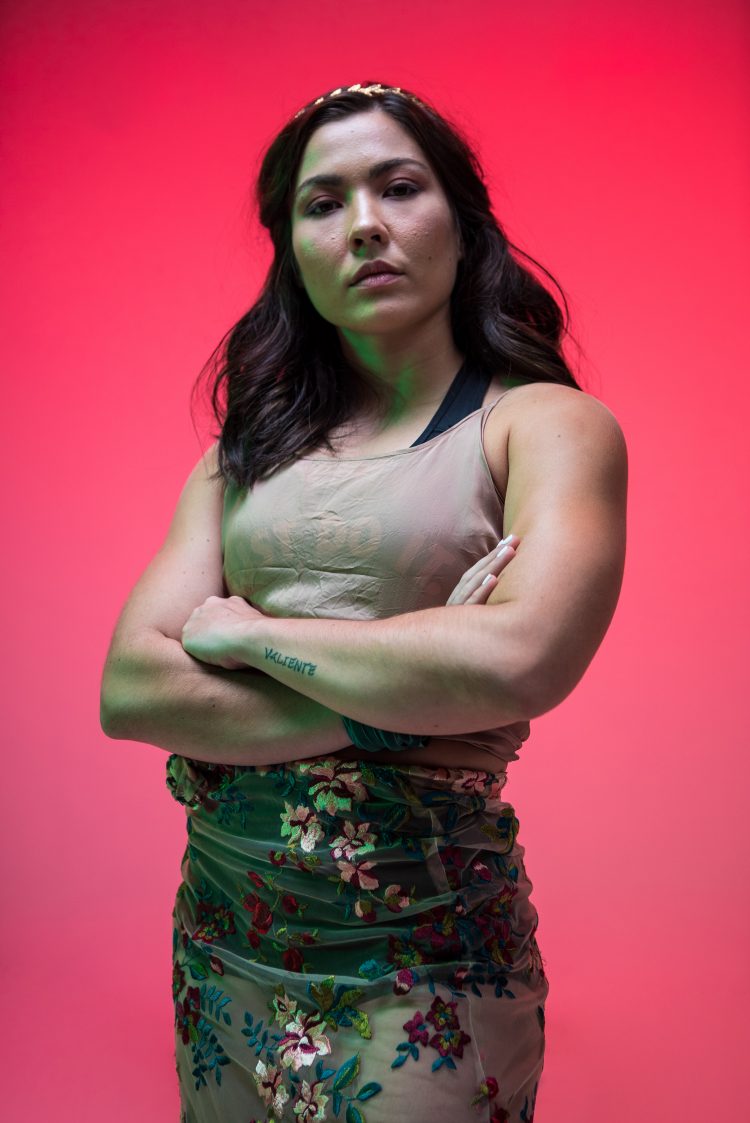 Tell us about your foray into CrossFit.
I've always been a lover of sports and being active. All through high school and college, I played varsity sports–volleyball, basketball, and football, so participating in a sport has become a part of who I am. After graduating, I enrolled in a gym but found it very hard to stay motivated and consistent, and then finally I found indoor cycling. Through that, I had the privilege of meeting people who introduced me to CrossFit. I was instantly drawn to the challenges we faced with every session, and the competitive atmosphere CrossFit creates not only with those around you but with yourself. I am an extremely competitive person, and CrossFit allowed me to re-live the "glory" days of competing and participating in team sports. Though you are doing CrossFit as an individual, it is very much a team effort. You need the support of your mentors and teammates, and you are constantly learning new things through those around you.
What was the toughest thing you had to overcome when it came to getting into the sport?
Definitely my own thoughts. I am the type of girl, as I'm sure a lot of women are, that super cares what other people think. I constantly get insecure or worried about what people are saying and thinking about my body and the changes its gone through. I get tons of comments about getting bigger, getting leaner, getting 'wider', being called thicc, batak, manly, buff. It can really get to your head. But in the end, with the help of my coach and my team, I realize that I am my strongest self. This is who I want to be, doing what I love the most, and this is the vessel and the body that will get me to my dreams.
It seems you're out to break these stereotypes on the public's perception of physically strong women.
Society has really ingrained in our brains the standards of beauty and how girls should be and act. It's a constant battle every day to fight through these stereotypes and to not only inspire others to break these boundaries but to remind myself as well.
To go along with this–another big factor is actually eating. I used to be very thin, and very conscious about my weight. I had the mindset of not eating a lot because I didn't want to get fat. But with CrossFit–I workout four times a day and I need to fuel my body. I still have trouble eating the amount that I need to because it can be quite a lot. I'm burning almost 3,000 calories a day and eating 3,000 calories can be overwhelming and really scary for someone that had so much pressure to be thin.
What kind of pressure do you face when it comes to your competition?
It's tough not getting distracted by [the] social media posts of my competitors–when they get new PRs (personal records), when they unlock new skills, etcetera, I get easily intimidated and affected by these things. I always get anxious and start to doubt myself, my progress, my abilities and it's still something I'm trying to learn how to overcome. I have to always remind myself to focus on what I can control and to focus on myself. I have to remember to live in the present moment and to know that if I'm doing all I can, and working as hard as I can right now, then that's all that matters.
What's your favorite thing about CrossFit? Any least favorite aspects to it?
My favourite thing about CrossFit is that you will always be challenged. There are always ways to improve and you can never be a master at the sport. Once you feel comfortable, something will come along to challenge you further and show you how much more you can grow.
"CrossFit is also showing the world that females are made to be strong and that being strong is so empowering, and so liberating."
It's showing the world that we can be faster, stronger, more skilled than men, and that we should strive to do so. There's always been a box around what a girl should be and should do, but with CrossFit we are redefining those limitations and it's such an amazing thing to be a part of.
Could you give us a quick rundown of your day? How does it start, what do you eat, how do you prepare for training? How do you prepare for a competition?
I wake up at 5:00AM everyday, get ready and arrive at the box at 6:00AM. From 6:30 to 8:00AM we do about three strength portions; usually a mix of powerlifting and weightlifting. Then from 8:00 to 9:00AM I have breakfast–my favorite being mango yogurt–then I'll take a quick power nap.
One thing everyone knows about me is how much I love my naps, and how I can literally fall asleep anywhere, anytime.
From 9:00 to 10:00AM we do either a strength or gymnastics conditioning piece, which incorporates skill and strength during a time of elevated heart-rate. From 10:00 to 12:00 we take a break to allow space for classes in the box, have lunch, do a little work or errands, and over-all just rest from the morning sessions.
At 12:30 we will do a second conditioning piece, followed by accessory and midline to end the day. I usually leave the gym around 3:00 to 4:00PM, head home, grab dinner, and will be in bed by 8:00PM to prepare for the next day. Depending on the day, I also teach indoor cycling at Electric Studio twice a week.
Throughout the day I eat very light; having yogurt for breakfast, something small for lunch–either a wrap, some protein or eggs–but for dinner I really load up with carbs (rice), and more protein. I drink one protein drink a day in the form of egg whites (@pjeggs) and take minimal supplementation.
Is there anything you wish you could change about the sport?
Nothing as of this moment that I'd like to change about the sport itself. But I really hope it gains more traction and attention in the country. A lot of brands don't really support athletes–rather, they go to artists or models who look good to endorse their athletic wear. If sports are broadcasted or endorsed, it's usually basketball, and I'd love to see that expand and grow. It's my dream to see real athletes being supported by the sports brands here, and I hope more support goes out to the CrossFit athletes particularly. Over-all, I'd love for all the athletes in the country to come together and grow the community of fitness and sport in the Philippines.
In CrossFit, as with many other sports, you aim to surpass personal bests every single time you train. Could you share with us your personal bests as of the moment?
Back squat: 250 lbs
Front squat: 210 lbs
Deadlift: 300 lbs
Bench Press: 135 lbs
How do you take frustrations when it comes to achieving and then surpassing your personal records in stride?
This is definitely one of the most challenging and sometimes heartbreaking things about participating in any sport. We are always so focused on the end product, and the numbers, that we forget about the journey and the process required to get there. We always want to do better than before; we want to lift more, we want to go faster, we want to do more reps, but most of the time we fall short or we fail. And my reaction to these moments, and how they make me feel, is still something I'm learning to work on.
I learned that there is no good or bad without us–that it's always the story we tell ourselves and if we change our perception, we can change our life. I have to always remind myself that each failure, each obstacle, each setback, is a learning experience and that we can always find something positive out of it.
"If we change our perception, we can change our life."
CrossFit has been gaining ground as a sport for years now. Are there still struggles with the general perception of what CrossFit stands for? Particularly for women? 
Though CrossFit has been in the Philippines for awhile, I still find that it is in its relatively infant stages. We are still building a community, and a lot of people still don't know exactly about it. We are still trying to really show what CrossFit is all about and the many benefits that it produces. Unfortunately, the perception of CrossFit is still that it's dangerous, that it's mostly for men, and the worst being (for women) that it makes you "big" or "muscular" (which apparently is unattractive).
CrossFit is, by definition, constantly varied, functional movements, performed at high intensity. FUNCTIONAL MOVEMENTS–meaning things we do everyday. Sitting on a chair is a squat, picking up our child from the floor is a deadlift, putting our [bags] in the overhead compartment of an airplane is a press. CrossFit is meant to make us stronger, better, and more capable people in our everyday lives.
My body has changed because of the hours I put in the box, because of the amount of food I put in my body, and the supplementation I take to recover. I am one of the girliest girls–I love shopping, putting on makeup, fixing my hair, getting dressed up, taking selfies…and that didn't and won't change because of my love for and participation in CrossFit. You won't get muscular or big if you take a one hour CrossFit class, and use the sport as a form of exercise instead of competition. Come to the box and see your tita, your teacher, your dad doing CrossFit, so that they can move better, be stronger, and be healthier to live their best life–that is CrossFit.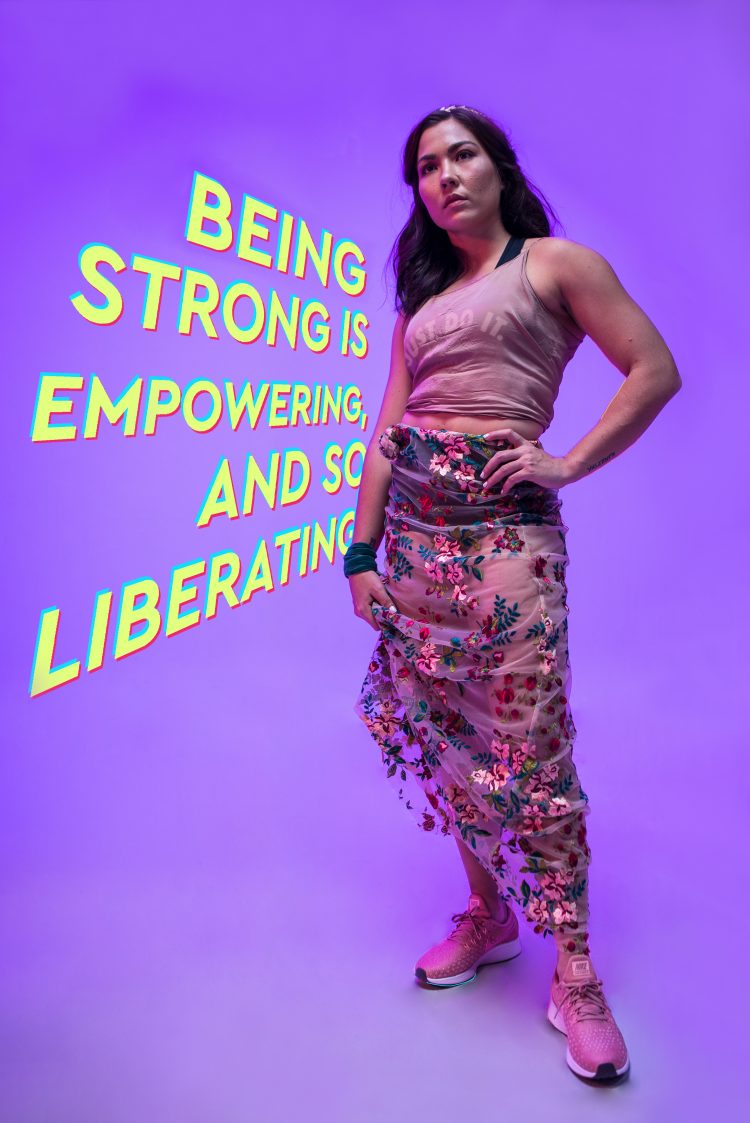 If there's one thing that your training and competing in CrossFit has taught you, what would it be?
To do everything with passion, and a full heart. CrossFit has taught me that there's no life worth living if it's not making you incredibly happy and grateful to be alive. And most importantly, to surround yourself with people who believe in you, who support you, who put you in your place, and who will always be there for you no matter how many times you do and say stupid shit.
Secondly, that your character will always determine your success. Who are you when it gets tough? Greatness isn't sexy. It's HARDWORK, day in and day out. It's failures, it's tears, it's wanting to give up, it's anxiety, confusion, self-doubt.
"But in these moments we must always remember our 'whys'–why we do what we do, why we love what we do, and why we've come so far."
My training has taught me to enjoy the journey, and to enjoy the process because end results don't always come. CrossFit has taught me to appreciate challenges, roadblocks, and detours because that's where we find real, meaningful growth.
Trina Guytingco
Ateneo Lady Eagles Basketball Player, College Student
Trina Guytingco is coming into her own. The youngest in our roster she may be, but make no mistake: Trina is bound for greatness. The Filipino-American moved to the Philippines to play college ball for the Ateneo Lady Eagles and has since made an incredulous following for herself. Despite her popularity, however, Trina's well-groundedness and dedication to the game is what makes her fascinating.
We get to know the student-athlete, who's currently studying Interdisciplinary Studies and minoring in Music Literature, and what makes her.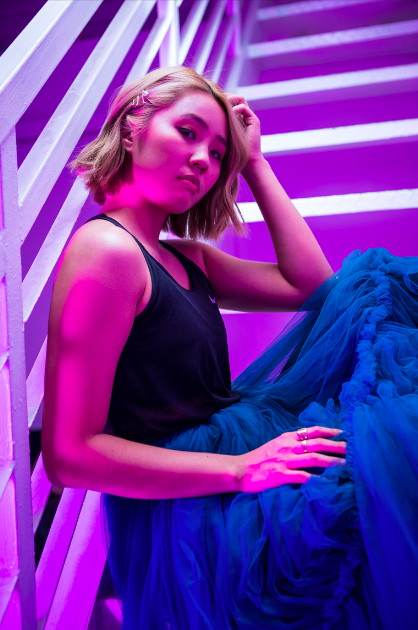 Who or what first influenced or inspired you to get into basketball?
When I was a kid, I was very active and I played as many sports as I could. One day, my dad bought a basketball hoop and put it [up] in our driveway and he was the one who inspired me to play. And ever since he bought the hoop, it was love at first shot.
Was it tough to get into the sport?
When I was 11 [years-old], I had no experience playing team basketball because I always just played on the street. So when I decided to join my church basketball league, it was really, really challenging. I was small in height compared to the others and I didn't have basic skills, like how to shoot properly and basic dribbling. The only thing I had was my quickness, my hustle, and the love for the game. So when it came down to choosing players for the teams, I was chosen for Team A (the higher team) which was surprising for me because they really wanted to give me a chance despite everything I lacked.
How easy or difficult was it to decide to move to Manila to play basketball?
It was fairly easy moving to Manila because I grew up going to the Philippines almost every summer so I was somewhat aware of what I was getting myself into. Just somewhat. (laughs)
When the option of coming to the Philippines was made available to me, I definitely had my mind set on it. My dad was all for it. My mom needed some convincing but she eventually gave in. I chose the Philippines partly because I wanted to experience something new (kinda like a YOLO decision) and to play basketball as well.
This may seem a bit cheesy but during [that] time, I felt like the universe was leading me to the Philippines…so I went with my gut feeling. I knew that Ateneo was a school with a very good reputation so I figured that I was going to be in good hands.
A lot of people look up to you. Was there a moment when you realized just how much influence you have over your fans and followers?
I guess the moment I realized the impact of my social media was when I started getting messages from followers saying how much they look up to me because of my singing and basketball. I remember this one fan message I got, she was from Indonesia. It really opened my eyes because I didn't think people looked up to me. (laughs) I just try to be myself. I know that's generic but that's really what I try to do.
Does the responsibility that comes with this influence scare you at all? 
The responsibility did scare me at first but then I realized that I can use my platform to inspire people, to show them that they can do anything they want, and they can be different. Different is dope! Female power!
As a student-athlete, are there any specific goals you want to reach or benchmarks you want to surpass on and off the court? 
Our team hasn't been doing well in the standings for the past three years and I want to do everything in my power to try and help my team, and for the people that continue to support us despite our losses. I'm still learning every day how to be a better teammate, and as a person off the court as well. I've had sooo many shortcomings the past couple of years and I'm still trying to make up for it.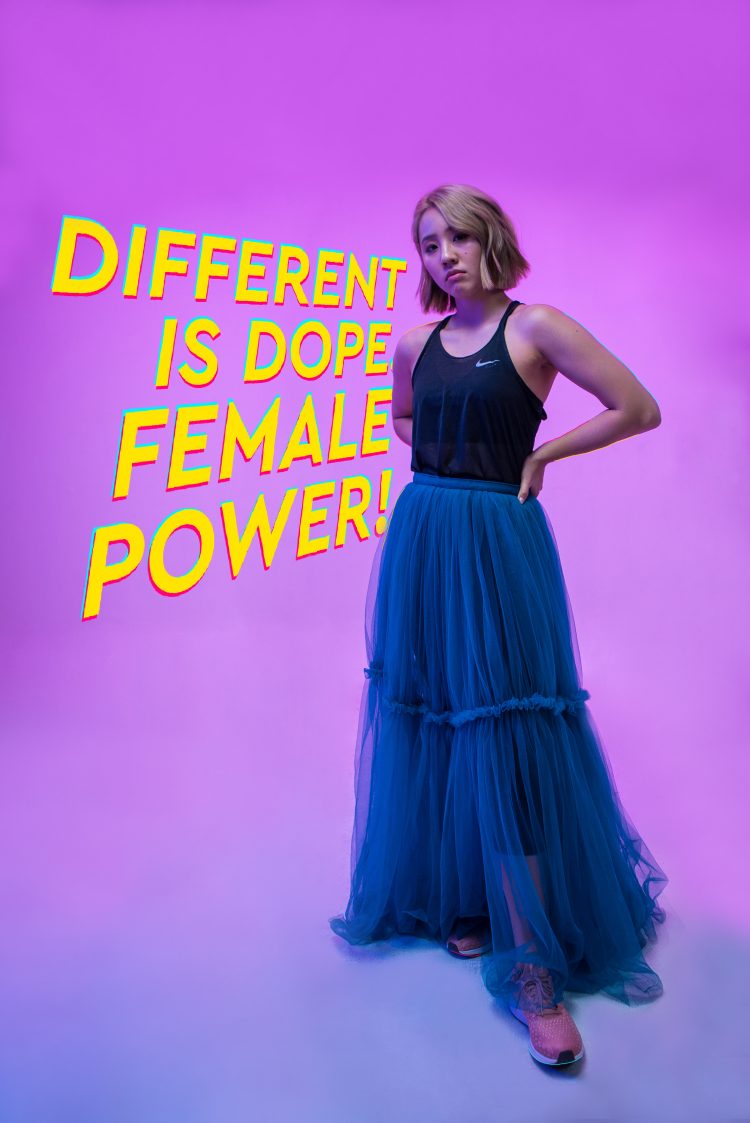 Who are some of the most powerful men and women that you look up to?
You know, I'll be honest…no name came to mind. I think it's just that I admire whatever I see in the moment. Like, if I see someone famous doing something I like or agree with, then I'll be inspired to keep doing the same thing…if that makes sense. These powerful men and women are all human–meaning they have their good side and their bad side. So in my head, I always admire specific qualities that people have, not the [person] as a whole. For example, Beyonce is a very powerful woman that I love to death and I absolutely love her female empowerment, but I don't agree with her decision to stay with Jay-Z (cause he cheated on her).
You're quite the musician and singer, too. What's going on there?
So when I was about 9 [years-old], my mom really wanted me to play the violin in school. When I was around 10 [years-old], that's when I decided I wanted to start taking piano lessons. When I was about 13 [years-old], my mom bought me a guitar and I taught myself how to play.
My parents always emphasized the importance of being well-rounded and they supported every athletic and musical journey that I wanted to go through. I mean, a career in music doesn't seem too bad. I just know that I have a lot of things to work on, still, and same as basketball. It would be amazing if I could play for the national team but I guess we'll just have to see what the universe has in store for me.
If there was one song that makes you feel powerful or invincible every time you listen to it, what would that be?
Hollaback Girl by Gwen Stafani.
Fun fact, when the song came out in 2005, I remember singing the lyrics, "Let me hear you say, this shit is bananas. B-A-N-A-N-A-S." I was a big tomboy when I was a kid. (laughs) I would always wear baggy sweats, wear bandanas, and stuff like that. At the time, I didn't know what I was singing but now that I look back at it, I love how she's like "I AIN'T NO HOLLABACK GIRLLLLL" and that really describes me as a person. (laughs)
I'm really independent and I'm the type that does not need a man to survive. Also, for more context, I was a big Ciara fan when I was a young. I would watch all her music videos, like "1, 2 Step" and I would copy her style. I guess you can say I love strong female artists.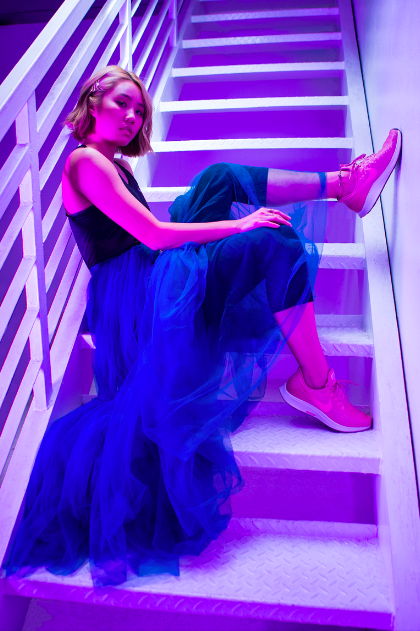 Follow CLAVEL on Facebook at facebook.com/clavelmedia and Instagram at @clavelmedia.
Photos by Dino Placino (@dinoplacino) & Ian Abaya (@ianabaya)
Produced and Styled by @angelathejedi
Assisted by Von Bariuad (@vonbarivad)
Hair & Make-up by @hmuarachel 
Edited by Kara Almera (@karaalmera)
Related Posts