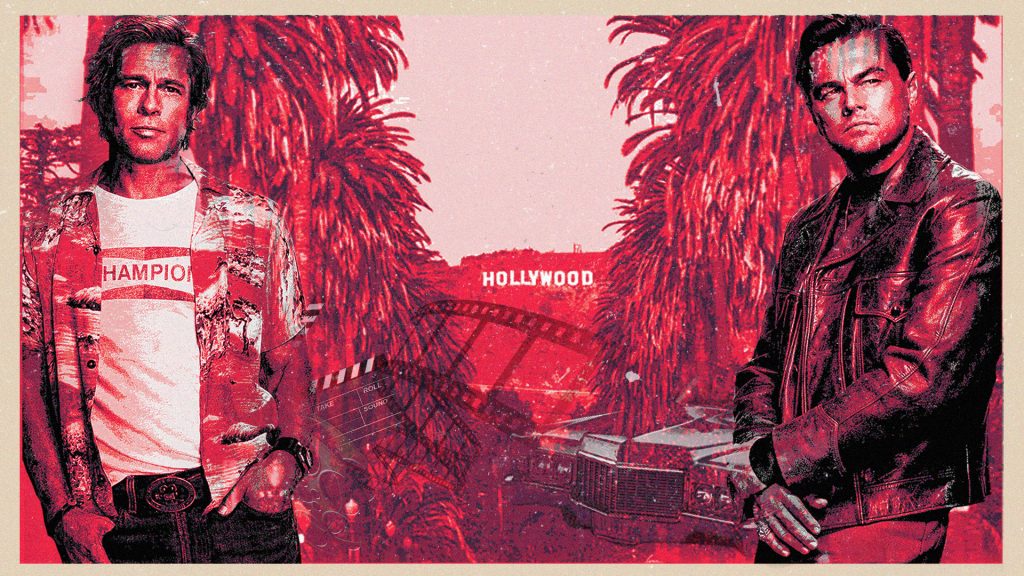 It's an age of algorithm-fueled recommendations when it comes to what's playing next, but what if you're watching–or want to see more of–something that doesn't quite fit neatly into the box of a genre? Quentin Tarantino's upcoming Once Upon a Time in Hollywood is one of those question marks.
Aside from the fact that "Tarantino-esque" is almost a genre in itself, a period comedy-drama with a powerhouse cast headed by Leonardo DiCaprio, Brad Pitt, and Margot Robbie, about an aging actor and his stunt double trying to make one last splash in Hollywood is pretty unique if you think about it. Add in the fact that it premiered in Cannes and all the clout that entails when trying to categorize it.
So welcome to At The Movies where the goal is to get you more cinematic goodness that you (or an algorithm) might be missing in the quest to fill those gaps. The goal isn't to get 1:1 matches, but to present a selection of flicks that have the Same Energy of a film you just enjoyed. Or in OUATIH's case–one you're about to see.
Boogie Nights
Let's begin with more period goodness featuring an equally large ensemble cast. Mark Wahlberg stars as Dirk Diggler in this critically-acclaimed chronicle of the Golden Age of Porn in the 70s along with Julianne Moore, Burt Reynolds, Don Cheadle, and Heather Graham in her breakout role as a rollerskate-wearing porn starlet.
Inglorious Basterds/Django Unchained
And what could be more Tarantino-esque than…more Tarantino. While most of his work shares a lot of the same elements, let's skip past the first few crime-related films of his (as well as the Kill Bills) for two projects that feel closer to his latest work–mainly because they both show off the potential of Tarantino when working within a time period and with his Hollywood leads. Here's how to choose between the two: if you want to see Brad, then watch Inglorious Basterds, otherwise see Django Unchained for Leo.
The Wolf of Wall Street
Leonardo DiCaprio doing larger-than-life Leo things probably peaked with this film, but let's not forget Margot Robbie's bold entrance into our lives with her role in this biopic either. You all probably saw this film about the corrupt and morally bankrupt life on Wall Street already, but if you haven't then queue this right away.
Burn After Reading
Goofy Brad Pitt makes an unforgettable appearance in this film about spies, CIA analysts, and a plot to sell information to the Russians by a bunch of clueless gym workers. And this black comedy has got quite the cast too with Frances McDormand, John Malkovich, Tilda Swinton, and George Clooney joining his Ocean's co-star in acting out of their usual cool guy roles.
Lords of Dogtown
If you simply want more of the warm, fuzzy aesthetic of 1970's L.A. then this street-level look at the lives of the legendary Z-Boys skate team in the early days of the sport will definitely make you wish you were born in the past. After watching, you'd also wonder how the heck director Catherine Hardwicke swerved so hard and made Twilight after this.
And have you heard of…'The Nice Guys'?
If you want that hipster "Hey, have you seen this," cred, then here's another Cannes baby to watch. Ryan Gosling stars as a lovably failed P.I. in 1970's Los Angeles and teams up with tough-guy enforcer Russell Crowe as they try to solve the odd death of a porn star and get entangled in a larger conspiracy while doing so. Which (without spoiling anything) is kind of reminiscent of how the plot escalates in Hollywood.
Highly recommended for the Gos showing off his comedic chops and because what else could match up better to Once Upon a Time's unique plot than another unique plot right?
---
Once Upon A Time In Hollywood hits local screens on August 28! We aren't going to miss it because movies that are big because of the directorial clout behind them are getting rarer these days–which is pretty clear from how critics compare it to Tarantino's past work more than anything else.
And sometimes it feels like personal, highly subjective movie recommendations seem to be dying out in lieu of everyone watching the same hyped thing on Netflix. So we hope you look forward to seeing more films with us–and sharing your picks too!
Follow CLAVEL on Instagram and Facebook for news, culture, and more.

Related Posts