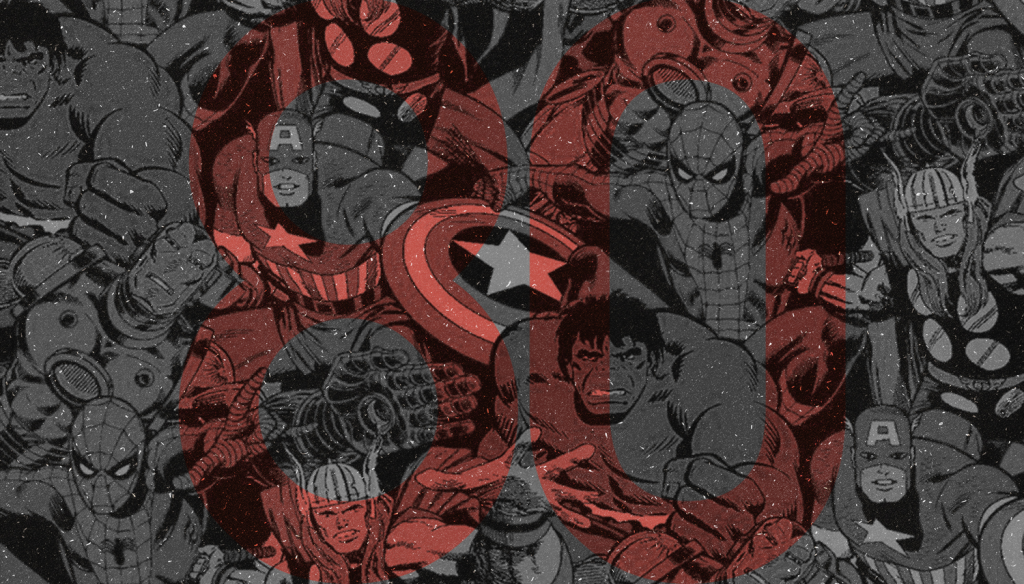 As a kid, I idolized Tobey Maguire when he first donned the Spidey suit while begging my dad for a pair of adidas T-Mac 1's––the union of Marvel Comics and sneakers to birth iconic collaborations is truly marvelous. Pun intended.
As seen through collabs such as the adidas Hoops "Heroes Among Us" Collection, or the Vans Avengers Collection, the comicbook-turned-movie-Hulkbuster giant has transcended into main-stream sneaker consciousness. They even tapped into the streetwear market with collaborations with Stüssy and BAPE.
To celebrate 80 years of Marvel, we visualized sneaker concepts for the current and future heroes who will be the driving forces of the Marvel Cinematic Universe. Stitched together by our friend from the Queen City, Cebuano graphic artist Chad Manzo (who's known for his hybrid sneaker concepts), we present this roster of concept kicks to you, inspired by—in Marvel language—an alternate reality in a larger multiverse, along with a quick conversation about sneakers and the MCU.
Wanda Maximoff (Scarlet Witch)
CONCEPT: PUMA x Mihara Yasuhiro Disc Blaze + a Chelsea Boot with Heel
We kick this list off with Wanda Maximoff. Also known as Scarlet Witch, Wanda has been a pivotal member of the Avengers since Age of Ultron. Not only will she appear in her own TV series in WandaVision, but she'll also be part of the second Doctor Strange movie entitled, Doctor Strange In The Multiverse of Madness.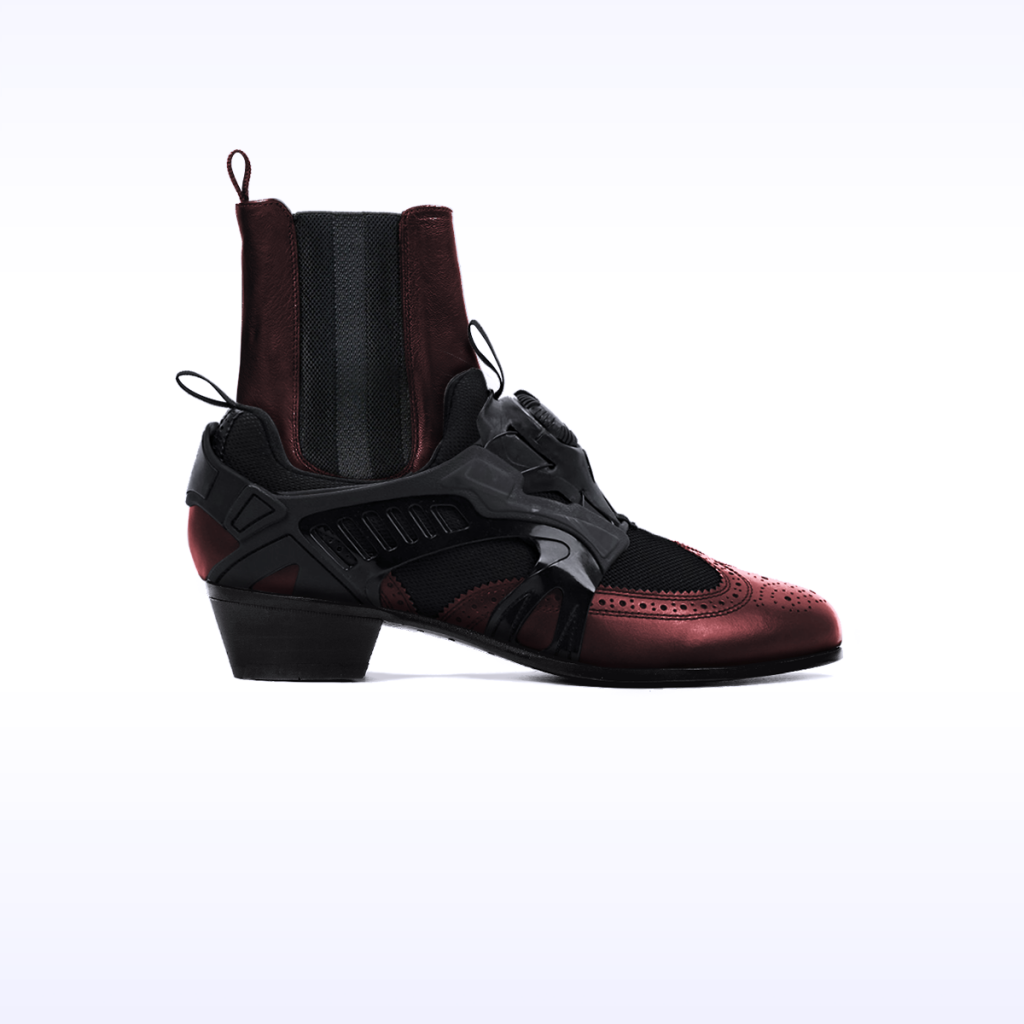 In this concept, Chad fused the PUMA Mihara Yasuhiro x Puma Disc Blaze with a Chelsea boot, inspired by Wanda's knee-high boots.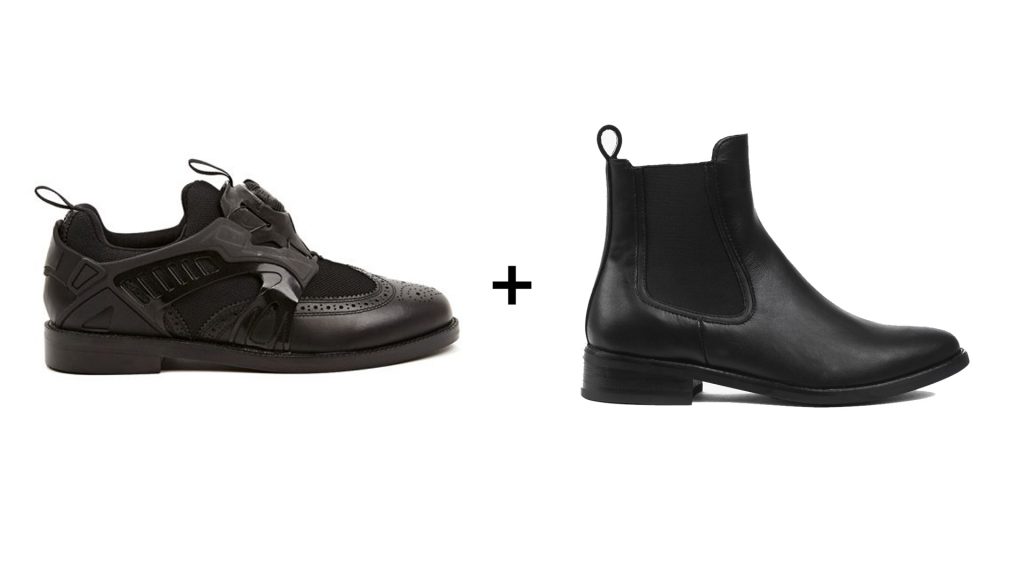 "Out of all the [compositions], this one is inspired by Mihara Yasuhiro x Puma. I just took the idea and mixed heritage elements like the Chelsea ankles and Oxford wingtips, nestled them on top of a mid-rise heel and topped off with the Disc Blaze lacing tech. The main reason why I added the wingtips was to characterize Vision who, in the movie, seems like an English gentleman."

Chad Manzo
Shang-Chi
CONCEPT: Y3 Toggle Boost
Next on our list is the Master of Kung-Fu, Shang-Chi. Although Shang-Chi is known to have zero superpowers, his lifetime of training and expertise in martial arts enables him to best many superhumans.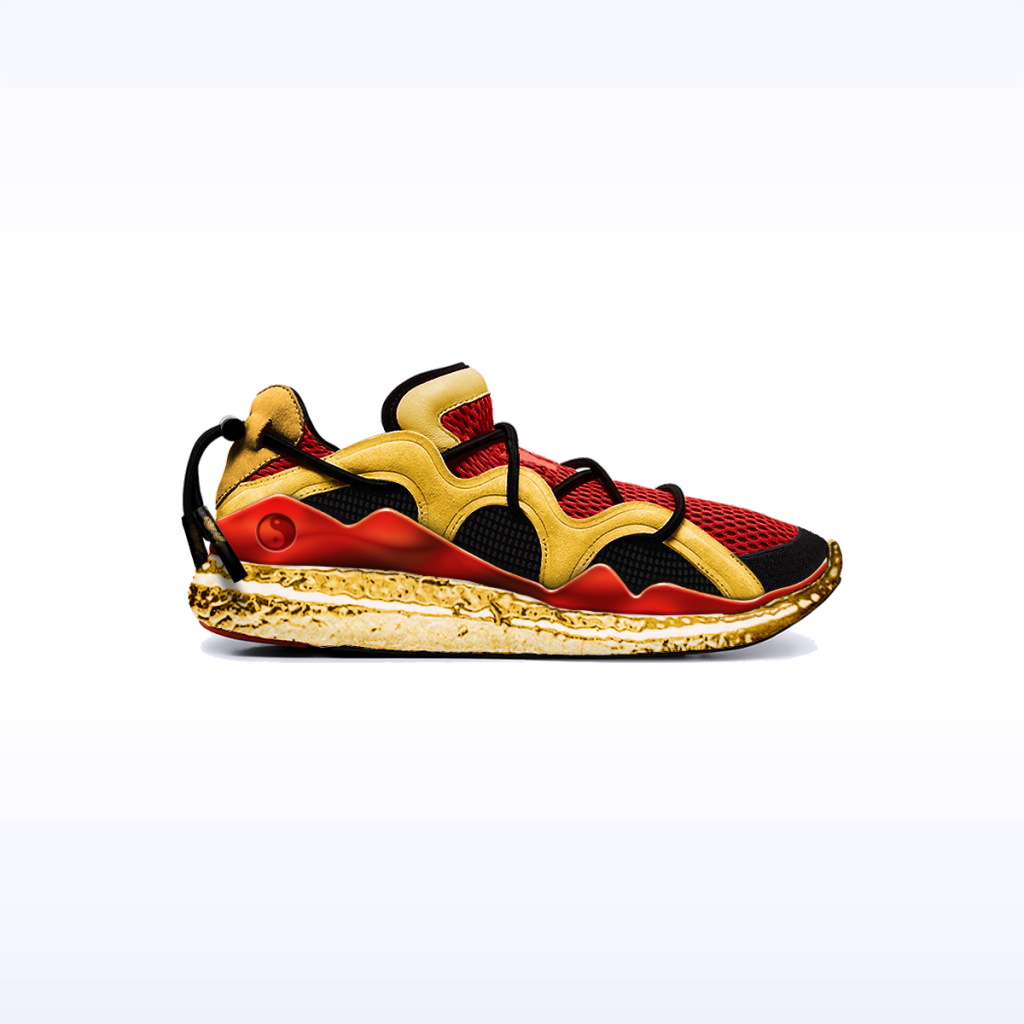 Chad makes use of Shang-Chi's colors on the Y-3 Toggle Boost with subtle details such as nunchucks on the toggles, the Yin-Yang symbol on the heel, and a gold-plated BOOST midsole.
"Not a kung-fu shoe by default but upon research, Shang-Chi wears this very modern yellow/black shoe, maybe in honor of Bruce Lee. However, I wanted this comp to be sort of a cross between streetwear hype and structural form. The toggle boosts look, to me, like the most technical slip-on shoe ever made."

Chad Manzo
Falcon x Winter Soldier
CONCEPT: Air Max Plus / Air Max 97
Perhaps the biggest surprise (aside from Tony Stark's death) in Endgame was when Sam Wilson, aka Falcon, inherited Steve Rogers' shield, making him the new Captain America. We can't wait to see the newly formed duo of Falcon and the Winter Soldier in their new TV series of the same name. But for now, this hybrid Air Max sneaker would suffice.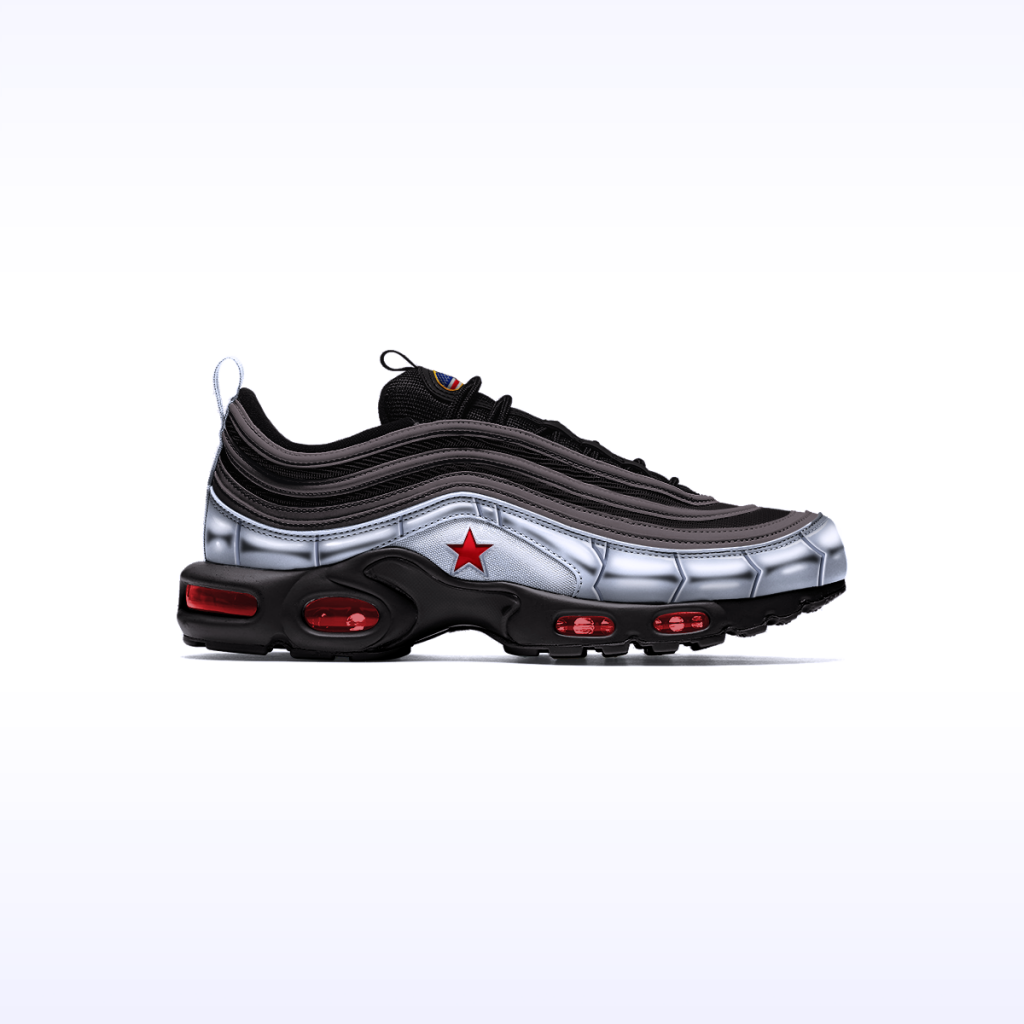 In this concept, Chad made use of the Air Max Plus / 97. If you didn't know yet, yes––it's a hybrid model featuring the AM97 and AM Plus. Peep that American flag on the tongue.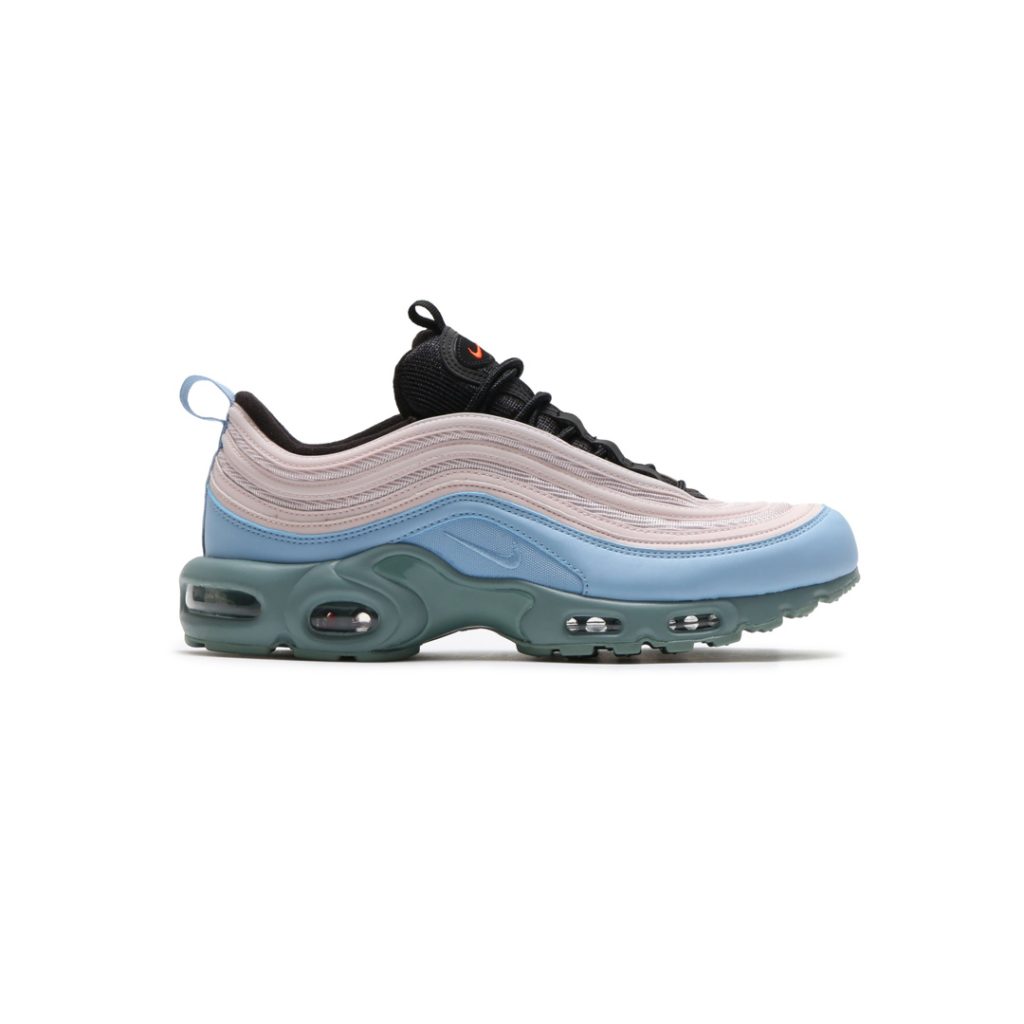 "What better way to represent the two heroes than a singular hybrid model from Nike. Robust form almost looking like a tank, the grooves on the uppers look like simulated air flow symbolizing Falcon's wings and the lower part in chrome to represent the cybernetic arm of Bucky. Midsoles are in black because––they both wear black primarily. [The] air bubbles in red to represent Falcon's visors."

Chad Manzo
Doctor Strange
CONCEPT: ACRNYM x Nike Air Presto Mid
Visually, Doctor Strange is charged with colors and ancient psychedelia, taking us to different realms and dimensions. It's only natural to apply this kaleidoscope of detail onto a shoe that will represent it properly.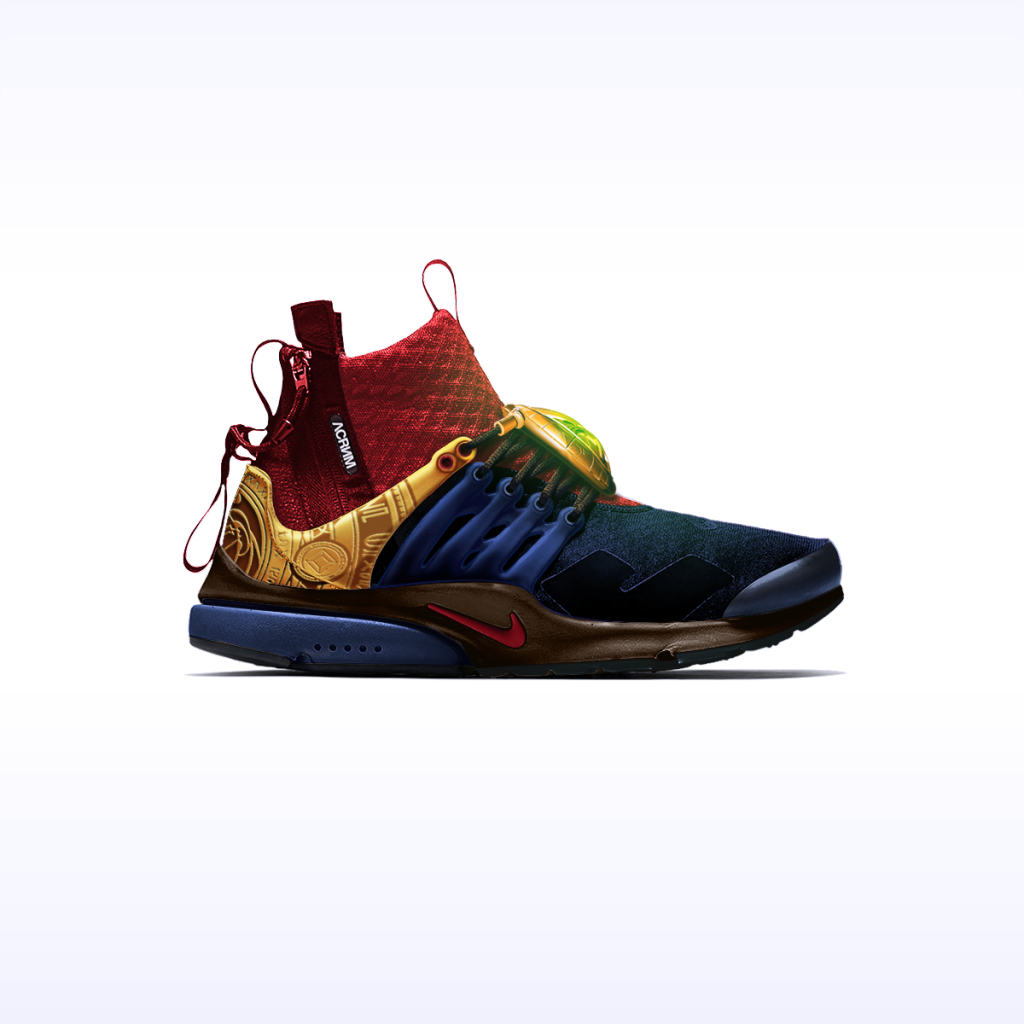 With that in mind, Chad makes use of the ACRNYM x Nike Air Presto Mid that features the colors of Doctor Strange's outfit, along with ancient magical symbols used in the film adorning the heel, and the Eye of Agamoto as lace locks.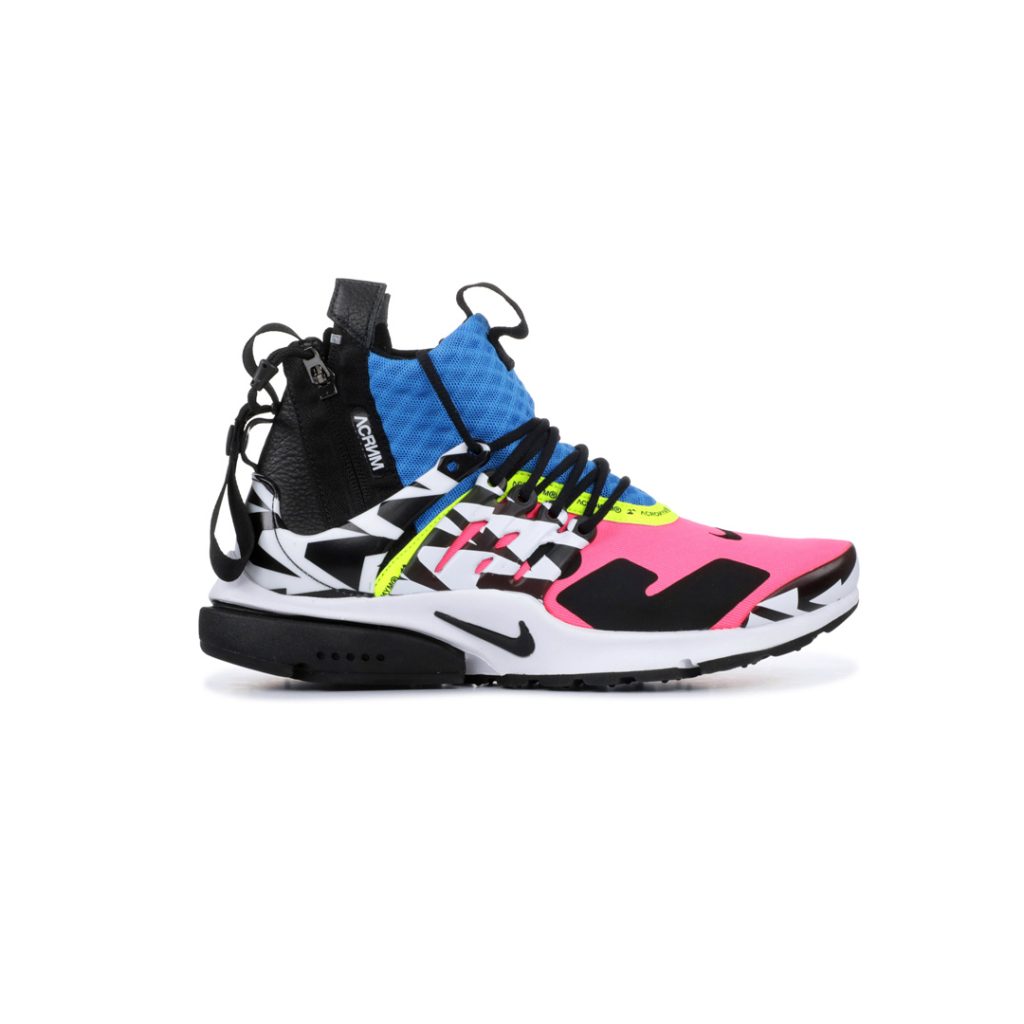 "No brainer. The heel zips look like Strange's infamous cowl, and the overall form of the shoe fits the character like a glove."

Chad Manzo
Blade
CONCEPT: adidas Yeezy 750 Boost
Blade is set to debut in the MCU during Phase 5, which means we might not get to see him on the big screen until 2022. However, that doesn't stop us from putting him on this list.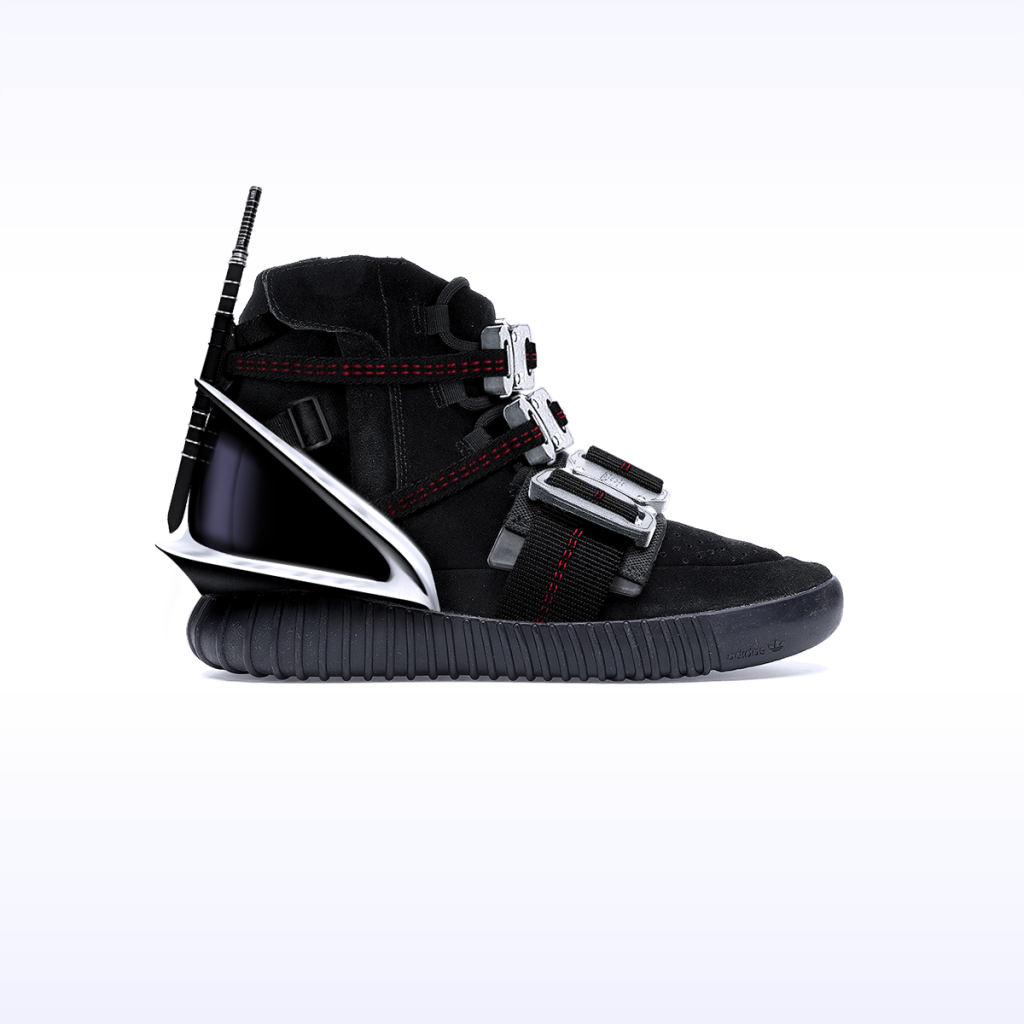 With this concept, Chad took particular details from Blade and applied it onto the triple-black Yeezy 750. These features include the silver cobra buckles found on his vest, chrome and glass visors to embody his Daywalker heritage, and to top it all off, a vampire hunter sword on the heel––just in case.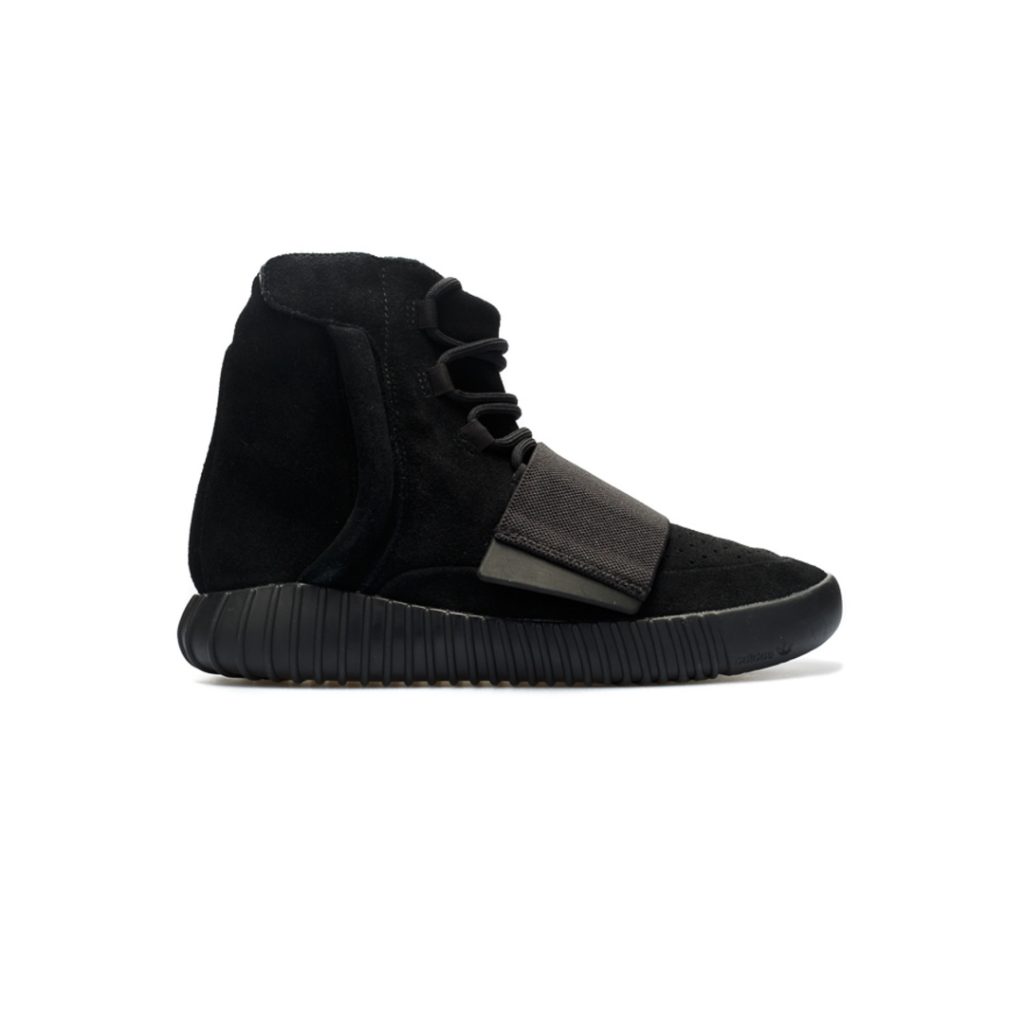 "Probably the most detailed out of all comps. Finding the right resources took way more time to finish than expected — and polishing the shiny chrome took ages to do."

Chad Manzo
We've seen a bunch of sneaker collabs with Marvel over the years. What are your thoughts on sneaker brands collaborating with Marvel?
Love it. I think it is a good exercise for Marvel to lease their property unto different channels. Most collectors I know are so into comics and sneakers altogether, and I just believe they were bound to be together; especially if these collabs are done well and not just a slap-a-brand-name-unto-popular-product-X.
We've seen big Marvel heroes such as Spider-Man, Iron Man, and The Hulk on a sneaker. Aside from those we have on our list, which superhero deserves to be on a sneaker?
We've seen a lot of Marvel characters going on around sneakers. There's so much more to Marvel than just the Avengers, so with that being said, I would probably suggest [getting] the X-Men franchise/property on there. Maybe because all the X-Men movies were weak and didn't generate that much "want" from audiences, but holy jeebus––the X-Men roster is a treasure trove of great characters and stories that would really translate properly to sneakers. Another great roster would be the Inhumans but the recent series was really, really underwhelming to be honest.
What sneaker concept from the list do you think would sell out the most?
I honestly do not know! Probably the Yeezy's because of notoriety, but I know my favorite concept would be the Falcon/Winter Soldier ones. I literally had no idea it would look great until I finished it.
If Stan Lee wore sneakers, what do you think he would wear?
Fila, some time ago, honored Stan Lee with his very own sneaker. If I'm correct, it was a Fitness Classic model. But personally, if I were to suggest what sneaker Stan Lee would wear, [it] would have to be New Balance 990 v3's. Subtle and robust.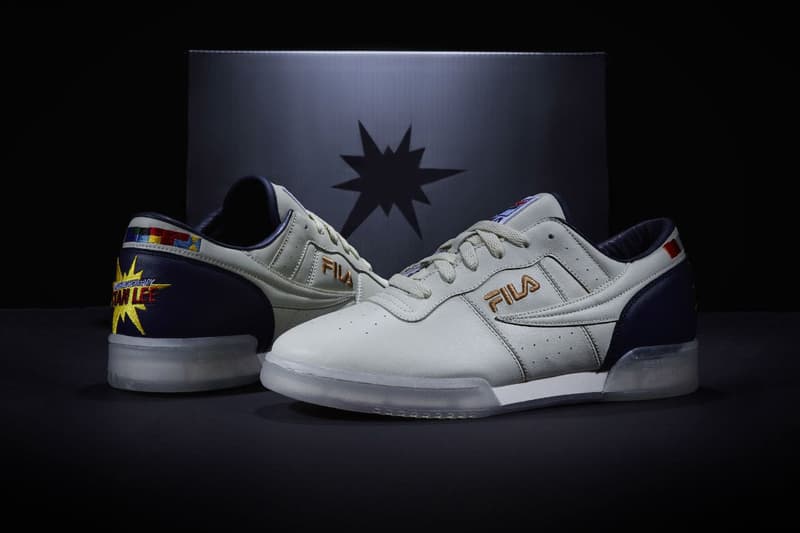 Thoughts on Spider-Man leaving the MCU?
Not quite sure how to make of it, yet. I don't have a well-informed idea on the situation but Tom Holland is a great Spider-Man. I also like web-shooter Spidey than organic-spinerette Spidey.
---
Follow CLAVEL on Facebook and Instagram for news, culture, and more.
Related Posts