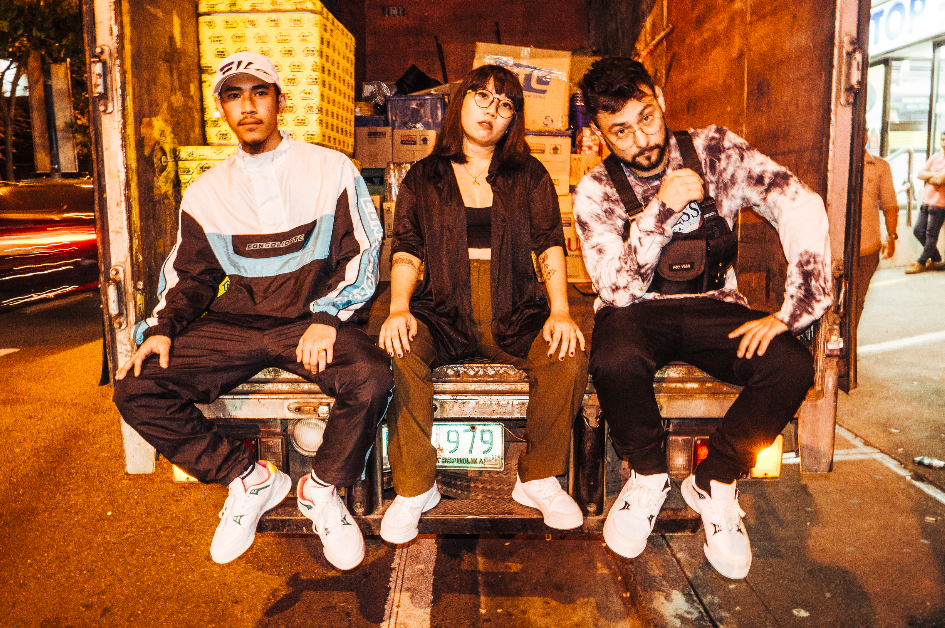 We're at an age when individuality is at its peak. Thanks to the Internet (not the band, but the intangible thing we all live off of now) more and more people are inspired by more and more things, places, and well, other people. And because of these daily, crazy doses of multiple inspiration, there's also a conundrum: most people (a few popular international artists included) claim that there's no such thing as original anymore.
Some of us lean one way, some of us lean the other. But even so, we'd like to divert you to lean this way by introducing you to a few people we found whose individuality and specific style, whether by art form or through fashion, deserved some mention.
On a night out in popular Poblacion in Makati, we met up with our three individuals: Tyang Karyel, a prominent visual artist, Dino Kilates a.k.a. DZ SVG, a radio deejay and approximately 1/25ths of Bawal Clan, and lastly we've got local rapper Lexus Saintino.
We first sat down with local artist Tyang Karyel, who has been around the local art scene for several years now. She first immersed herself in the scene as a member of CVTY Collective, a group of artists who spearheaded the movement and promoted the growth of street art in Cavite, and from where she got the name, 'Tyang' (pronounced 'chang'). Now, she's an artist entirely her own.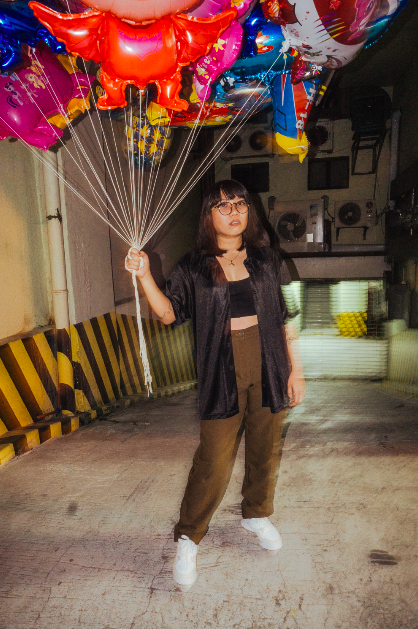 After trying various art forms and styles in her early years as an artist, she finally discovered hers in 2014: an eclectic, messy, no-gloss yet highly kaleidoscopic body of work that is distinctly Tyang's. From a lucky purchase of a wood cutting machine from a Japanese surplus shop, she discovered her proclivity to combining wood-cutting and her art style.
"Nung bata ako, nasanay na 'kong humawak ng power tools kasi yung father ko, DIY guy. Napag-connect ko yung familiarity [ko] sa tools and art; so yung ginagawa ko ngayon, organic lang din so masaya ako na naa-achieve ko yung mga gusto kong gawin."


Tyang Karyel
When it comes to her inspirations, Tyang relates to finding inspiration in the mundane, with most of it stemming from memories and the nostalgia of her childhood. From old, local lumpiang shanghai wrapper labels to even the stuff you find in garbage bins, "Kahit anong bagay na makita ko, basta ma-catch ng attention ko, nalalagay ko sa art ko," says Tyang. "Kung ano yung tinatapon sa 'kin ng surroundings, na-eexecute ko siya sa art."
From art to style, Tyang gives off a punk-yet-playful energy that deeply reflects her personality and her preferences.
"As much as possible, anything comfortable for me is good enough," shares Tyang. "You'll never see me wearing high heels and dresses. In a nutshell, I dress like a 12-year-old teen. I always wear sneakers."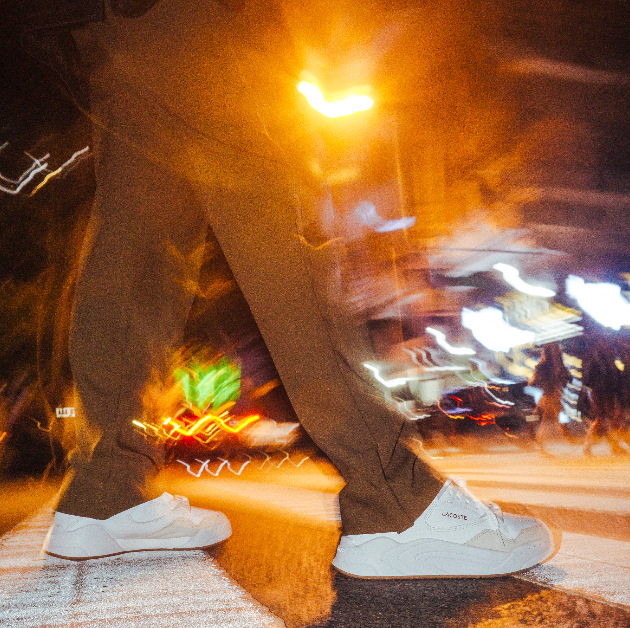 From her art to even her own fashion sense (or non-sense), Tyang's creative persona isn't just restricted to her own presentation of self, but she's also had a hand in dressing others as her art.
When it comes to describing her style, we asked her: if you were to describe your style to someone who couldn't see it, how would you do so?

Siguro kakamutin ko yung likod niya. Makikiliti siya. (laughs) Siguro papatikimin ko ng sour candy. Ano ba yung pinaka-maasim…yung local, yung Yakee (bubblegum). Saka yung Pop Rocks.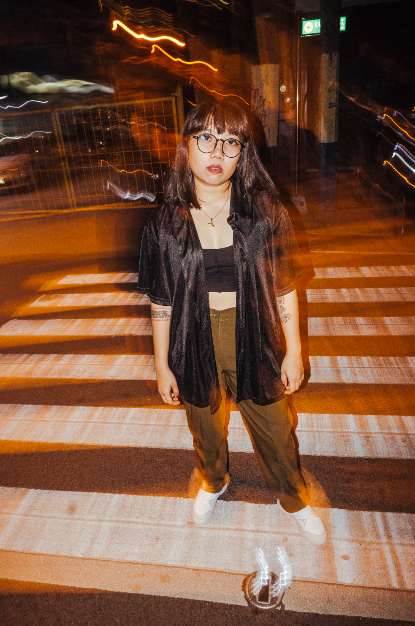 Dino Kilates A.K.A. "DZ SVG" (@dinokilates)
Our next conversation begins with a familiar face. Dino Kilates, currently known as a radio deejay and Bawal Clan rapper by the moniker DZ SVG, is no stranger to the public eye. Most people remember him from his early days as an actor in local television, and that's all we're gonna say about it.
Even early on, Dino shares his love for music and writing at an early age. "I always was writing…I think 14-15 years-old. Whatever I see, whatever I observe, I would write it. But definitely back in the day, all the shit that I was writing was really–when I look back on it, was hella wack. Parang, 'Oh my god, just shut up. I'mma punch you in the face, just shut up."' (laughs)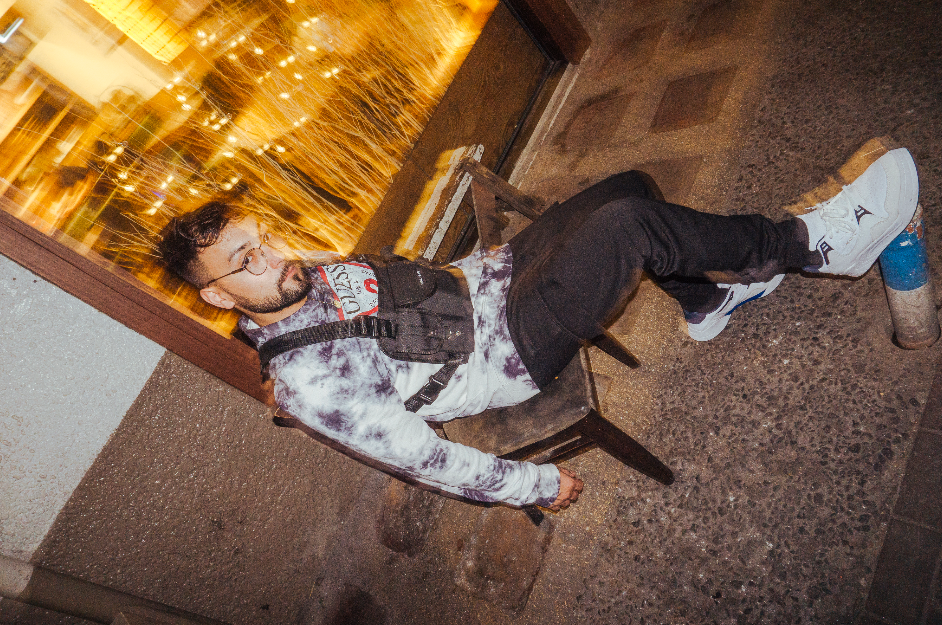 From starting out as a hypeman for clubs around the metro, Dino grew to appreciate and be more aware of the music he wanted to surround himself with. "There's a point where you get tired of telling people to put their hands up and shake your ass and move it like this, like this. (laughs) So I would still write; if there's a beat that I like, I would just download that beat off the internet and just make my own version at home," shares Dino.

Through ups and downs and a few years of trial-and-error through different careers in the US, Dino returned to the Philippines and decided to really pursue his music. He found his tribe with Bawal Clan, working with DJ slash producers Buddah and Yung Bawal, and has since found not only success with his music, but also his identity come full circle. When asked about what he enjoys most about music and rapping, Dino shares,
"With acting, there's a script that you follow, there's a role that you embody, that you learn. But with writing your own lyrics as a rapper, like doing music, I feel like it's a more true-to-self kind of thing because I'm writing from my perspective, or from the perspective of people that I'm close to. So mas galing sa puso."

Dino Kilates
And it's with finding his true self, through music, that we appreciate his lyricism and how he presents himself through his style. "Before, when I was younger, I felt na I had to dress a certain way to be cool," Dino recounts. "But now, it's like, fuck being cool. Coz being cool is overrated. Now, it's more like a comfort thing; something that I resonate with. I'm either super loud, with patterns, or I'm like super discrete na monochromatic, black and white shit."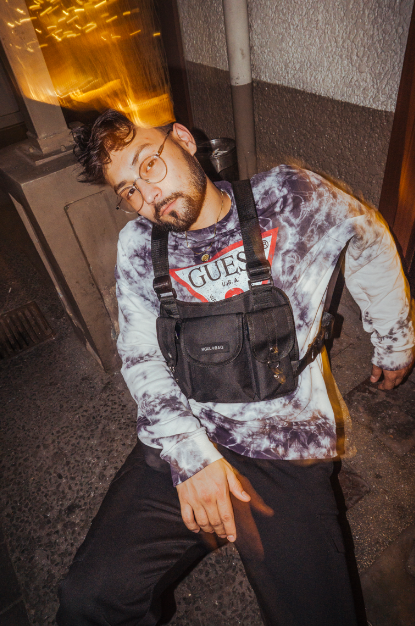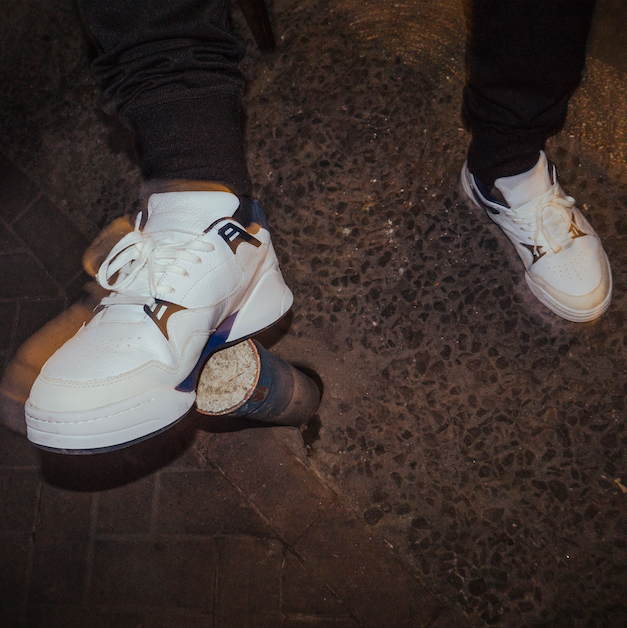 When we asked him to describe his style in a song, Dino had a pretty perfect response:
Fuck. Pwede playlist?

Sure.
Probably the youngest gun on our list is local rapper, Lexus Saintino. Made popular through his affiliation and songs with the rap/hip-hop group, OWFUCK, Lexus has made a name for himself. His most recent releases have garnered over 1.8 million views on YouTube (as you can see for yourself below) and have since been made phenomenal.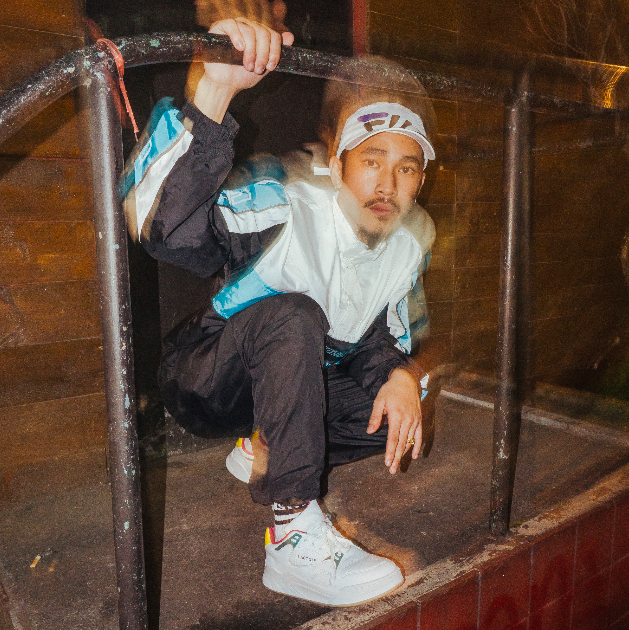 What strikes you most appealing about Lexus is his honesty. Talking about origins, Lexus tells us about his inclination to music and writing as early as second-year high-school, when fliptop was all the rage, and recess and lunch breaks were dedicated to going off on mini-battles with his classmate with the same interests. He admits to being kicked out of school in his senior year but only used it as motivation to better focus on his passion, music.
When it comes to discussing his influences, Lexus cites the support given to him by his family and his relatives who have passed away, and a few significant musical influences in international artists.
"Yung influence ko naman, hindi siya local artist eh," says Lexus. "Hindi talaga siya local artist so ayoko magpaka-hipokrito na sabihin si Francis M, Gloc-9, hindi–ang pinaka naging influence ko sa music that time…Odd Future, Flatbush Zombies, A$AP Rocky, sila Kendrick [Lamar], sila J. Cole, ayan. Joey Badass, especially. 'Tsaka ano, Mac Miller, rest in peace. Favorite artist ko talaga yun si Mac Miller, sobrang laki ng influence niya sakin as an artist, as a person. Sobra. Sobra niya 'kong na-inspire. 'Swimming' (album), saka yung 'Faces' (mixtape) niya. Sobrang lakas."
What makes Lexus a lyrical powerhouse is his preference to discuss issues and things that mean more; ain't nobody got time for surface-level pettiness. "Dati yung struggle namin–yung mga tao kasi dati, gustong music yung party shit, tungkol sa pangarap, tungkol sa pera, which is ayaw namin talagang pag-usapan," shares Lexus.
Lexus explains that a lot of his inspiration also comes from the fans themselves. Whenever fans talk to him about problems, when they share their own struggles, Lexus endeavors to give them advice or share solutions about what they can do to combat their struggles.
"Gusto namin pag usapan yung talagang nangyayari sa mundo. Nakuha namin yung panahon namin na yung pace ng pag-iisip ng mga tao papunta na dun, nagko-connect connect kami tungkol sa buhay, sa realidad, sa struggles, depression–especially depression, sobrang daming depressed na tao ngayon na parang hindi nila binibigyan ng importansya, akala nila joke, which is hindi talaga yun joke."


Lexus Saintino
Thus is the driving inspiration brought about by music. And Lexus' honesty and openness about himself and his situation doesn't just present itself in his music, but his expression also presents itself visually through his personal style.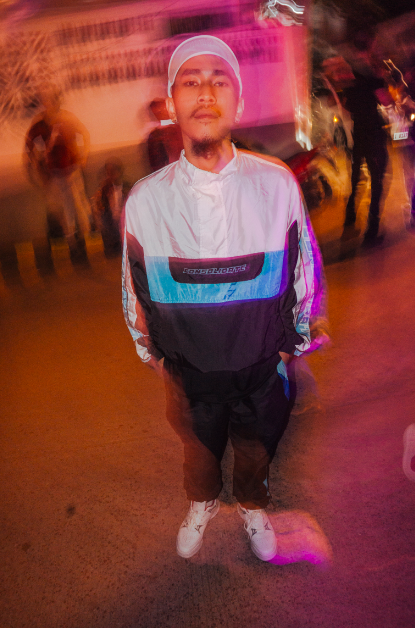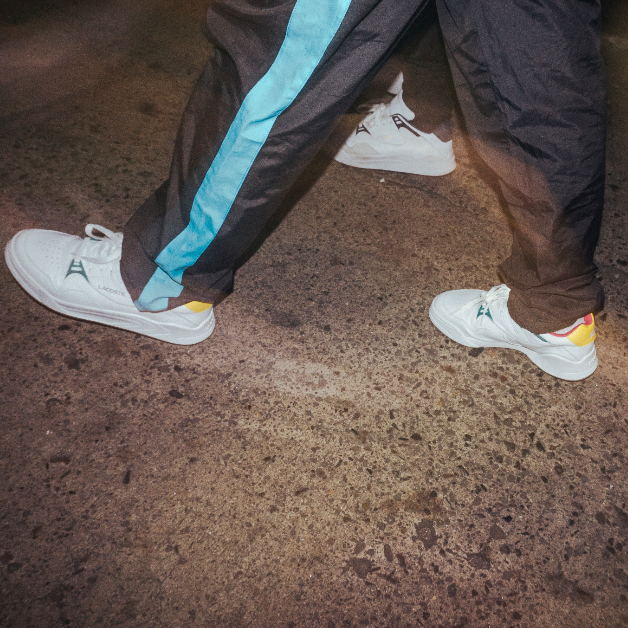 "Yung personal style ko, which is talaga una–'di na 'ko magpapahipokrito–syempre dumadaan tayo sa phase na parang manggagaya ka sa idol mo kasi idol mo yun eh," he shares. "Nai-inspire ako kay Meechy Darko sa Flatbush Zombies, pero eventually nung nagkaka-edad ako, naisip kong mas okay maging ako. So lahat ng nakikita niyo ngayon, ako na 'to. Sobrang natural na 'to, wala akong pinepeke."
We asked Lexus if he were to write a song about fashion and style, being true to one's self, how would it start out?
"I'm not good at freestyling though, pero…

"Ako'y naka-ngiti lang palagi na parang wala lang,

Naglalakbay na parang walang naka-harang,

Pangarap nilalaspag ko na habang kayo hanggang kapa lang.

Pasensya na kung 'di magalang,

Nasanay lang siguro sa sistema na alam mo na kapag may pera ka

ikaw ang pinaka wala.

Sa laman ng pitaka ang kayamanan,

dapat mong malaman tunay na kayamanan ay ang kaalaman."


Lexus Saintino
---
If there's one thing to take-away from this feature, it's that there is no reason for you to be inauthentic or someone other than yourself. You can be weird, you can be normal, you can be loud, you can be basic, you can be cheesy, you can be preppy…no matter your style, no matter your art form, we hope that you're as authentic as you can be.
Whatever or whoever your influences, we hope that you take our introductions to these three very distinct personalities into account and that hopefully, their story helps you tell yours.
Photos by Justin Villanueva
Follow CLAVEL on Facebook and Instagram for news, culture, and more.

Related Posts