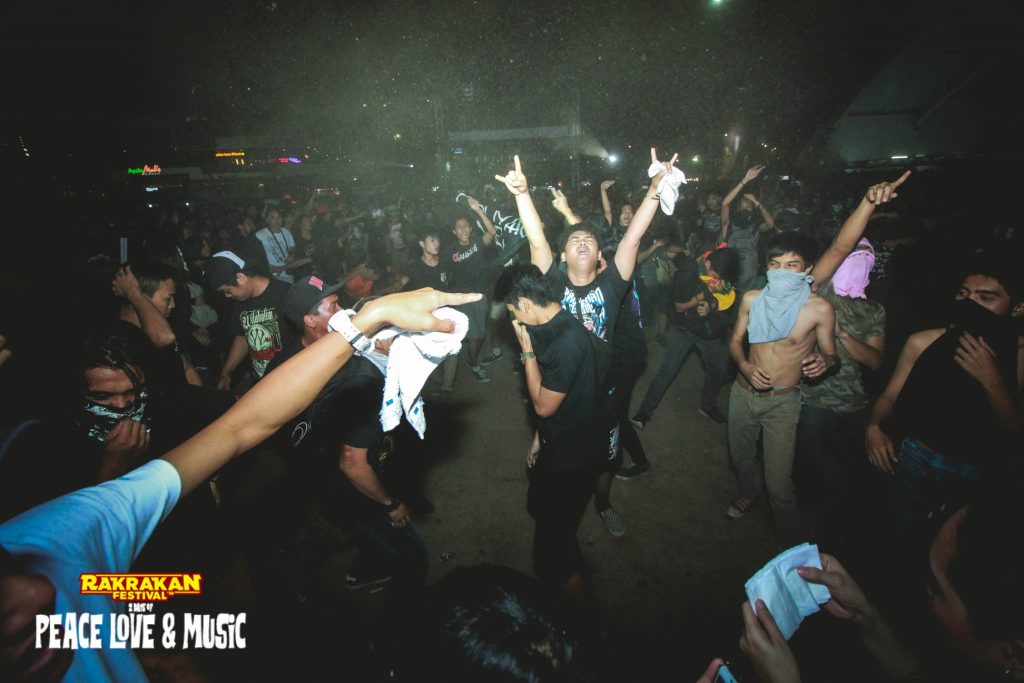 (UPDATED) Happening this April 25 at the CCP Open Grounds in Pasay City, Rakrakan Festival 2020 is bringing you a day jam-packed with music from over a hundred artists, free-flowing beer, great food, merch, games, and even more until the early hours of the morning, already proving itself to be an unforgettable leap year celebration.
Maintaining their "Peace, Love, and Music" theme from last year, Rakrakan continues to celebrate the future and growing OPM community while communicating this theme to its audience through every detail of the festival.
Here's everything you need to know about Rakrakan Festival 2020: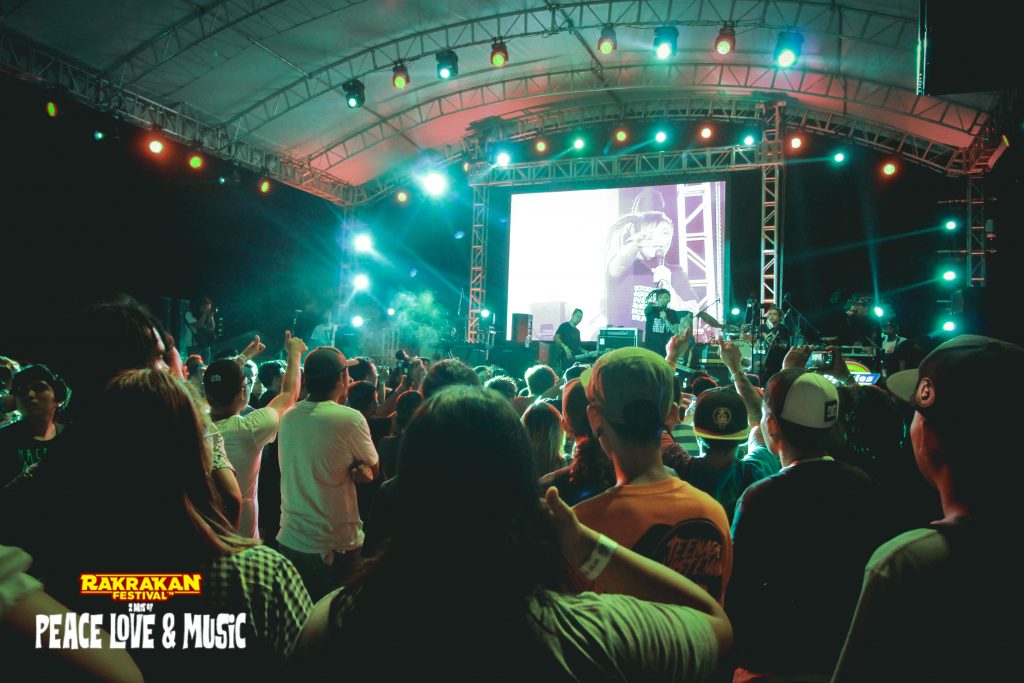 Over 120 bands and artists will be performing across 6 stages
This year's Rakrakan features six stages catering to different genres, all with at least 20 artists each. The stages include: Aklas Move Stage, Lakas Mosh Stage, TM Center Stage, Slam Stage, Peace Stage, and Lahi Stage. Check out the complete lineup on Rakrakan Festival's official page.
You can contribute to local NGOs and LGUs in the PEACE LANE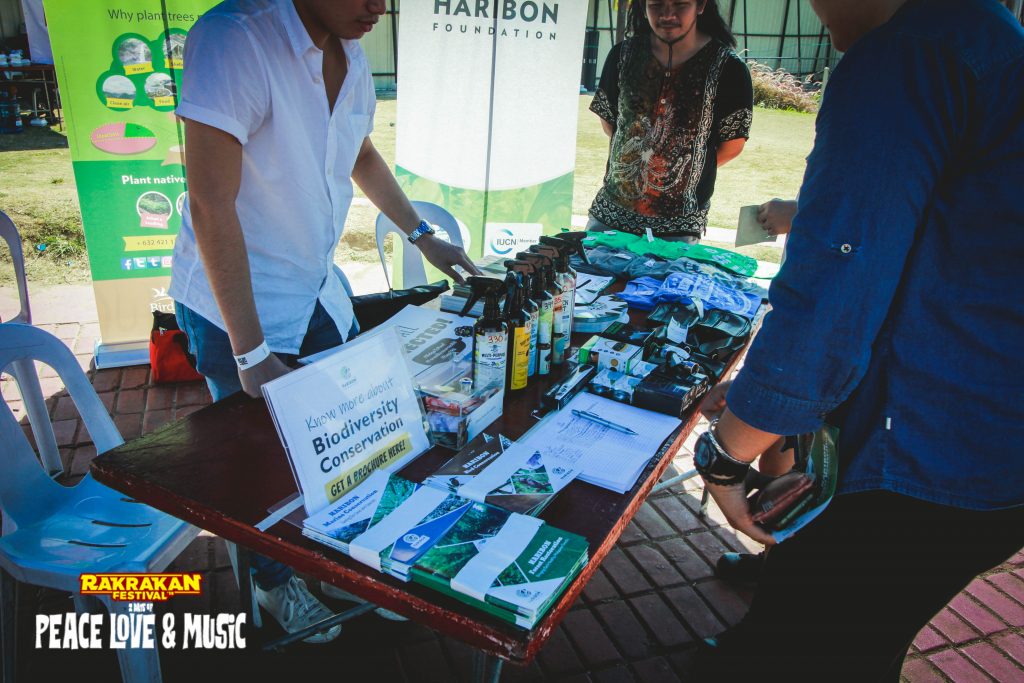 Pushing the festival's theme festival, the PEACE LANE will be filled with booths of local NGOs and LGUs that focus on nature conservation, mental health awareness, Lumad education, safety for stray pets, and more. With fundraisers, information drives, and different cool activities, you can learn about their respective campaigns in an entertaining way and maybe make a difference yourself.
There will be live street art sessions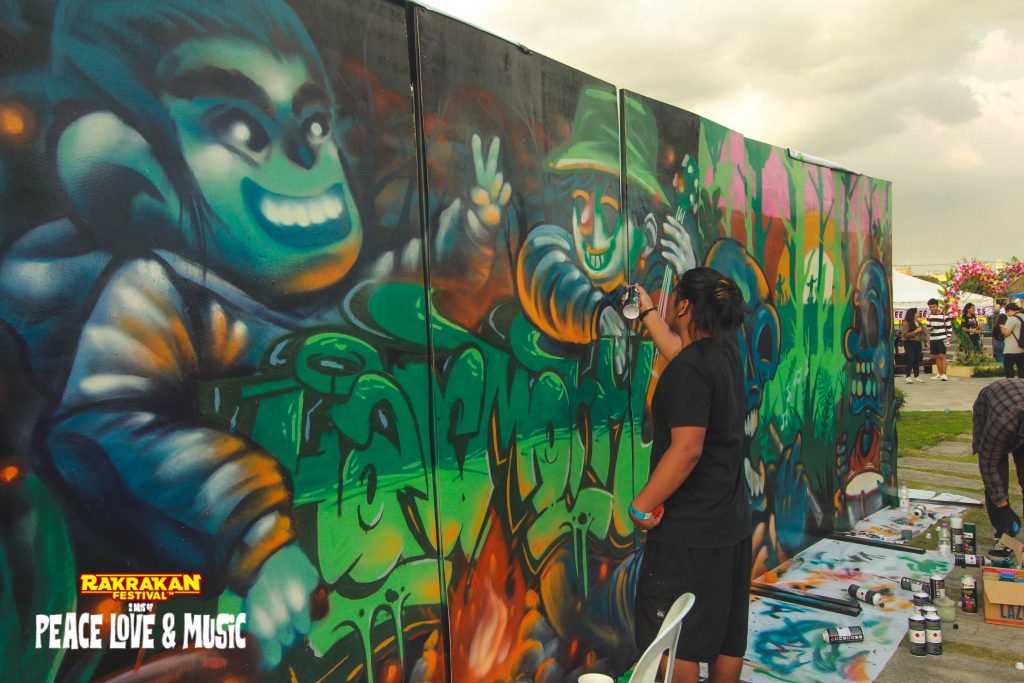 Through a live street art competition, you'll get to watch some of the brightest rising artists interpret the festival's theme into their own unique masterpieces.
You can learn to skate at the free-for-all skate clinic
While Rakrakan is also known for their annual skateboarding competitions, this year will be featuring a free skate clinic presented by Macbeth Philippines. First-timers can learn how to skate from available professionals, all gear provided. Regular skaters on the other hand can try out the obstacles and ramps set up for them—all you need to do is bring your own decks and enjoy.
Witness live rap battles brought to you by Sunugan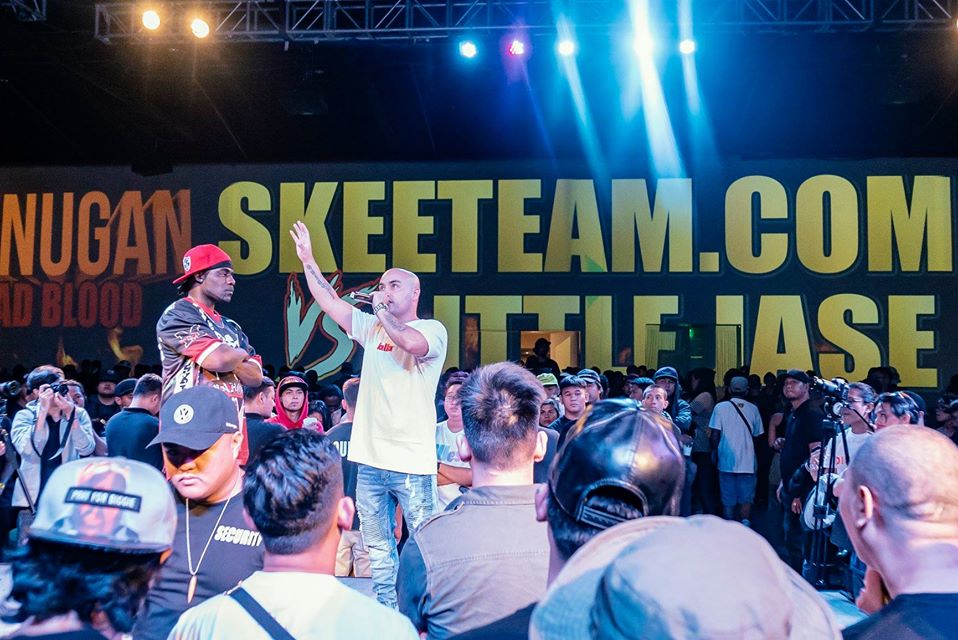 Sunugan, one of the most prominent rap battle conferences in the country, is coming to Rakrakan this year. Spearheaded by Mike Swift, witness some of the best rap artists battle it out and watch out for some surprise perfomances, too.
Action from the Philippine Wrestling Revolution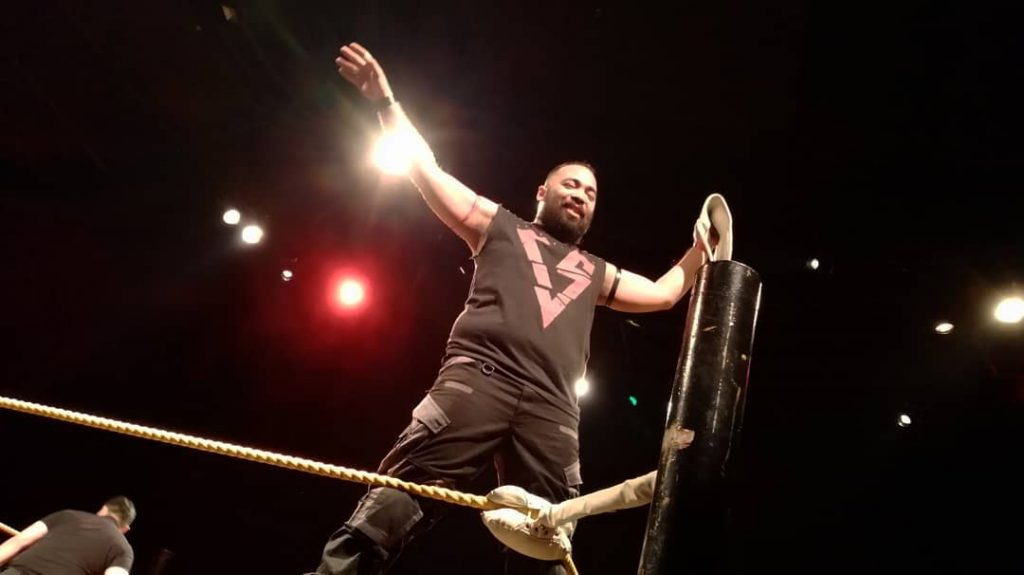 To get the crowds hyped and ready for moshing, the Philippine Wrestling Revolution will be keeping us on our toes the whole night by providing quality body-slamming entertainment.
Watch and be wowed by the Flow Arts community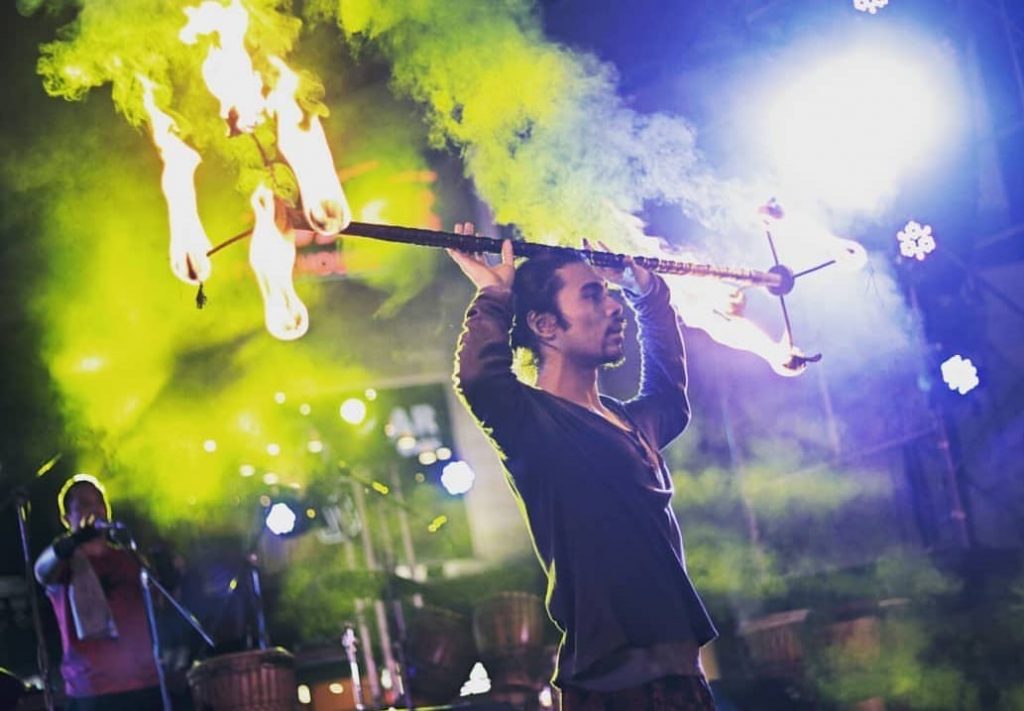 While enjoying the performances from the Lahi Stage, you can simultaneously be dazzled as fire spinners and dancers showcase their talent and flow with the music.
Bring extra cash for the merchandise bazaar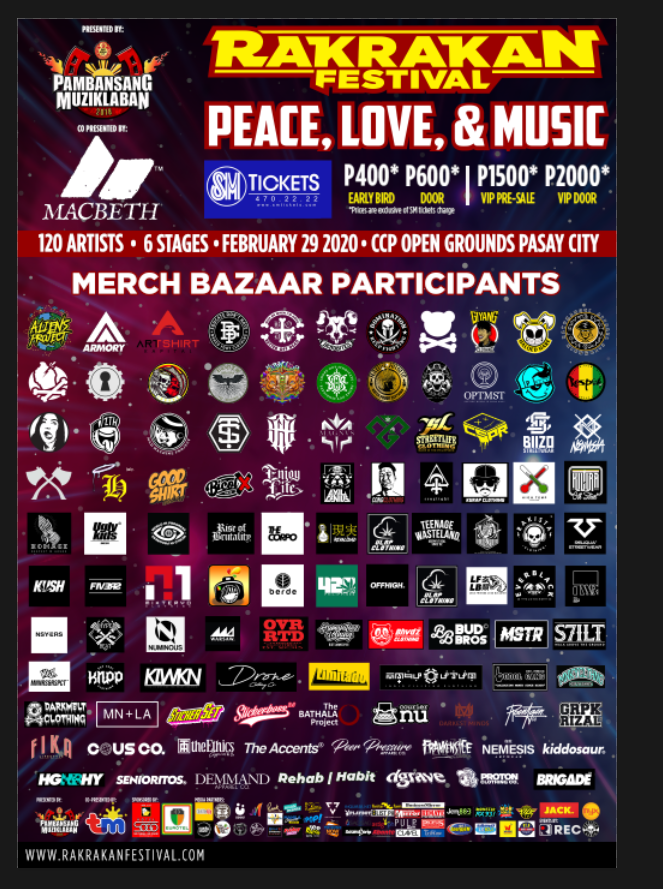 Browse through loads of clothing and accessories from the country's local and independent apparel brands. With over 100 retailers, it's going to be nearly impossible not to find anything you like.
They've got your lunch, merienda, and dinner covered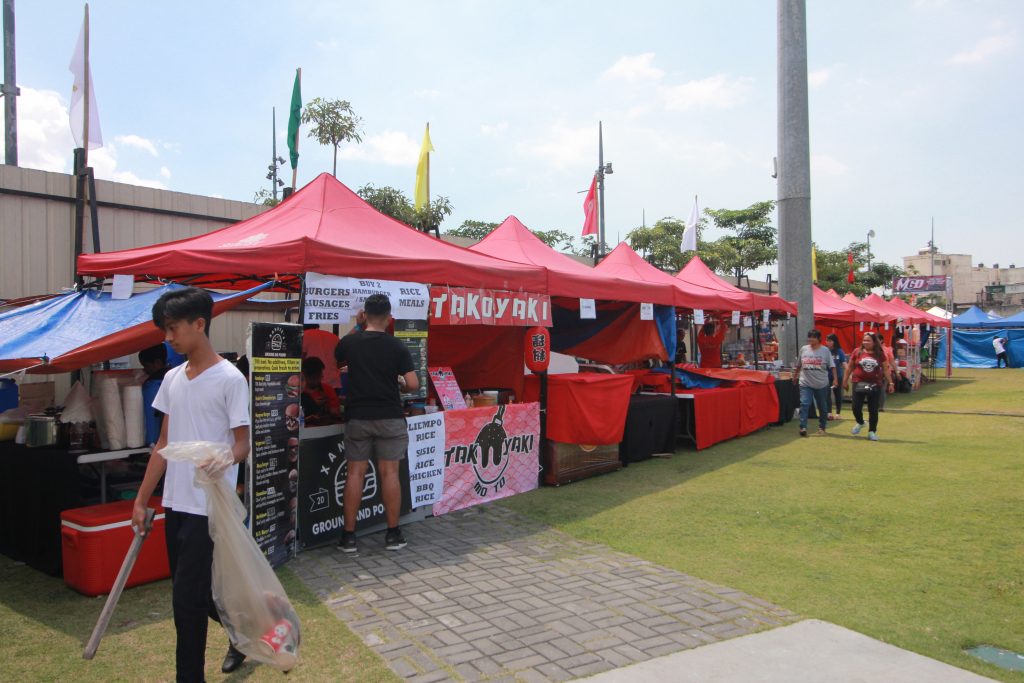 With all the moshing you might be doing, getting hungry and losing energy might be a worry for you. But Rakrakan's got you covered—choose from an almost endless amount of options to keep you fed and hydrated from afternoon 'til midnight.
You'll have six-hectares of festival ground to explore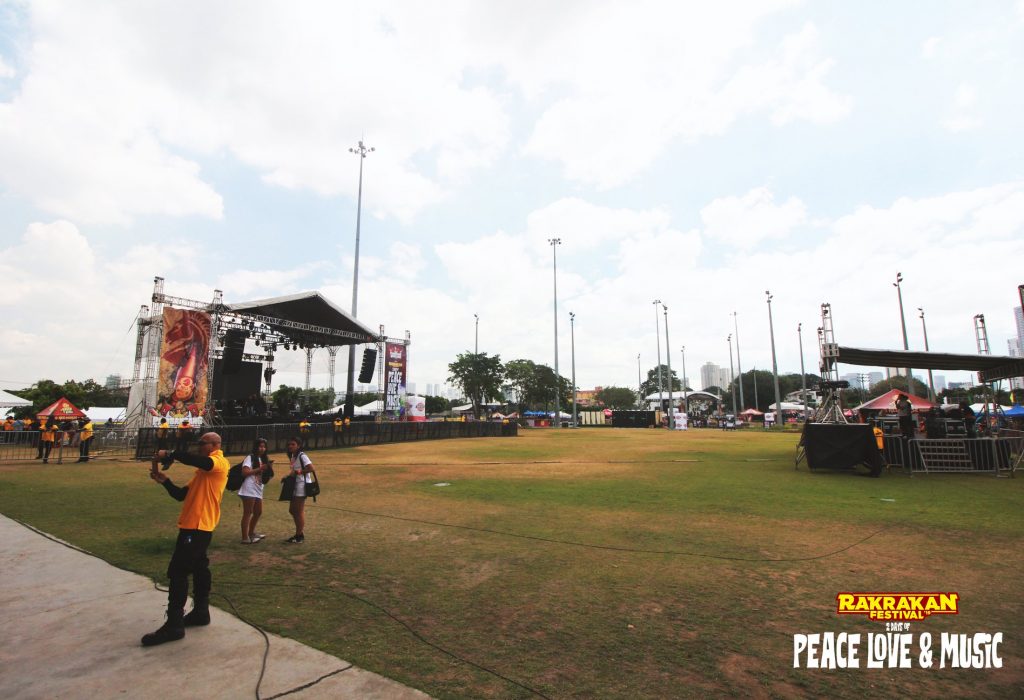 Aside from all the activities, the festival grounds will have a number of creative installations to appreciate and take photos with so you'll have a lot to look back on by the time the next Rakrakan Festival rolls around.
Tickets for Rakrakan Festival 2020: Peace, Love, and Music are now available at all SM Ticket outlets nationwide. Score you and your friends some tickets now before they run out. Check out Rakrakan's official Facebook and Instagram for more details.
Follow CLAVEL on Facebook and Instagram for news, culture, and more.
Related Posts