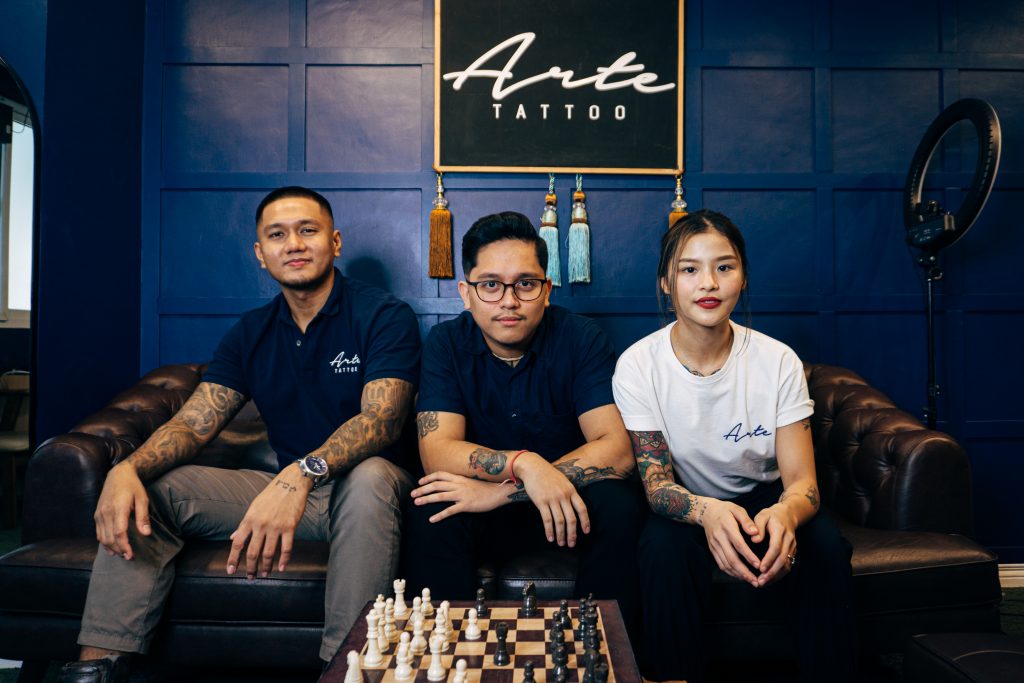 Back in 2012, Charles Arteta and Kel Laquin claimed a spare room by the garage of Charles' Parañaque home and called it a tattoo studio. Eight years, a partnership with Patty Tiu, and one shop in Poblacion later, Arte has established itself within the local tattoo scene and has become a go-to for famous personalities, tattoo aficionados, and first-timers alike.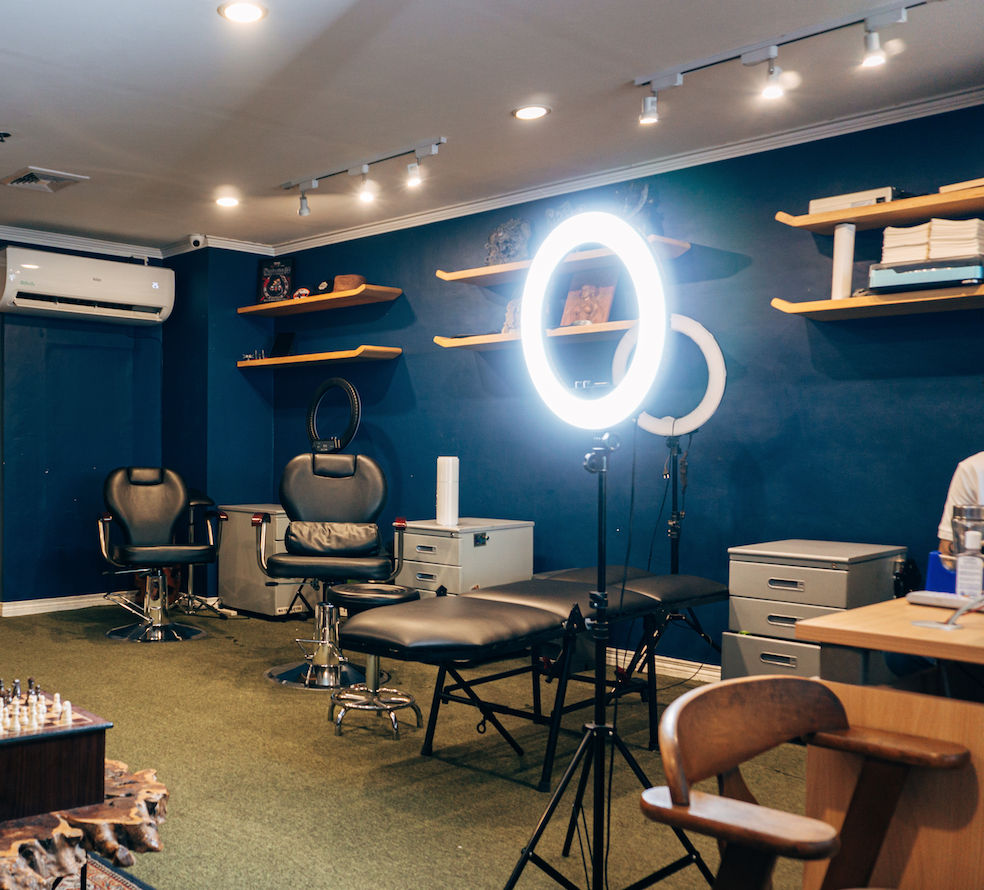 In the way that they talk about the shop and each other, it becomes evident how the trio's partnership surpasses just business, how tattooing brought them and their team of artists together, and just how passionate they are about imparting this shared love for tattoos with others.
"I don't just see Charles and Kel as business partners or Arte as just a business," shares Patty. "We've really become a family, and we want to grow so other people can see tattoos the way we do, too."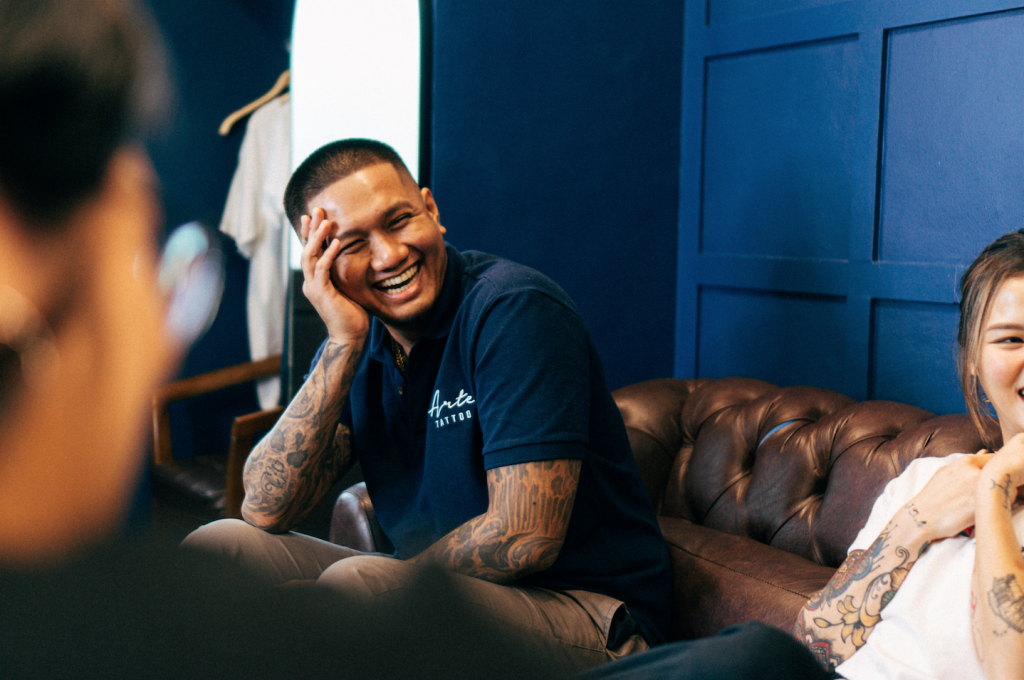 While opening a commercial shop was partly due to the number of clients Charles' house could no longer accommodate, their main reason is the foundation of Arte's mission: to spread positivity and make a difference through tattooing. Charles and Kel are both Hare Krishna devotees, and this bleeds into the work that Arte does—for them, tattooing isn't solely a means of self-expression, but is also a form of healing meditation.
"Sa meditation kasi, dinadala niya yung mind mo sa present," explains Kel. "Yung pain na nakukuha mo sa tattoo, ayun yung magdadala sayo sa now, para makalimutan mo yung mga anxieties ng past and future. Nagiging conscious ka on what's currently happening, on what's important right now. At pagtingin mo sa mirror pagkatapos ng process, it's a new you."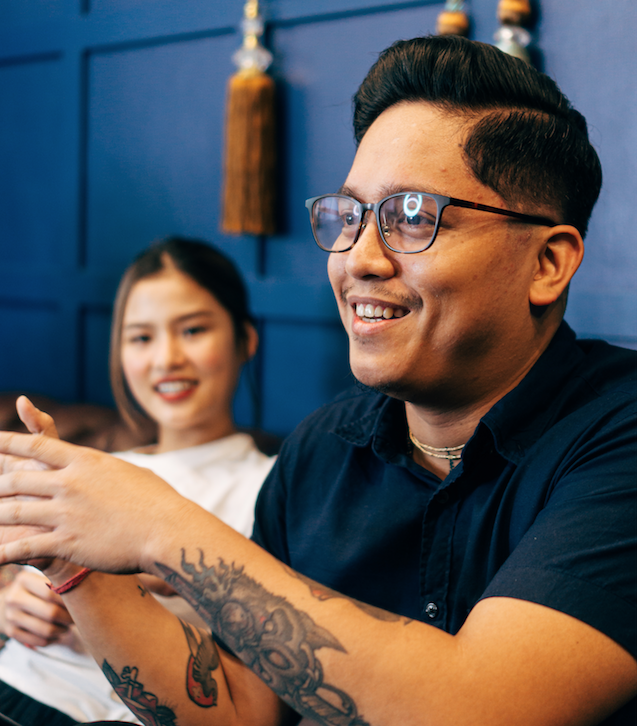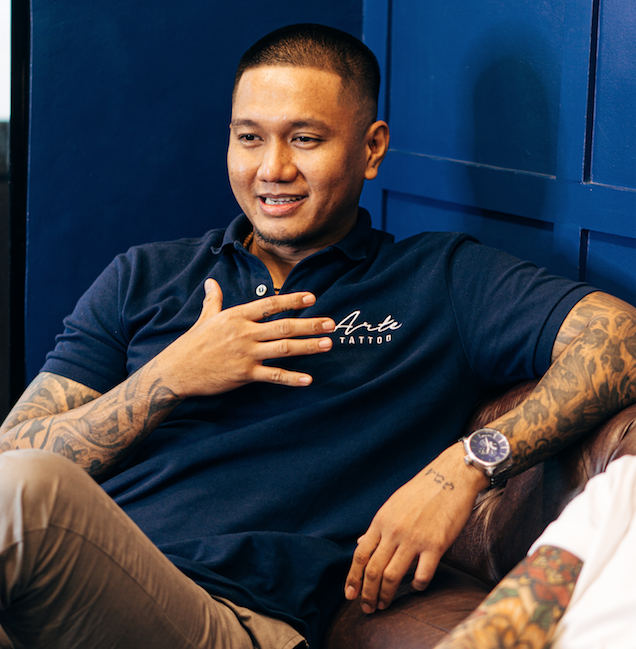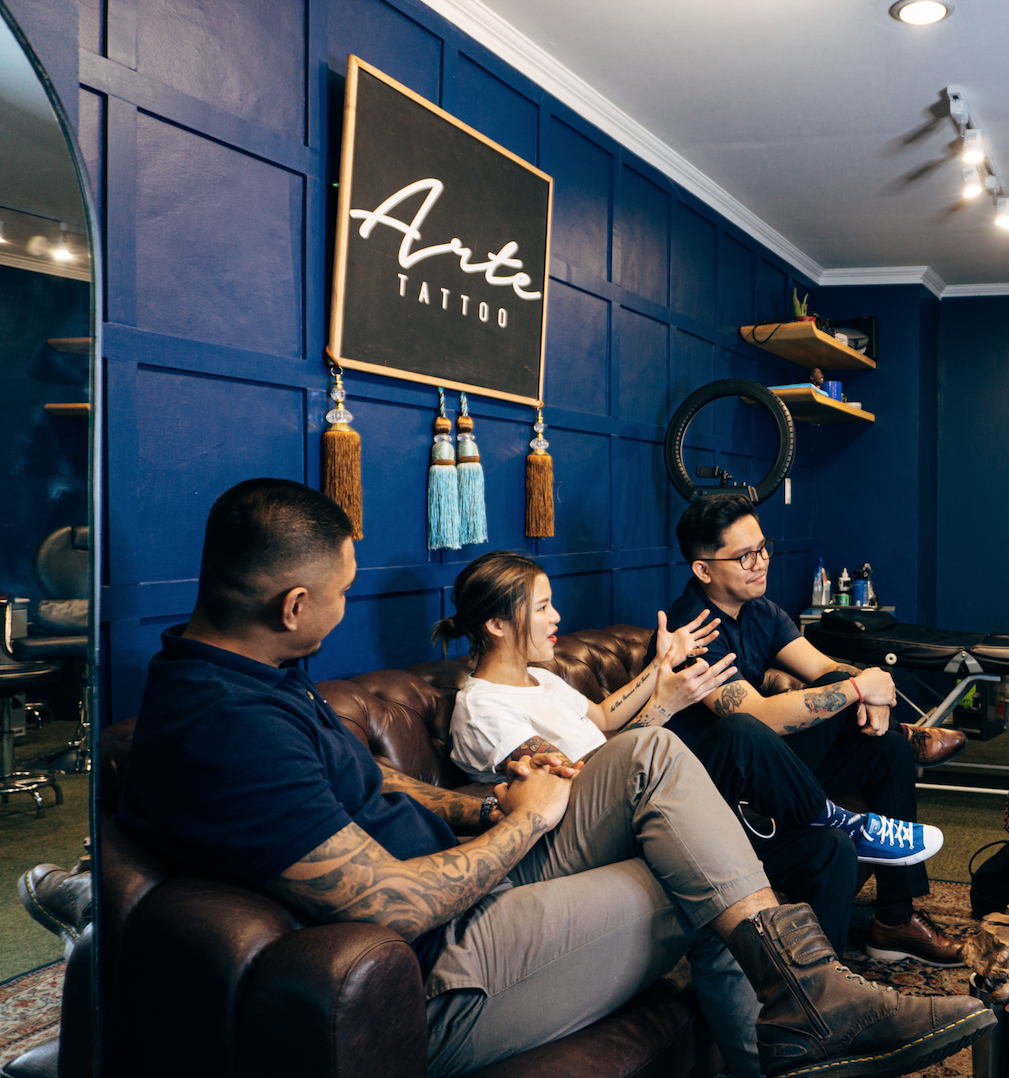 They also share all the different ways they've seen tattoos impact others and the different meanings they hold for people.
"Every time na may nagpapacover ng self-harm scars for example, or may pinagdadaanan in life na mabigat; pagkatapos nila magpatattoo, something changes in them. Parang mas light sila, may comfort at positivity. Ang sarap makita," Kel shares.
"Tattoos can represent so many things," explains Charles. "For me, it's a very spiritual thing, but they can also represent milestones in your life na gusto mo maalala. They can represent who you are, it's a window to your soul."
This mindset can be seen in the trio's individual experiences during a discussion about their own tattoos. Kel's and Charles', for example, serve as personal reminders of perseverance through hardships, while for Patty, the process of tattooing itself was a significant part of her healing after the loss of her father, and was also how she came to connect with Charles and Kel.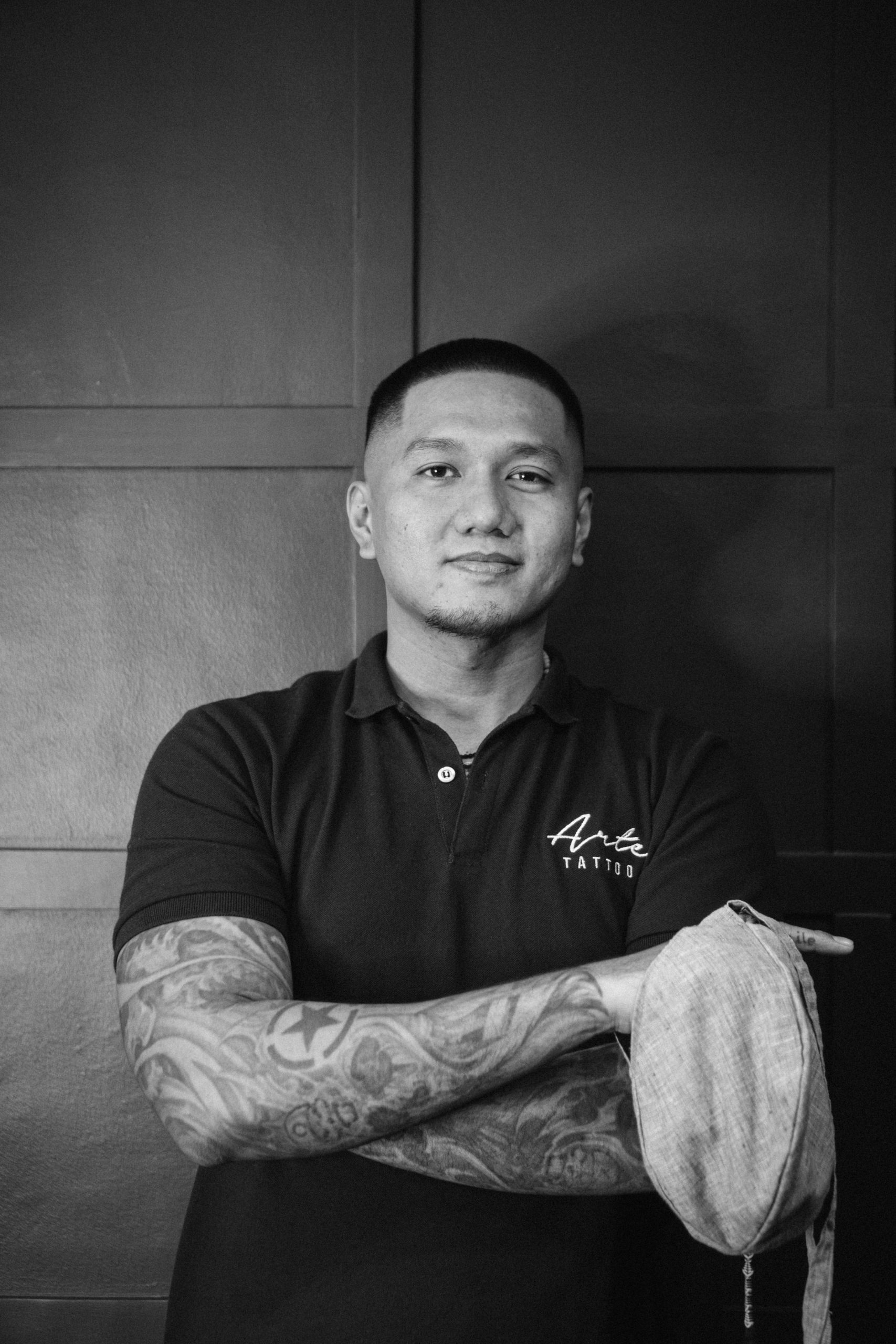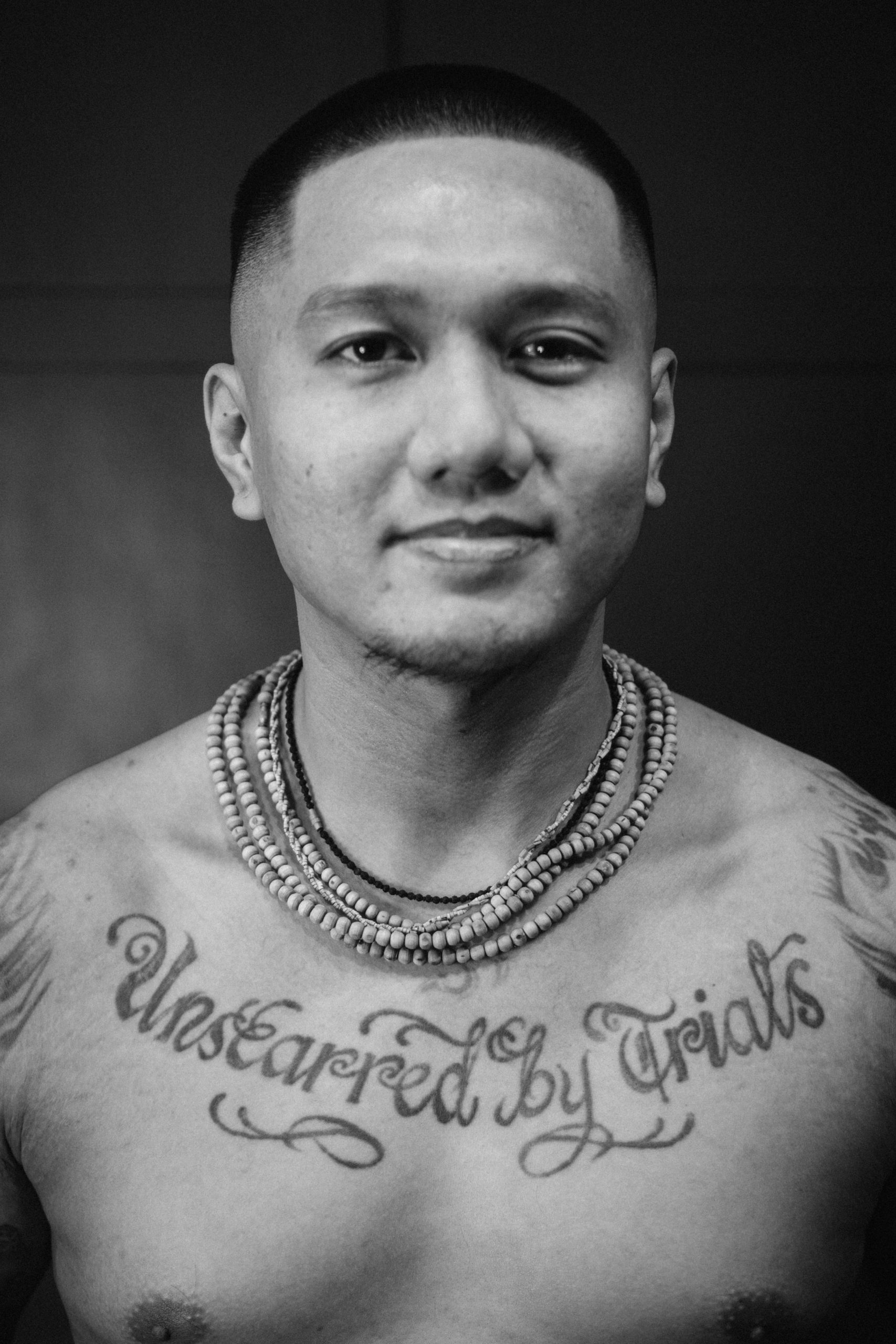 'Ang nakasabi dito ay, "unscarred by trials." Lyrics siya ng favorite band ko, Pantera. Every time I look into the mirror, lalo na pag may dinadaanan ako, pag nakikita ko yun, parang may sense na kailangan ko bumuhat, kailangan ko harapin yung mga yan.'

Kel Laquin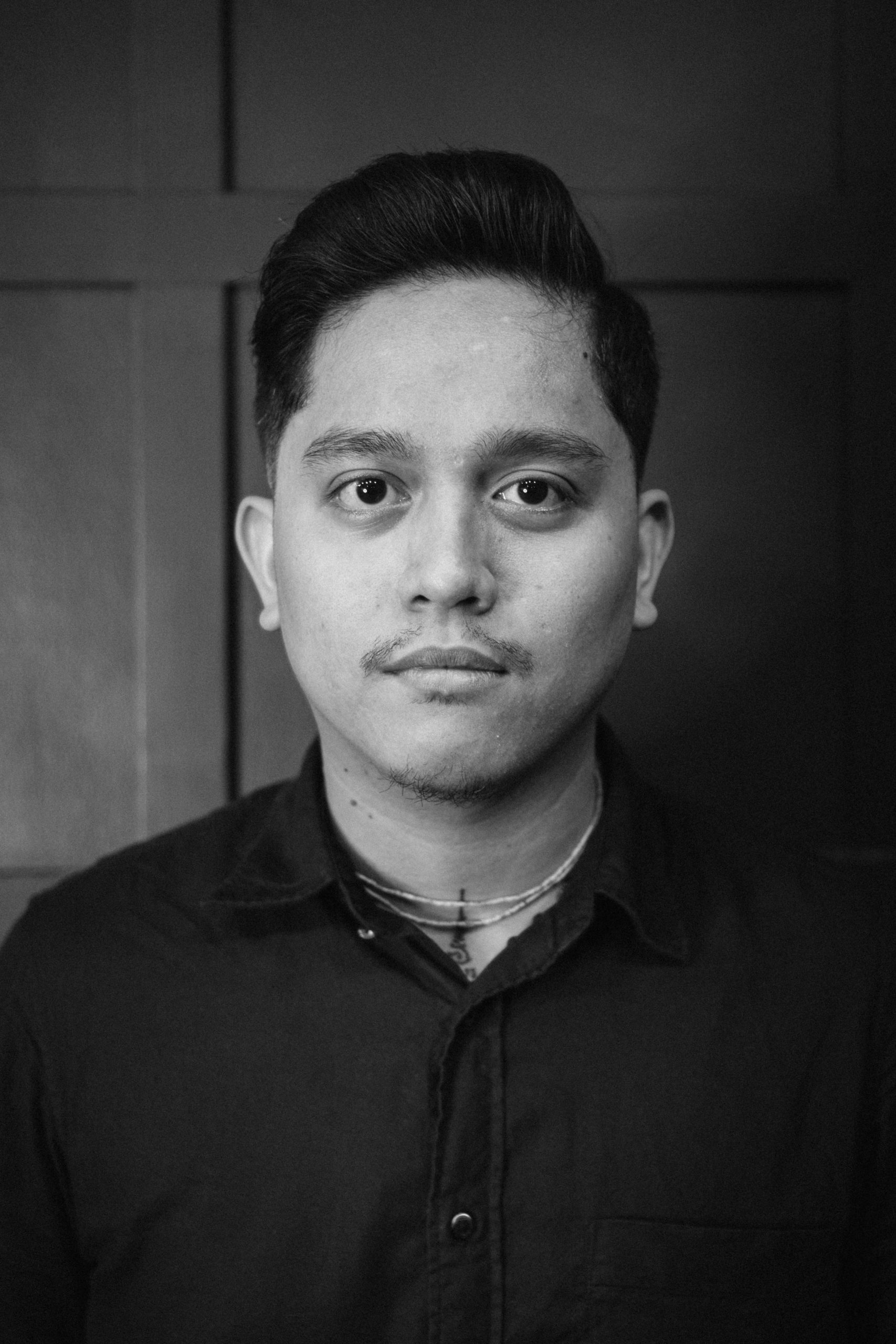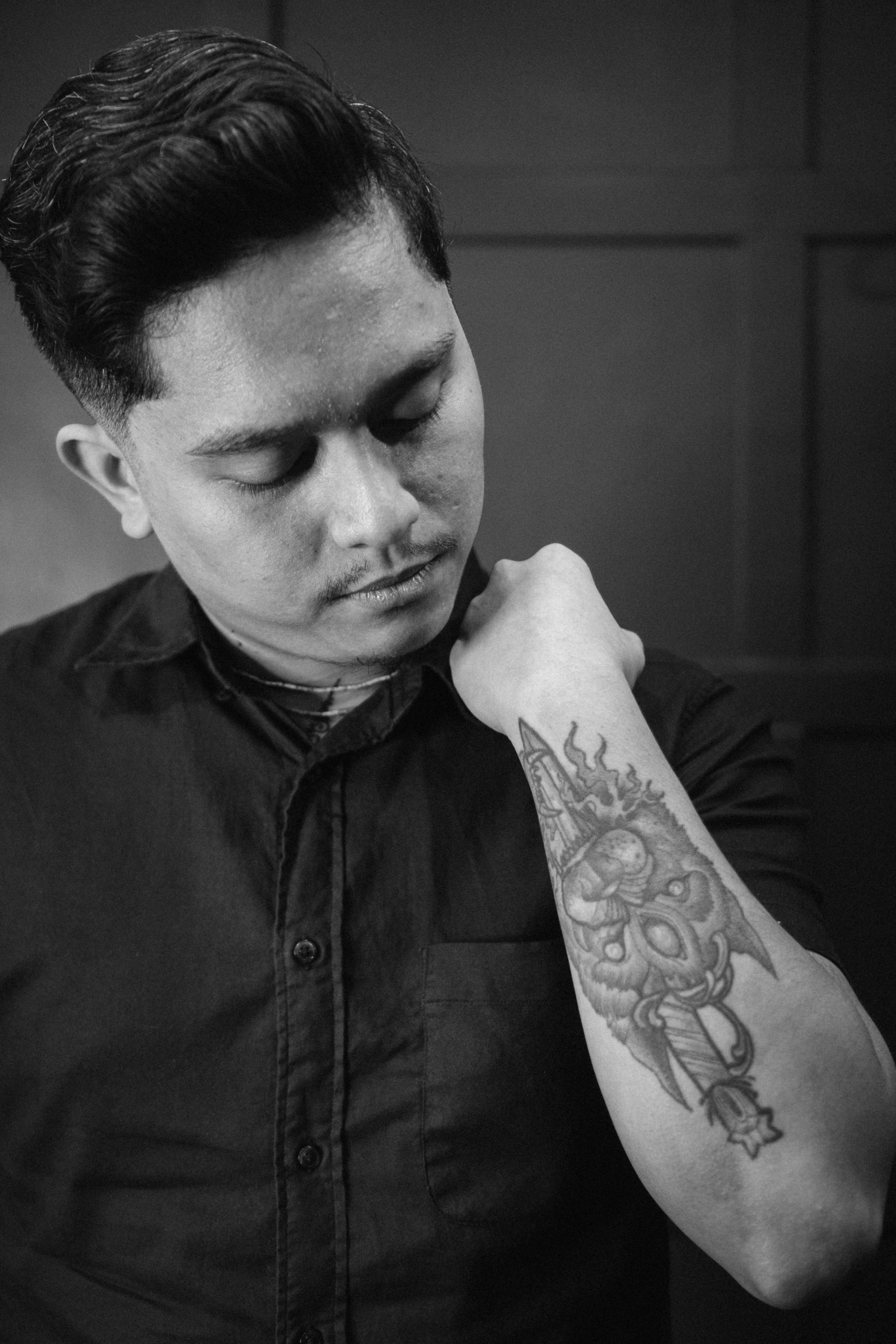 "Inspired siya by my grandmother after she passed away. I was really close to her, at ako din yung nagaalaga sa kanya. Sobrang in touch talaga kami, even later in her life. Ito yung naisip ko na design, wolf siya na may nakasaksak na dagger. It means na, kahit anong trial or challenges na dumating sakin, lalaban pa rin. Reminder talaga siya to stay strong."

Charles Arteta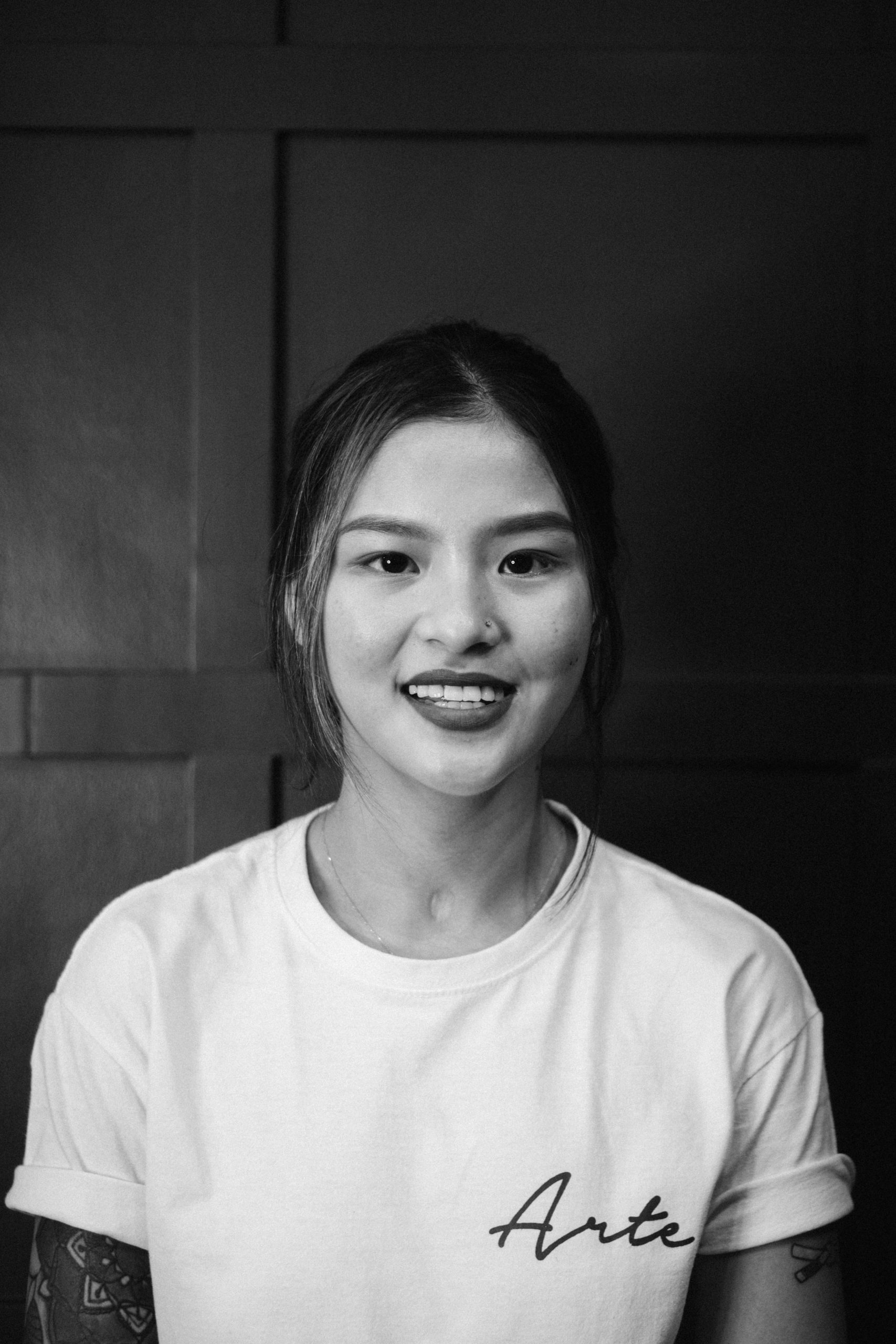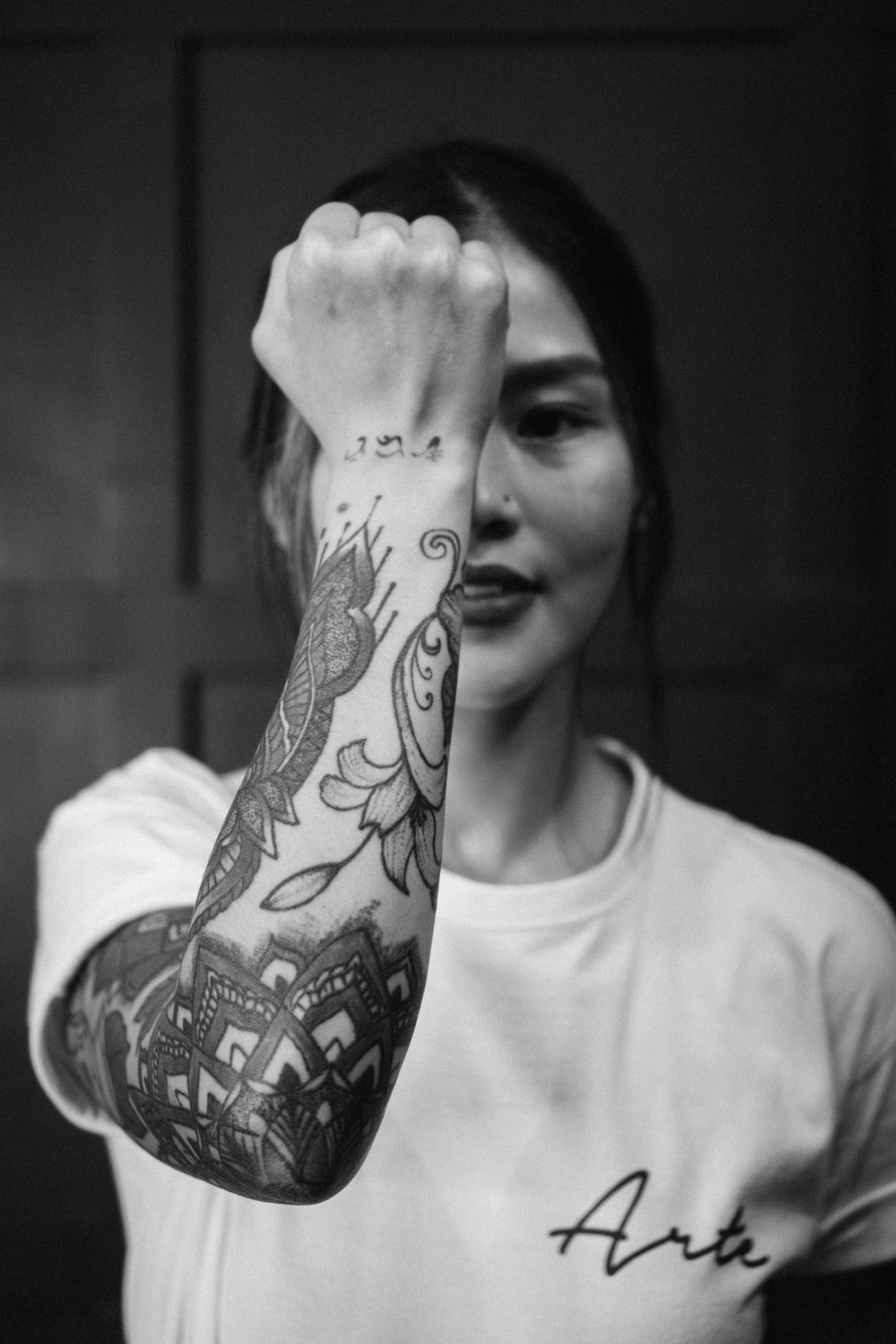 "I was grieving the loss of my father 4 years ago. I was looking for an artist to connect my arm sleeve tattoo when I came across Charles. At the first meeting for the sleeve, I was still grieving with the loss of my dad, but during the meeting, gumaan yung loob ko dahil sa conversations namin. Halos seven hours kami nagusap, parang alam na niya buong life ko and vice versa. By the second meeting, when we were putting in the colors na and everything, I sort of felt a sense of acceptance that my dad's gone. Something about the process and speaking to Charles, gumaan talaga loob ko. This was also when we all got connected with one another."

Patty Tiu
Settling in the melting pot of Poblacion has also helped Arte reach a wider and more diverse audience. Not only does this traction help them show how tattooing can be a healing and meditative process to the people that come to the shop, but it has also helped them with their goal of spreading their message of positivity concretely within the industry and outside of it.
Apart from Arte, Charles and Kel founded Tattoo Academy PH, where young tattoo artists in the Philippines learn more about the trade and hone their passion. In addition to this, the Arte team also actively volunteers for Food for Life, a feeding program that the shop regularly donates a part of their income to.
The team also attributes the success of Arte to how much more popular and accepted tattoos have become with younger Filipinos in more recent years.
According to Kel, "Social media is a big help, honestly. With it kasi, parang doon nagumpisa yung acceptance ng mga everyday Filipino sa tattoos. Because people would see it more often, mas-normal na rin siyang bagay sa everyday lives nila."
"One of the reasons is also napaka innovative ng mga tao," Charles explains. "Never naman nag-iba yung tradition ng tattoo—kung babalikan natin yung tradition sa Philippines, in the tribes it was a means of belongingness, it represented being part of a community. Na-innovate lang siya over the years by artists, at may sense pa rin ng community ngayon with the people who get them, but in a different way."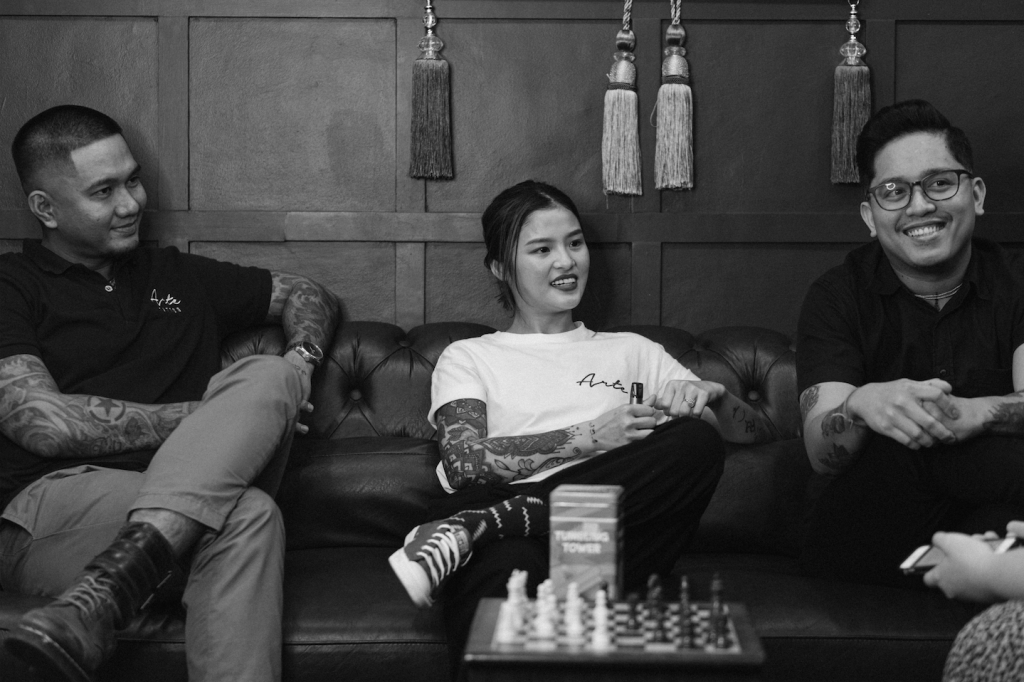 As successful as their homebase is, the team continues to plan for the future. While tattoos are quickly making themselves more common, there are still stereotypes that they hope to help beat. "There's a stigma that people still have, surprisingly, that all tattoo shops are loud and manly, ganun," remarks Patty. "While that's not true, we want to show that a tattoo shop can also look like a clinic, or a place you can meditate. It's another way to ease people into the world of tattooing."
"Yung goal is to expand para mas marami yung [matutulungan] namin. We just want to spread our message of kindness, healing, and meditation through tattooing."

Charles Arteta
Feeling the urge to get inked? Pay Arte Tattoo a visit at Unit 203 General Luna Building, Don Pedro Street, Poblacion, Makati on Wednesdays to Sundays from 2:00PM to 10:00PM.
Photos by Miguel Tarrosa
Follow CLAVEL on Facebook and Instagram for news, culture, and more.
Related Posts