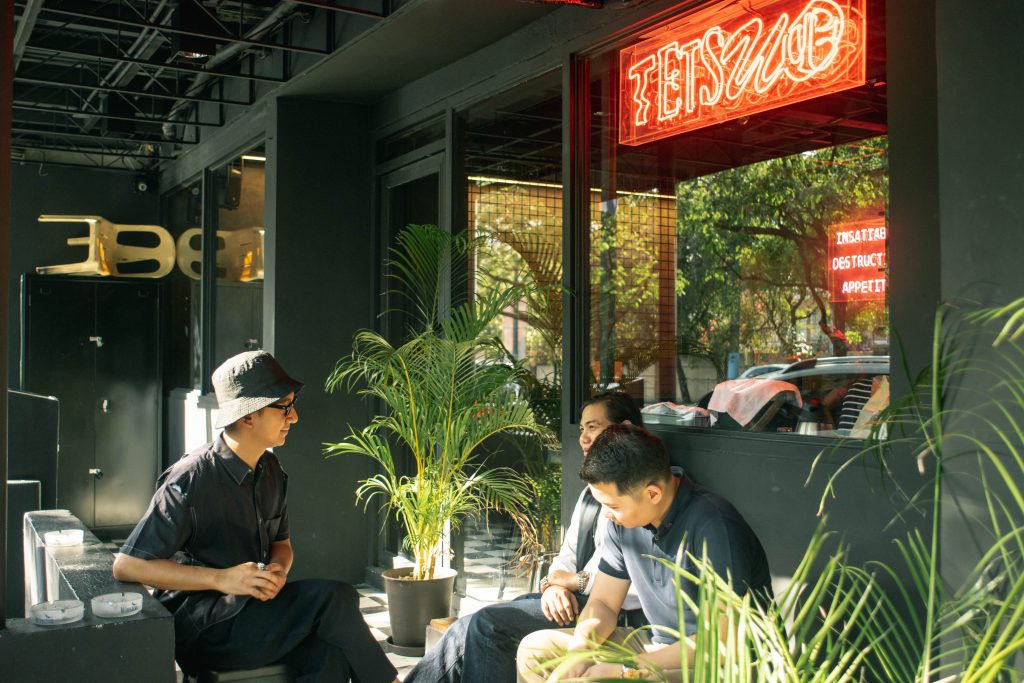 From starting out as a stall in Ateneo's JSEC to doing pop-ups at events and eventually opening their first branch along Esteban Abada in Katipunan, Tetsuo has come a long way in the five years they've been around. Loyal patrons of the restaurant will be happy to know about their most recent venture, a newly opened Makati branch along Kalayaan Avenue. It's not easy to miss the spot right under Boogie, with their neon signage lighting up the exterior and another inside with the words, "Insatiable Destructive Appetite" lit up from day to night.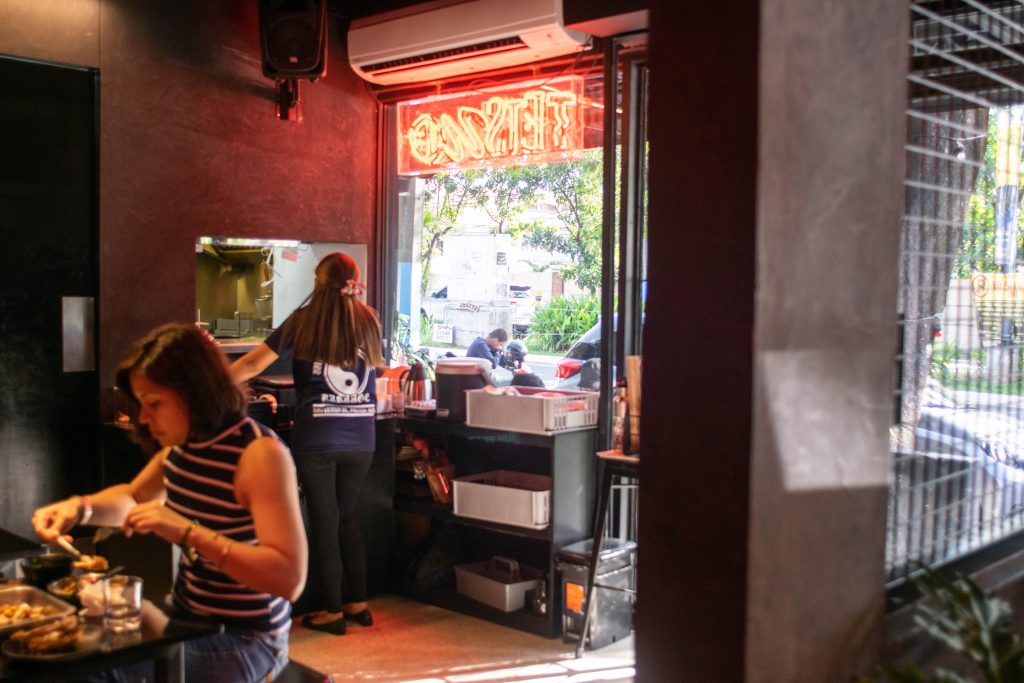 Even before starting the brand, the trio of Sean Bautista, Timmy Jacob, and Wesley Chan, already frequented Poblacion. They knew at the back of their minds that they wanted to #FreeTheBird in the streets of Makati, making them open this all-new branch.
Upon entering the restaurant, Strong Zero and One Cup Ozeki cans fill their shelves, while their bare concrete walls and minimalist black chairs and tables exude a more modern and subdued bar, harking back to their Japanese influences. Benches outside also provide additional space for people to hang around and have a chat while waiting for their food.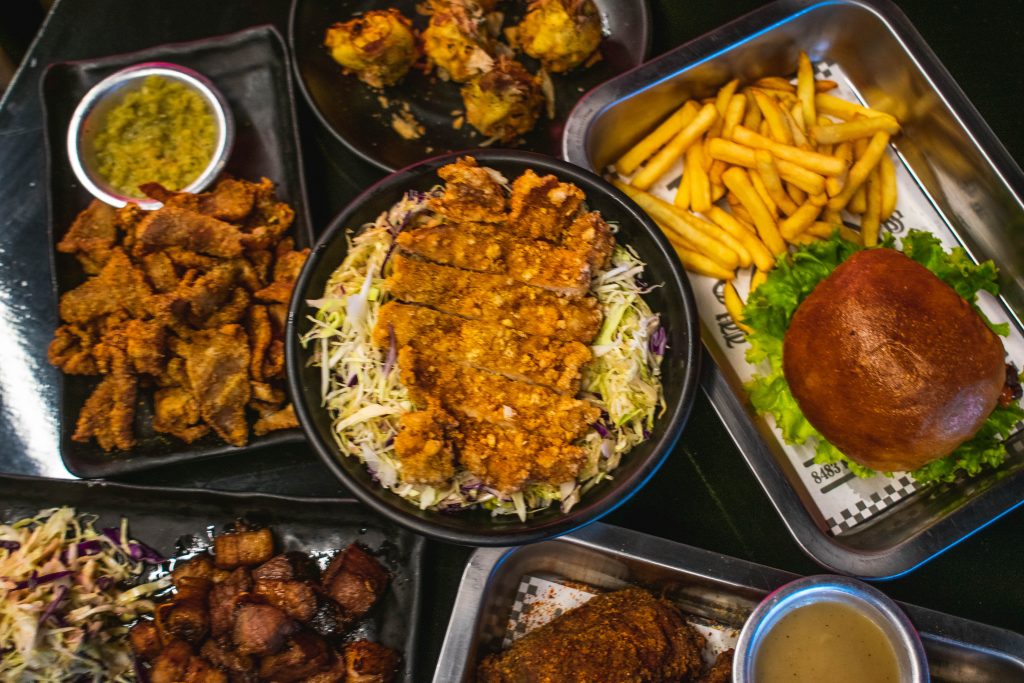 While reminiscent of their Katipunan flagship, the Makati branch sets itself apart in more ways than one. "We actually can do things that we want to," Sean says when comparing their Katipunan branch to their new Makati joint. The space lets the Tetsuo team hold bolder and louder events, and also provides more opportunities for collaborating with other brands. From talks and panels to DJ sets and rowdy Emo Nights, you can drop by the restaurant and leave having had great food and equally great company. They also offer event-exclusive dishes, giving Tetsuo an additional touch of uniqueness to go along with their already delicious menu.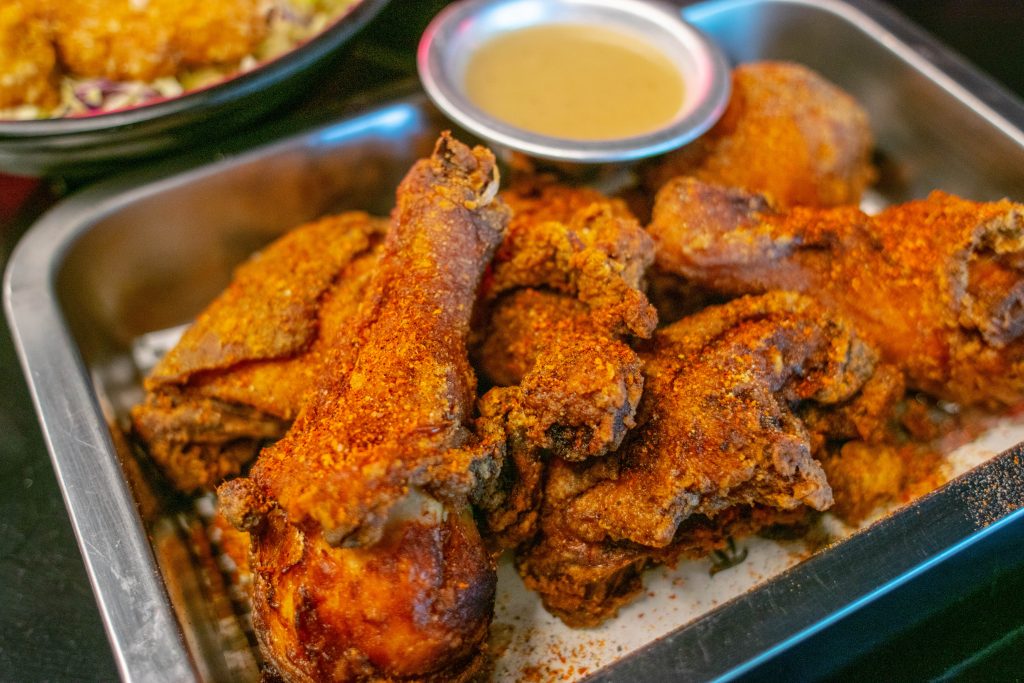 Makati is also a different beast that Tetsuo plans to conquer, as the location and demographic is different from the young and student-heavy patrons of Esteban Abada. Their new branch has more dishes for sharing instead of their usual single meals, as they expect people to come in waves and groups compared to the singles and pairs that frequent the Katipunan branch. You can only get their signature six-piece chicken in Makati, while only their Katipunan branch offers pork buns and their sleeper Kani Fries hit. Other Makati-exclusive dishes include their chicken sandwich, tuna tartare, chicken platters for sharing, and their super spicy hot chicken.





Indicative of the collaboration between the three heads of the brand, their food isn't comprised of just one kind of cuisine, but a mixture of influences and taste profiles that they believe just about anyone can enjoy. "I also try to input some balance to the menu," head chef Wesley says. The Tetsuo team knows what it wants and gives their patrons something that they can enjoy. "We try not to take ourselves too seriously. We try to keep everything personal to a certain degree," says managing head Timmy.
Tetsuo is one of the testaments as to how the trio's creative vision matured over time. "I've always been skewed towards a more retail kind of approach in terms of the way I do graphic design and concertize my creativity," says Sean, looking back at how his time at lifestyle brand Ursus et Cervus (UetC) influenced Tetsuo. "You still see UetC in Tetsuo today," with their shirts and other merchandise sold alongside their food. The minimalist and Japanese design is still there, but with a warmer and more personal touch.



The team only offers what they enjoy while never straying away from their identity. Their method of trial-and-error got them this far and they have no plans of stopping, only planning to give what's best to the community that they inadvertently created.
Tetsuo is both rebellious and subdued. They're unique enough to go against the norm but keep it classy and clean at the same time. One could say that at a glance, Tetsuo only caters to a niche market of urban misfits and indie artists; but once inside, it's a mixed bag. Especially with the diversity of Makati, all sorts of people can be encountered from law school students and corporate employees munching on their signature fried chicken on the weekdays, or a lone, tipsy customer enjoying cold soba on the weekend.
"The product comes first, then we talk about how to make it us," Timmy explains. "The flavor profile (of our dishes) is a reflection of our own personal tastes also," Sean adds. "It comes off in a very authentic manner." Perhaps this authenticity is what makes Tetsuo a constant hit with everyone. It's a well-curated space with unique and mouth-watering food items with warm company. It's something new to a regular passer-by, but familiar enough to invite them in and keep coming back for more.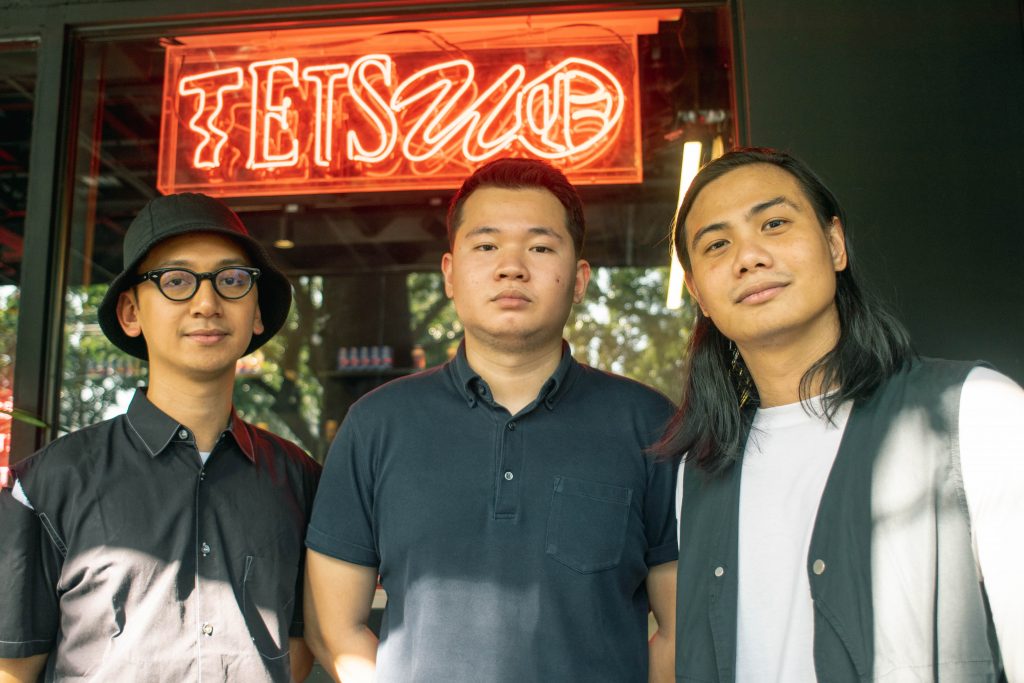 But what sets apart Tetsuo from other chicken joints out there?
Wesley simply states: "World's best karaage."
Photos by Genesis Gamilong
Follow CLAVEL on Facebook and Instagram for news, culture, and more.
Related Posts