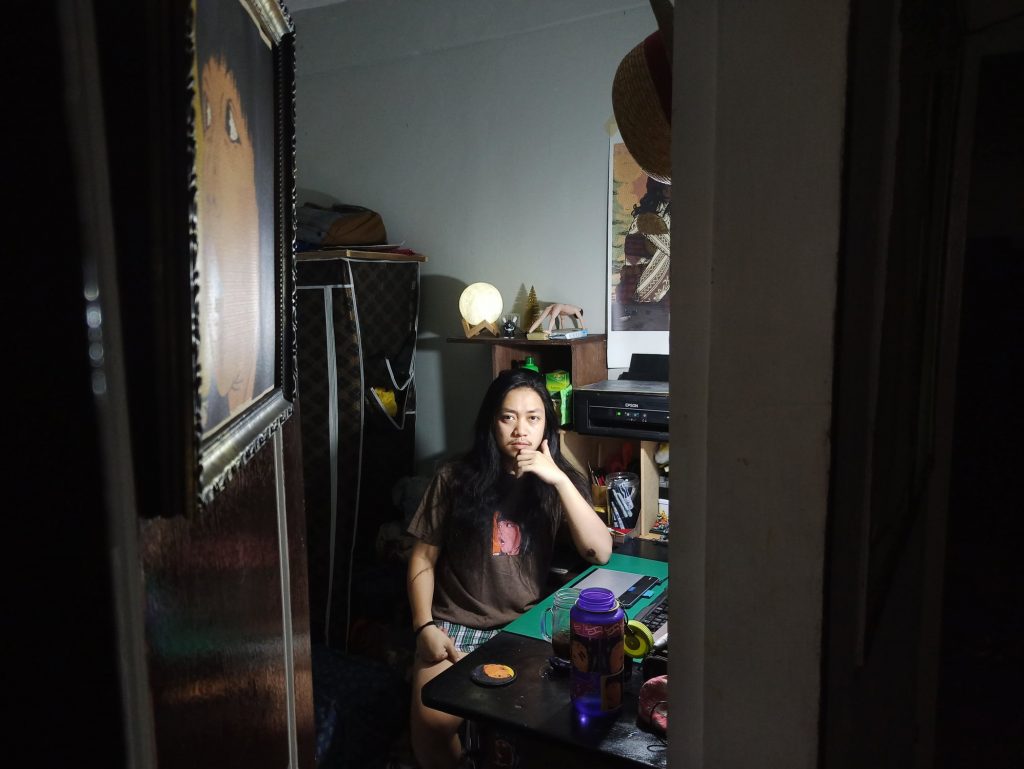 The Enhanced Community Quarantine has been extended again in many cities around the Philippines. With the cure for the COVID-19 pandemic still far beyond our reach, the lockdown is in full swing for another half month at least. We check in on some of Visayas' proud sons and daughters, carving their mark on the local culture scene. Normally always on the go, now they have no choice but to sit still and answer some of our questions.
This is Lockdown Sessions.

Cebuano visual pop-artist Bastinuod has been making waves in the Queen City of the South. With his signature comic book style aesthetic, he weaves modern and indigenous Filipino iconography, synergizing both in exciting and fresh ways. Locked down in Asylum de Busay, a rented house that serves as both artists' studios and an art gallery in Busay, Cebu City, Bastinuod talks about his creative process, the projects he's looking forward to, projects that have been interrupted by the pandemic, and how art may change after the lockdown.
You have an interesting artist moniker.
It's a play on my nickname "Basti" and the Bisaya word "tinuod", which could be translated to "true" or "real". I'd like to think that each time I convey a message through art, I'm sharing my "truth" to the audience.
Where are you locked down?
I'm at our shared studio [in Busay, Cebu City]; me and three other artists [share the space]. It's a house that we rented which has enough space for us to produce works and at the same time have a spare room converted into a mini gallery. This serves as an alternative exhibiting space for up-and-coming artists.
What was the last thing you did before the quarantine?
I assisted a friend on a commissioned mural he was doing for a local cafe. Since the store was already in operation, we also ate seafood pasta there. I think that was my last eat out before this plague. Fortunately, we were able to finish the project before the lockdown.
Describe a usual day for Bastinuod before the lockdown.
Being a full-time artist means that I don't really have a fixed schedule to follow unless there's an upcoming deadline for anything. But usually, I sleep during the daytime and stay up all night, go to the balcony, drink tea, and daydream for an unhealthy amount of time. There's a 24/7 silogan beside our studio, which is where I eat most of the time. I'm too lazy to prepare my own meal. Then I check my socials and emails, and forget to respond to inquiries most of the time.

I watch the same videos on YouTube. I also have silent time right before sleeping. This is where I usually conceptualize artworks or future projects. I take down notes if ever the brainstorming was productive, then I sleep.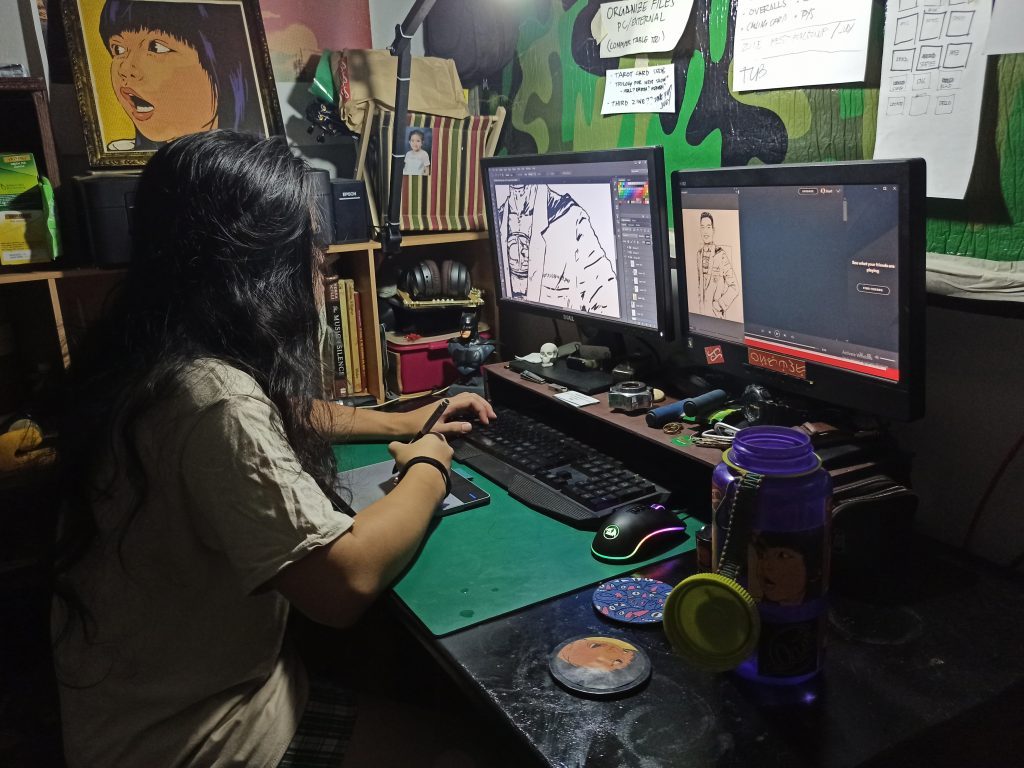 What's a normal day for you now that you're locked down?
Still irregular sleeping patterns, but now we have to prepare our own food due to the lockdown. I have short naps after every meal and try to be productive while I'm awake, so I do digital sketches. I spend most of the day in front of the computer now more than ever. I respond to online queries since I've started a series of illustrations involving our frontliners, then after that, sleep.
What's your favorite part of the house?
MY ROOM.
Have you stepped out of the house since the lockdown? What's your city like right now?
There's quite a distance from the metro to where I'm currently staying, so I haven't been to the city since the lockdown, but I've been out around the neighborhood to buy stuff. Actually being in lockdown isn't really much of a change to my personal routine since I stay at home most of the time. But being unable to go out at any time makes me miss my underappreciated freedom.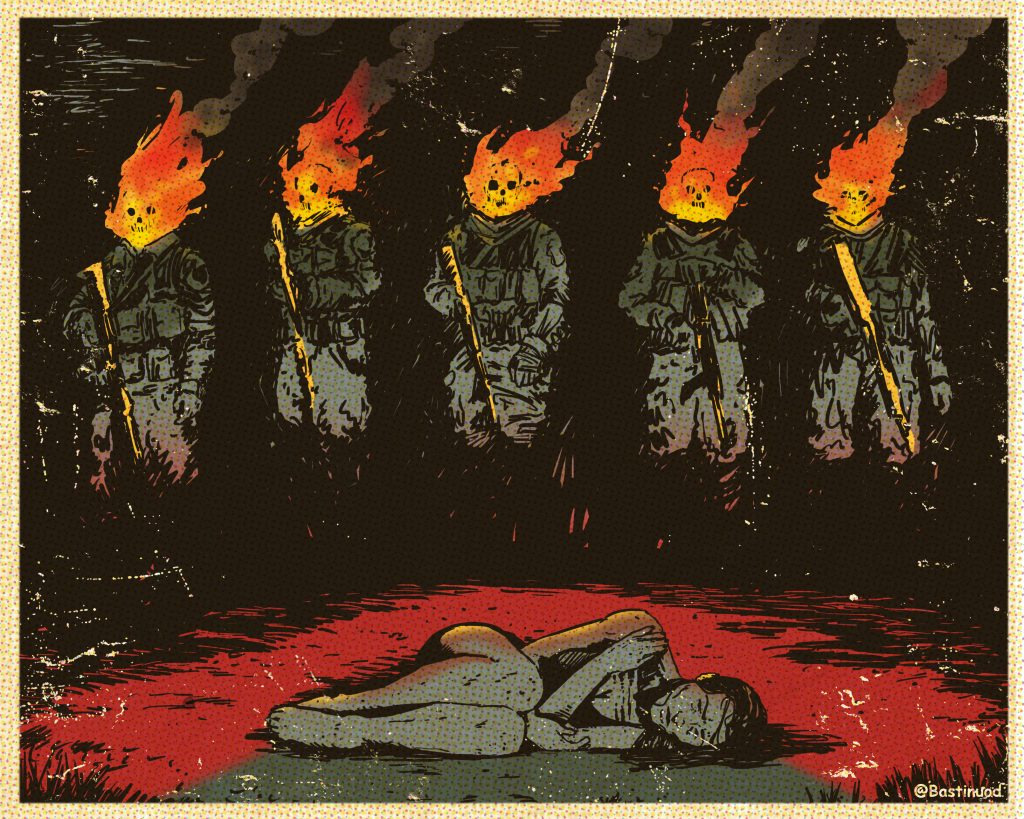 Your art style is very distinct, very pop-art but also textured. Why did you go this route?
My artworks often dwell on heavy contemporary issues so I wanted to find a way to make it visually compelling enough for people to "look" at the piece, then "see" what it's about. So I resorted to a style that is familiar yet doesn't undermine the gravity of the issue being tackled.
Do you work on other art styles, or is this your signature style?
Before, I was doing commissioned digital works in different styles. But now, I'm fortunate enough to be able to sustain myself using only my signature style. <3
There lies a recurring theme in some of your works where you weave indigenous culture and modern street culture. What was the thought behind that?
I want the use of our own indigenous culture to be part of the trend in contemporary art. I believe it a good way of promoting and preserving our rich heritage. Plus, this may also encourage people to learn more about our own roots. Substantiate Pinoy Pride.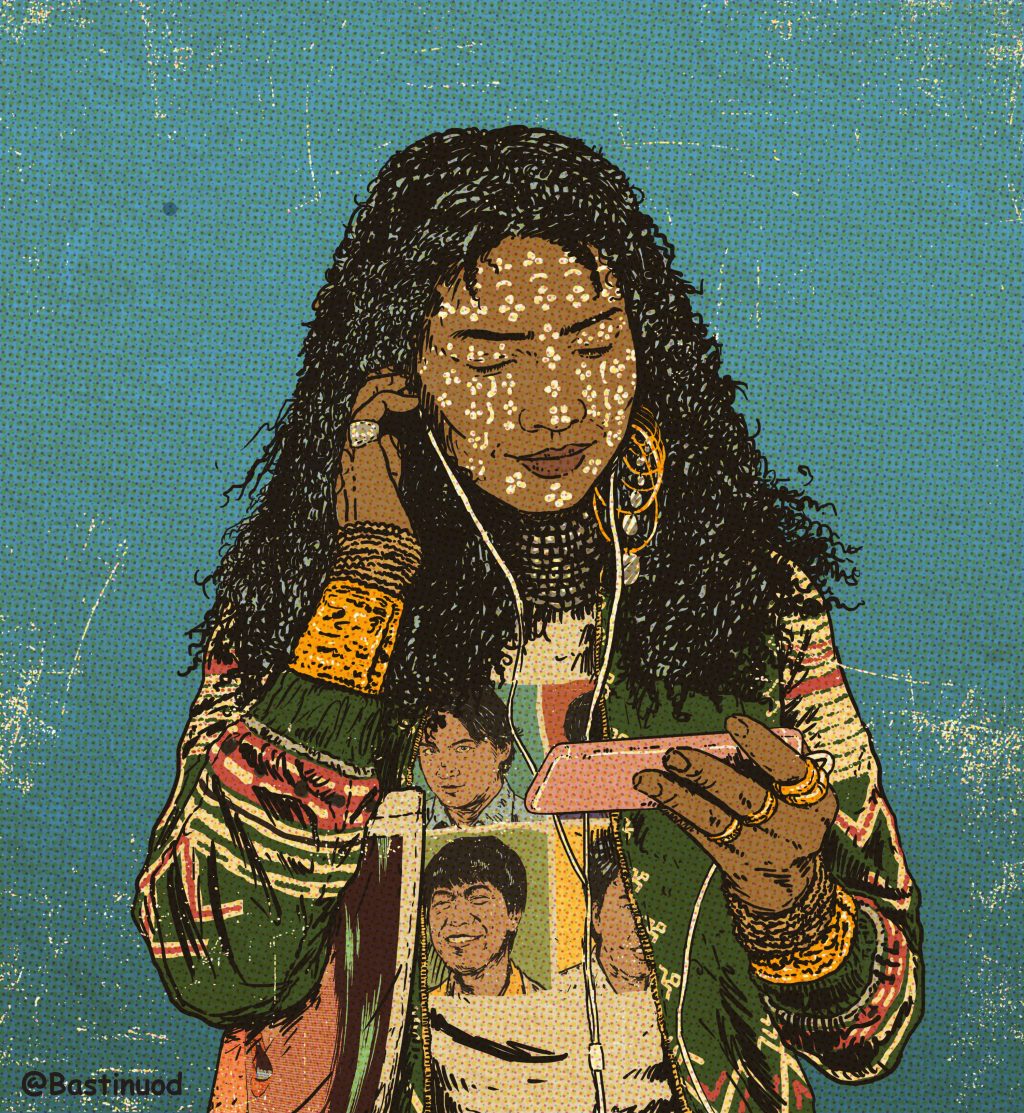 Reflecting on your influences from culture, what about street culture?
Right now, I'm merely an observer of the street culture here in Cebu. Ultimately, my goal is to be a full-time street artist, given that I express a message through my works. I believe public space is the most effective way to reach [a wide] audience. Plus, I'll be able to contribute to beautifying the area while I'm at it.

The street culture here in Cebu is very much alive, and I hope to be a part of it soon.
Since the lockdown, you've been working on your 'Frontliners Heroes' series. How did that come along?
The concept of the series started with me wanting to express my gratitude to the frontliners by doing what I do best, through art. The initial plan was for me to create a single artwork but since a lot of artists already did that, I decided to take a different route. I came up with the idea of doing a ten-part series portraying different individuals, drawing real people.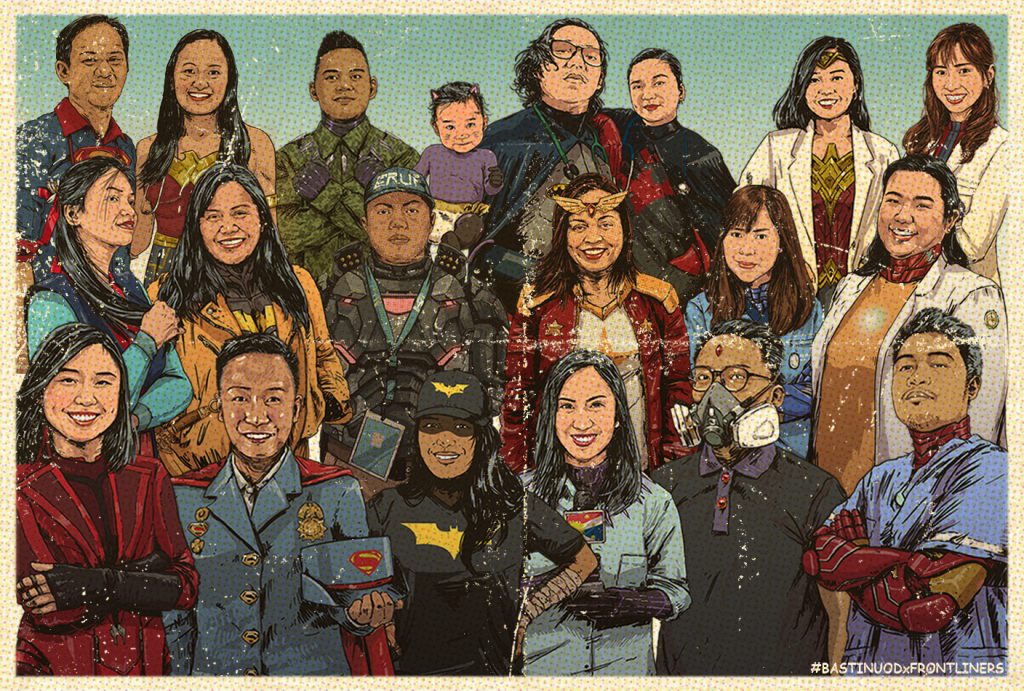 To be honest, at first, I decided to do this series just to build my momentum and be able to break my creative drought. I wanted to be more productive and eventually be able to start my own projects. But while receiving requests, reading the stories coming from actual people who wanted to have their portraits done or have their loved ones be a part of the series, that turned this into a whole different experience. I didn't expect it to be this emotional. I decided to continue accepting requests throughout the duration of the quarantine, and draw as many frontliners as I can.

As much as possible, I wanted to keep doing this series free of charge, but right now we're planning on having a fundraising effort for the relief of the community around the studio. Since there are parties that are willing to pay for the service, I might start accepting commissions real soon. Proceeds will be used for the relief effort for the people of Lower Busay.
How do you think this pandemic will affect artistic productions even after all this is over? Can we make art the same way we did before, or will our topics and processes be permanently changed?
We can certainly expect a lot of COVID-19-related artworks after this pandemic. Personally, the whole experience has been very surreal, enough to alter the way I view life in general. I believe this plague will leave a scar on everyone. Will it be deep enough to permanently alter an artist's creative process? I think it is. But I can only speak for myself.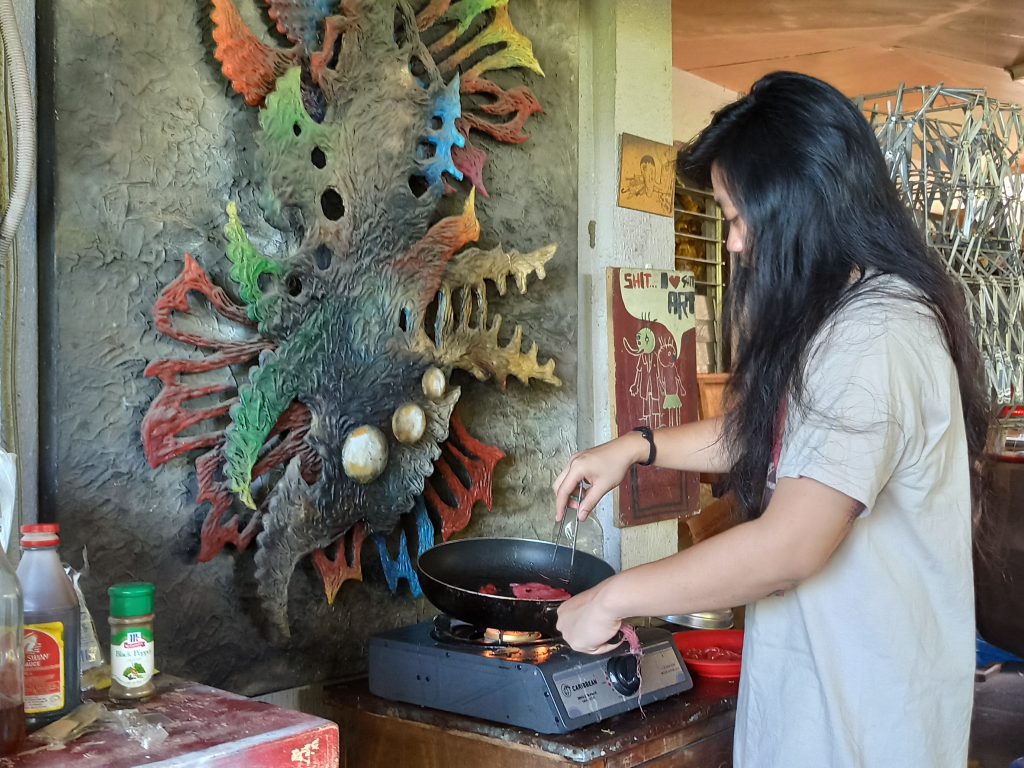 Are there other Cebuano or Visayan artists that we should know about? Shout them out!
I'm not actually sure about the scope of my artist friends' fame, so I'll just shout them all out.
So I'll start with my housemates in Asylum de Busay–Khriss "BAKH" Bajade, John Villoria, and Mark "Kidlat" Copino. My crewmates–DAOT , and MYKILL, everyone in our collective, KOLIKTIB-KOLIKIB. The Bart Bros–Bart Bombs & Yummy Face, Soika, Siamese Rat and Astraberry, Janot, ALCY, Kanu, RMNS, Sick & Sleepy, Oni Oni Oni, Thom Jopson, Joseph Inking, Jan Sunday, Evalu Olivar, and HIKA.
What makes Cebuano or Visayan artists different from their Manila peers?
I think the difference in culture is enough to make art from the Visayas merit the attention it deserves. What Bisaya art brings to the table is the representation needed for the completion of the whole spectrum of the diverse and rich Philippine art scene. We need to acknowledge the [sic] existence and a deeper appreciation of every culture, from every region, for us to become whole.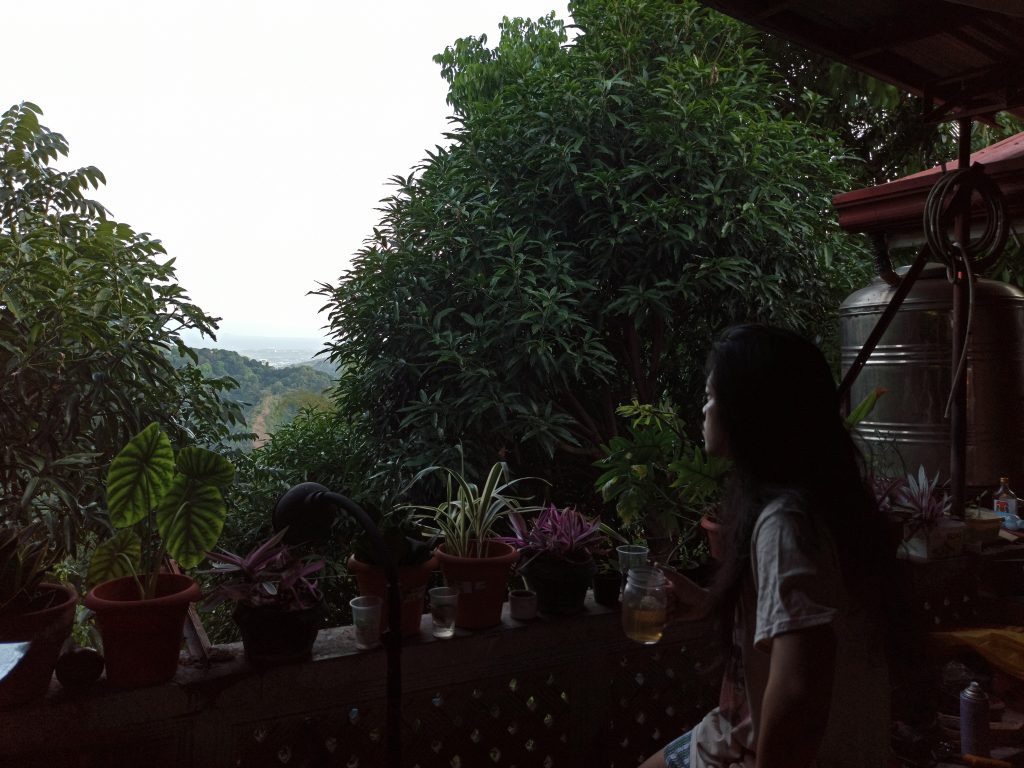 Now that we're all on lockdown, how are you using all this free time?
I will still be doing my Frontliner series, where I'll be making their digital portraits for free throughout the lockdown period. Hopefully, I'll start painting soon since I've been able to collect ideas for artworks. Improve my cooking skills. Hopefully, change my unhealthy sleeping schedule.
The lockdown has been extended until May 15. Kaya pa ba?
Kakayanin!
What's the first thing you're going to do when the lockdown ends?
Go home and see my family.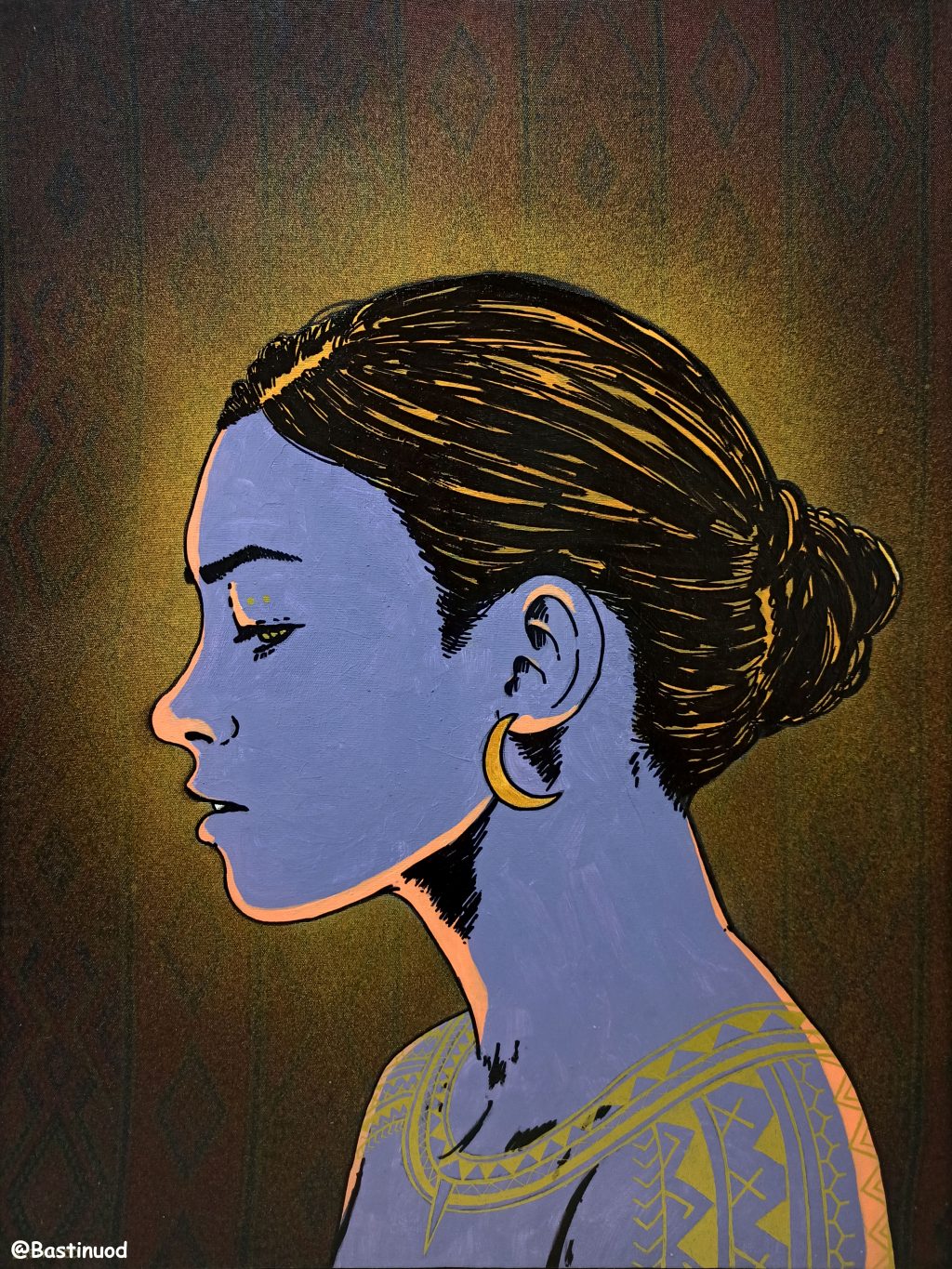 What can we expect from Bastinuod when this lockdown is over?
I was scheduled to have a solo exhibition in Manila come early June, so that's already expected to be rescheduled–hopefully, still within the year. I'm also planning to have an exhibit here in Cebu before the year ends. I'm also currently writing my third zine. If Art In The Park pushes through, I'll also be a part of that. There's TUBÔ Art Fair here in Cebu. Also, I'll be releasing new merch, maybe printed hoodies. I'll also release my first toy for a group show that I also hope would push through. Maybe mandatory "After COVID" group shows would happen after the plague.
Photos provided by Bastinuod
Follow CLAVEL on Facebook and Instagram for news, culture, and more.
Related Posts