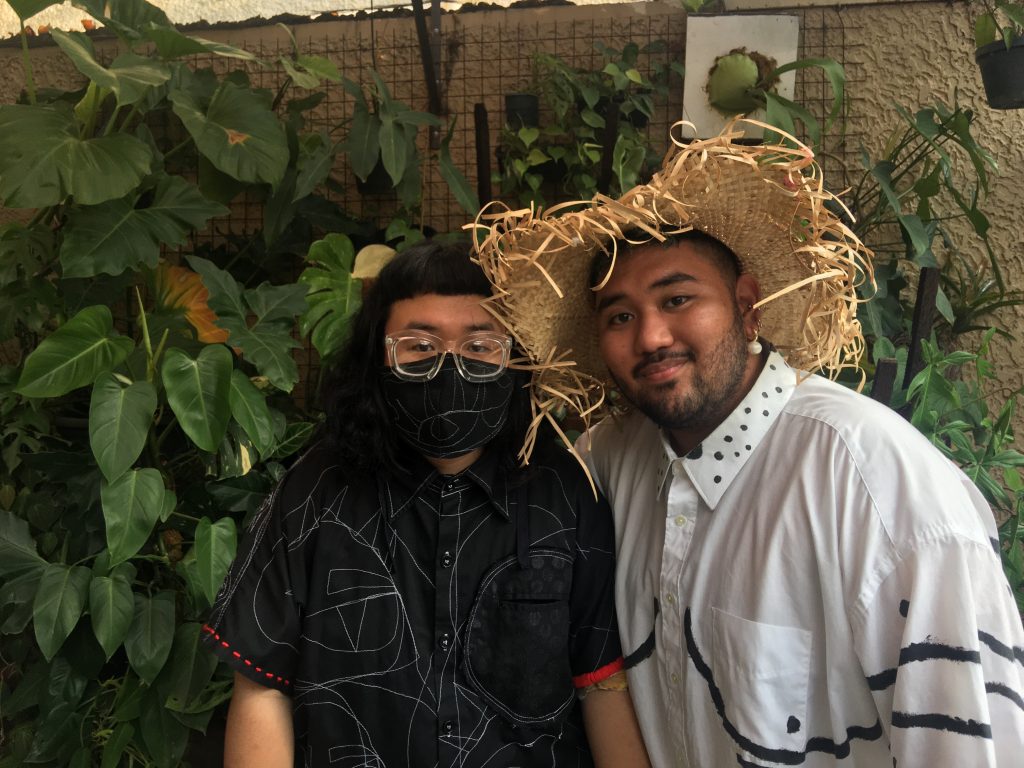 Many businesses of all kinds across the country have gone idle since the COVID-19 pandemic and Enhanced Community quarantine hit the Philippines, but others find ways to blend their creative practices with the needs of our new everyday. We're checking in with a few of the country's wave-makers to see how they're holding up and what their day-to-day routines are looking like now. Normally always on the go, now they have no choice but to sit still and answer some of our questions.
This is Lockdown Sessions.
Launched in 2017 by Abraham Guardian and Mamuro Oki, ḢA.MÜ is a brand "for the free-spirited." Having quickly gained the attention of local and international audiences alike, ḢA.MÜ's designs have been displayed in the likes of the Bench Design Awards in 2018 and Palais De Tokyo's City Prince/sses exhibition in Paris in 2019. Heavily inspired by contemporary art and the idea that clothing has no gender, every piece made by the duo treads the fine line between everyday wear and avant-garde and is just as unique as the people who wear them.


Describe a usual day for ḢA.MÜ before the lockdown.
Normally, we would either be working on another custom piece with our sewer or preparing our new lineup for our new Ready-To-Wear line. Other days we would be answering inquiries and emails while we have a movie marathon. Sometimes we would be running out and about to get fabrics or attend meetings or fittings. Some nights we would go out just for unli-chicken, especially when we have friends over.
What do your days look like now under lockdown?
We're locked down together with our family members at home! We live literally beside each other so getting productive or lazy together is easy.
Our days have become slower. We either spend time working on reusable face masks or spend the entire day watching Thai BL (Boys Love) series and interviews! On other days, we work out, organize our inventory and work area, repair our old clothes, and basically a lot of me-time. Currently, we're working with some designers to produce stylist face masks for our individual brands as a way to raise funds to be able to buy N95 masks.
Who or what are some of your main design influences? Can we see any nods to them in your designs?
Our main design influence would always be contemporary art. We don't have an artist in general. We get inspiration from anything that triggers us, basically. We are also influenced by the idea of reconstructing garments with basic silhouettes into quirky pieces that can be worn daily so people will always have something fun from us that they can easily mix and match with their existing pieces.
Your collection, "Mama, Mama! I feel quaint," was exhibited at the City Prince/sses exhibition at Palais de Tokyo in Paris from June to September 2019. What was it like to have ḢA.MÜ recognized on the international stage like that?
It feels great being recognized internationally, honestly. It is that kind of validation that helps you to gauge where you are at in terms of your craft. Up 'til now, it still hasn't sunk in to us that we actually went to Paris for art, because of our artwork. Since the exhibition, we've been getting more international recognition and international purchases every now and then. Right now, we have been more focused on working on our ready-to-wear label to be released this year and also to produce a couple of art pieces.
As you mentioned, you've been helping out during the pandemic by hand-sewing reusable face masks while locked down. How many have you made so far and what's the process been like?
I think we have done over 400+ reusable face masks, and we've moved on to doing our own designer version of the basic face masks. The sewing technique used for making a reusable face mask is much easier compared to making a new garment from scratch, but it has been a repetitive process in producing these masks since there is a demand for it. As for the designer version of our face masks, we decided to use details from our popular clothing designs and turn them into mask form. We're quite happy with the outcome of the masks, and we got a lot of positive responses from people.





Has the quarantine impacted your work negatively in any way?
It has impacted us in terms of the financial side of our work. We were in the midst of doing some custom pieces for guests for various events, but since there was an announcement of the quarantine, these events got canceled and our work with the custom pieces had to be put on hold.
I guess we have been managing pretty well from the start since we are not alone. We feel that no one was prepared for this pandemic and we felt like there were a lot of areas where the government could have done a better job in providing aid to people who have been badly affected by it, especially citizens who require to be out and about on the daily just to earn money for their daily expenses.
Designers will have to re-strategize how they want to market and be selling their products. People have become more conscious with how they want to be spending their money. We believe that we can never go back to how things were like before, especially when it comes to dealing with international transactions, but we can certainly adjust and work with the new reality of things.


What's it like creating the kind of fashion and art that you do in the Philippines?
It is challenging but fun because we feel [that the] majority of the market here is still conservative, though there are individuals with the same mindset of wanting to try a different flavor of fashion. We get to express ourselves with no borders since we are presenting something fresh, something that is not commonly found in the Filipino market. The challenge though is to create a market from scratch here, to create a realization or a need of a certain style or piece in their closet.
Are there any up-and-coming local designers you think we should keep an eye out for?
Jann Bungcaras! He recently took part in Redress Design Awards 2020, where he had to present a collection made sustainably and he got shortlisted as a semi-finalist! We are rooting for our local talent to win the bacon!!!
What's the first thing you're doing once the lockdown ends?
EAT UNLI-CHICKEN AND YABU!!!!! With friends that we have not seen in the longest time.
What can we expect from ḢA.MÜ once this lockdown is over?
We will be releasing our Ready-To-Wear line once everything has been finalized, and we have plans on mass producing our pieces so more people can order them on the spot. Stay tuned!
By buying ḢA.MÜ's reusable designer masks, you'll be helping to raise funds for N95 masks for our frontliners that need them. Find out more here.
Photos provided by Abraham Guardian and Mamuro Oki
Follow CLAVEL on Facebook and Instagram for news, culture, and more.