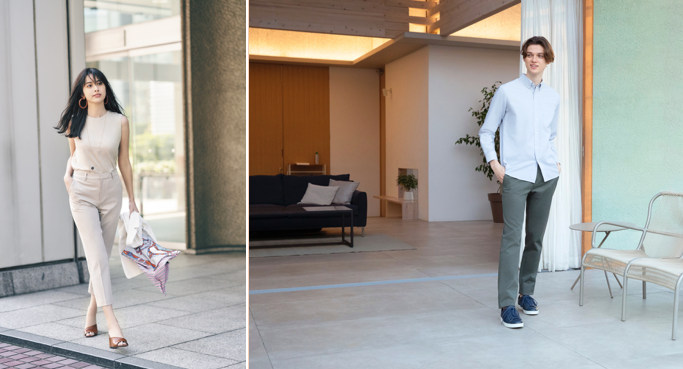 Zoom, FaceTime, and Skype have proven to be the best options for face-to-face conversations for many of us in self-isolation, from catching up with family and friends to attending meetings for work online. And despite the rough times, dressing up for these calls or for errand runs has also been a way for us to retain a small sense of normalcy.
Whatever your reason may be, UNIQLO's latest Smart Wear collection offers comfortable and versatile pieces for any activity, so you can look smart and stylish no matter the mundane activity–whether it's your next Zoom meeting or a quick dash to the grocery.
For the video call at the foot of your bed
Look effortlessly professional in your next online meeting with the Super Non-Iron Slim Fit Shirt, which as the name suggests, stays wrinkle-free all day, no iron needed. Pair it with UNIQLO's EZY Ankle Pants (2Way Stretch) for a full, comfy get-up.
For the supermarket sprint
You won't have to think too hard about your errand-running outfit with the Mercerized Cotton V-Neck A-Line Long Dress, an effortlessly stylish piece made of mercerized 100% cotton, paired with the Waffle V Neck Long Sleeve Cardigan for a high quality and comfortable look.
For the ones back to the office (or for the next Zoom call)
Stay relaxed but look the part with UNIQLO's high-performing Kando Jacket and Pants. Functional, light, and easy to move in, the pair features quick-drying technology for sweaty situations or after washing. Perfect for when you get back to the office or for working from home, complete the ensemble with the AIRism Pique Short Sleeve Polo Shirt for an easy, clean look.
The latest collection is now available in all UNIQLO stores nationwide.
For more updates, visit UNIQLO Philippines' website and follow them on Facebook, Twitter, and Instagram.
Follow CLAVEL on Facebook and Instagram for news, culture, and more.