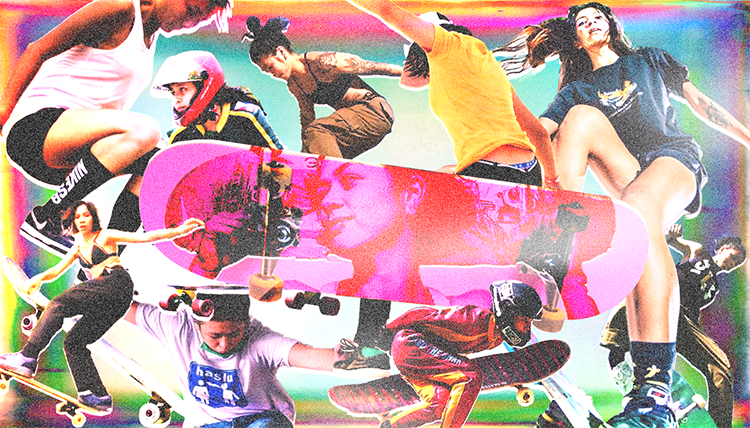 The inequality between men and women has been existing since time immemorial, and until now, we still seek equality in everything. Much like in sports, did you know that female athletes often receive less encouragement from their fellow peers of the same industry? However, year after year, this has been slowly changing. Women are beginning to be treated equally as men, just as all athletes should be seen as and treated as equals in all respects.
This March, as we celebrate Women's Month with the theme "We Make Change Work for Women: Agenda ng Kababaihan, Tungo sa Kaunlaran", let us take a look at these Filipina Skateboarders who, just like Margielyn Didal, have been breaking the barrier.
Christiana Means
Christiana Means has been skating since she was 16 years old, and since then has always wanted to represent her country. She has joined Margielyn Didal twice on the podium, finishing runner-up to the Philippine skateboarding star in the women's Game of S.K.A.T.E, and street event in 2019 Southeast Asian Games. Christiana is also the first ever female skater of Asian decent to be part of Team ICE Cream, a community of skaters based in Los Angeles, California. In addition, she has also starred in a skate horror short film last year entitled "Razor Tail".
Gieliane Harbaliga
From simply skateboarding for fun back in 2010, Gieliane Harbaliga has now turned skateboarding as part of her life. Besides skateboarding, Gieliane also inks tattoos, works a day job, and is even learning how to surf.
Izza Bade
Izza Bade, also known as Daydi, is recognized as one of the top skateboarders in Cagayan de Oro. She shares that she has always found skateboarding scary, but watching and meeting locals at the skatepark motivated her, especially after seeing how open and supportive the skate community can be. "The support I had in the scene despite being a woman made me believe in my potential." Now, Bade is also a light to beginners just like how the community was to her at the start.
Kiddo Trinidad
After winning gold in the women's division at the Game of Skate, Kiddo Trinidad was qualified to the national team. Although Kiddo was excluded in the 2019 Sea Games, she still did not let that get through her head and inspired her to be even stronger than before. Without a doubt, Kiddo surely can skate through the darkness that comes her way.
Rydelle Grace Abarico
Rydelle Grace Abarico, a longboard skater who began at the age of 17. Despite only having been on a board 8 months at that time, Rydelle became one of the qualifiers from Mindanao to compete at the 2019 SEA Games. She's been continuously sharpening her skills, and is showing everyone the force is she to be reckoned with.
Abigail Viloria
Nothing ever makes Abigail Viloria feel more alive other than skating. Abigail has competed in the 30th SEA Games as part of Team Skate Pinas. She competed alongside Christiana Means, Margielyn Didal, and Rydelle Grace Abarico. She is also a member of the United Team that has supported her since Day 1.
Cindy Lou Serna
One of the greatest Bacolodian skaters, Cindy Lou Serna has been winning skate contests while representing the country. Alongside Didal, Cindy was also a nominee for the Women's Asia Skater of the Year for the Tokyo Olympics. Moving forward, Cindy plans to keep competing, together with her signature style which is her epic backside feeble grind, and frontside 50-50 kickflip out.
Maiko Okuaki
Maiko Okuaki, the half Filipino, half Japanese girl skater has been skating since the age of 14. At present, Maiko is a model, skater, and the business owner of Sugar & Skulls. Despite her busy schedule with the business, she still tries to be active in skateboarding, and is a loyal team member of We Legendary.
The list of women skateboarders can go on and on, as they have not only been paving the way for the young skateboarders but also reminding them to be proud Pinoy.
Photo credit to Christiana Means, Gillian Harbaliga,  Izza Badde, Kiddo Trinidad, Rydelle Grace Abarico, Abigail Viloria, Cindy Lou Serna & Maiko Okuaki.
Follow CLAVEL on Facebook and Instagram for news, culture, and more.