Last April, CLAVEL held an online contest asking participants to submit photos with the theme of "romanticized life". Numerous contestants submitted their photos with the hashtag #CLAVELCaptures accompanied with a short description or title about their photos. From all the photos that were submitted, the CLAVEL team chose their top three picks that were able to capture the theme of the contest.

Bry Huggs (@bryhuggs_)
Bry started his photography journey by using the DSLR that his uncle lent him way back in high school. "The snap of my first photo, the sound of the shutter, they fascinated me." From this, Bry ended up joining a food photography club in college that would make him do shoots whenever there was a school event related to food. It was also in college when Bry began competing against other universities.
Bry can be considered a versatile photographer, as he can do shoots for brands, and events, and even do a shoot on an empty street. "The unusual scene of so few people became a good subject for me to photograph." Street photography has not only helped Bry see beauty in the mundane but it has also helped Bry interact with people from all walks of life all.
Through the photograph that Bry captured, he shares how life is in La Union. "The tie-dye shirt makes me think of the simple yet colorful community of San Juan, being the center of tourism here in La Union. The surfboards represent what San Juan is famous for; surfing."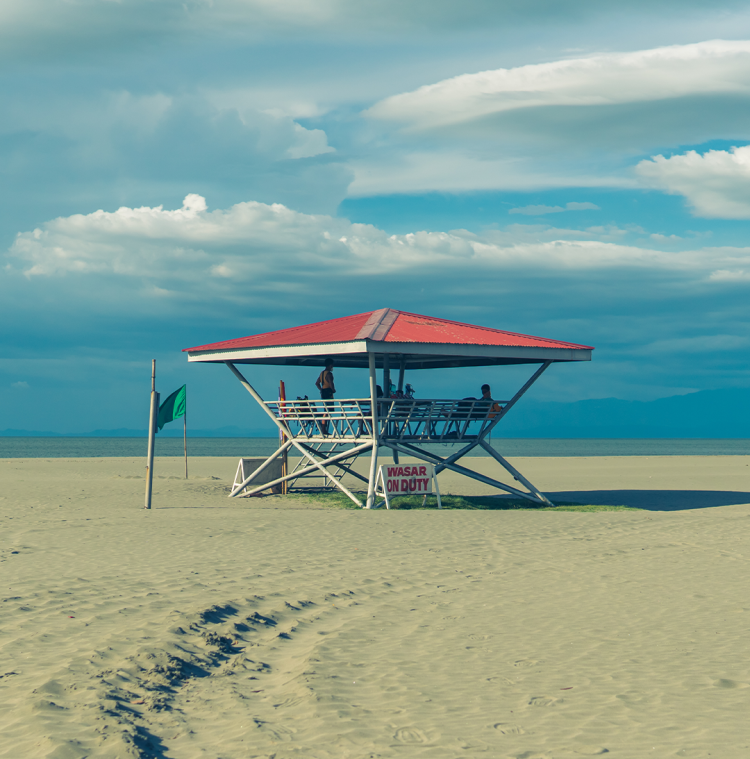 Arj Berenguer (@arjunaforreals)
The photography journey of Arj started with his phone. He decided later on to upgrade it to a Sony A600. Initially, Arj wanted to take photos and videos of skate but found himself taking more street, travel, and landscape photos. "I found myself enjoying that genre more than I realized."
Arj found photography as his main outlet for creativity, especially with the help of Adobe Lightroom where he gets to paint his photographs. Arj does not only use photography creatively, but he also loves to put himself through a challenge by shooting with a 35mm. "I love taking photos of people and objects with lots of negative space."  To put it into words, Arj can be described as a photographer who loves to unleash his creative juice while at the same time being up for a challenge.
The photograph that Arj took may be simple, but the memory it holds is special as it was his day out with his mother. "My mom wanted to check out this restaurant in Lingayen, Pangasinan. But we ended up at the baywalk/beach instead and stayed there for lunch."

Carl (@1sl4w)
Carl started his photography journey back in 2018 by using film to shoot his friends and random people at parties. Not long after, Carl decided to evolve his photography journey by capturing the growing societal issues that many people turn a blind eye to. "I decided to make something out of what I'm doing and by something I meant to really use the art of film photography."
What helped Carl use this style of photography was when his journey of being a cultural activist for Panday Sining started. "We practice our arts to show the rotting system of society and to use it as a form of art that can help raise awareness of the ever-growing exploitations."
With all of this being said, the photograph that Carl took was during the commemoration of Martial Law. "The lady in the picture is part of the peasants (farmer sector) trying to get their voices heard and noticed by the government because that day was not just specifically for Martial Law, it was also a rally to show the support for the calls of the masses."
Photography has and will continue to be a special outlet for artists, and a tool that help us to hold on to memories we want to remember for a lifetime. From these three photographers, it can be seen that there are a thousand different reasons why people take photos ⁠— some use it to show representation, some use it to capture a special moment, while others use it as a voice that clamours to be heard. Frankly, there really is no best photo; only thousands of profound moments captured.

Follow CLAVEL on Facebook and Instagram for news, culture, and more.