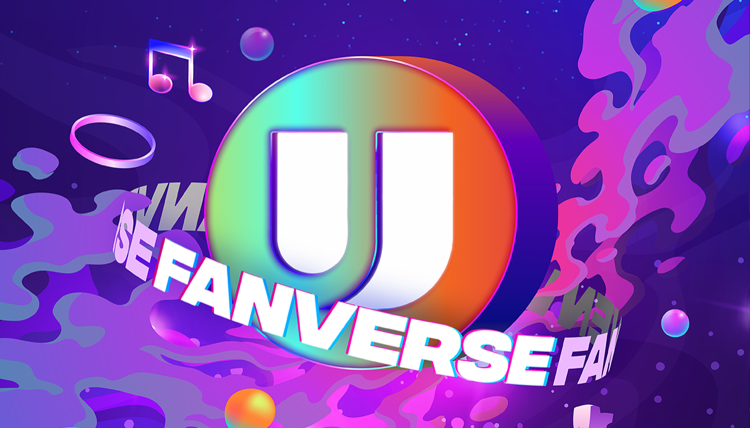 When the whole world was put on hold due to the pandemic, avid event-goers missed a huge part of their lives. But now that face-to-face gigs, festivals, and concerts are coming back, the pent-up frustrations of fans and even artists from years of lockdowns are now channeled into excitement and verve. 
For the first time ever on October 17 to 23, 2022 at The Podium Hall (Level 6), UMusic Philippines will be hosting UMUSIC FanVerse 2022—a big comeback and a super event not only for artists, but also for all the fans of local and international music of Universal Music Group (UMG). That's right: get ready to be immersed in a universe filled with the stars of their record label, experiential fan booths, out-of-this-world activities, and exclusive merchandise.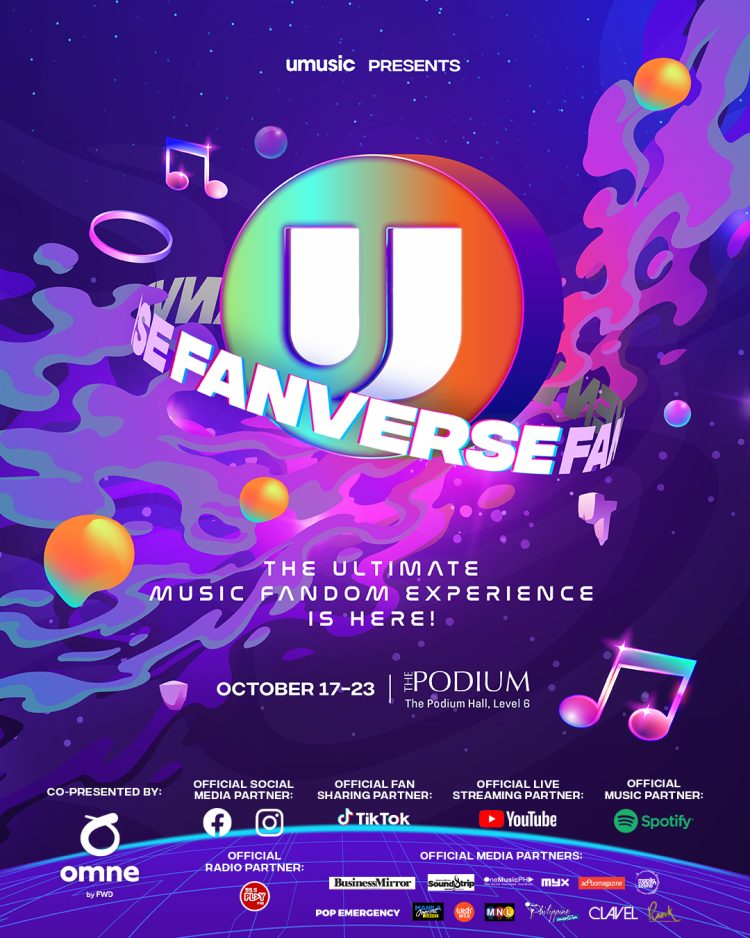 This week-long event starts with UMUSIC FanVerse's The Podium Takeover, where fans can wander around the mall and try out different experiential booths inspired by the artistry of different UMG artists around the globe, such as from their  albums, songs, or music videos. 
Other activities for the attendees include workshops, mini social parties, and chill-outs,  where fans could learn more about pop culture, hang out with the music community, and even share their talents with UMG. 
The UMUSIC FanVerse music festival is split into 3 days and themes: Queens of the Fanverse (October 21), Cosmic Saturdays (October 22), and Supernova Sundays (October 23).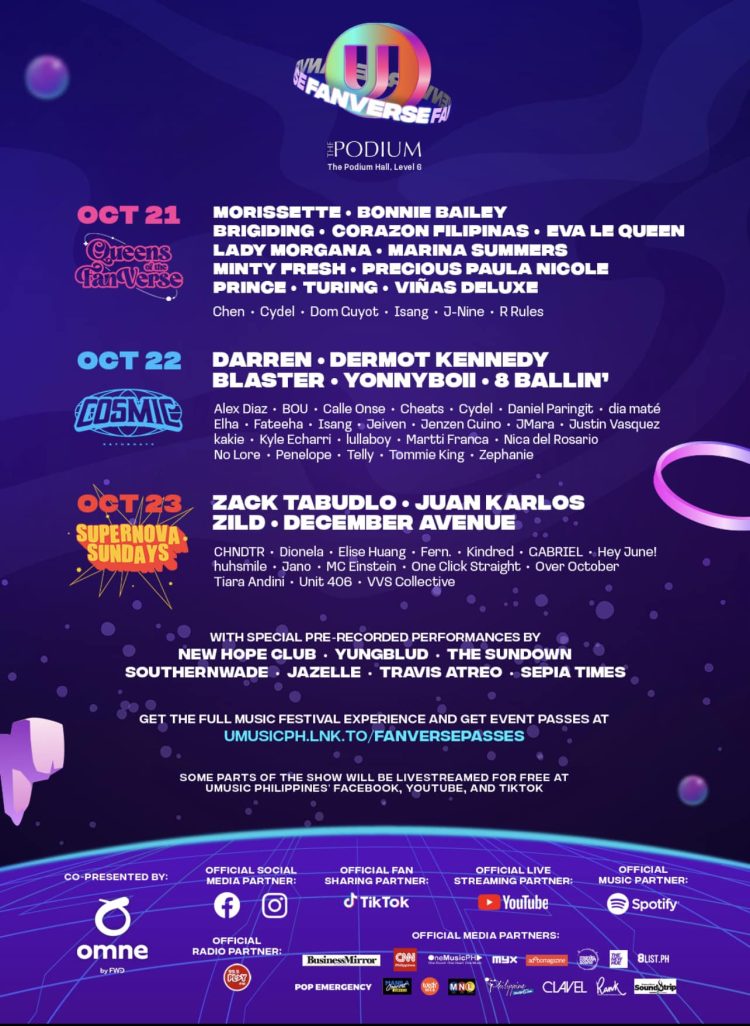 Although the Queens of the Fanverse music festival tickets were SOLD OUT in only a matter of 4 hours after being officially announced by UMUSIC Philippines on their Facebook and Instagram, fans can still enjoy FREE activities throughout the week, avail passes for the remaining music festival days, get exclusive merchandise, and even win premium prizes such as concert tickets or meet & greet access by earning SUPERFAN POINTS from the UMUSIC PH App.
With the must-see surprises and more than 50 artists invited to perform, UMUSIC Philippines will update the fans online and stream UMUSIC FanVerse 2022 on their Facebook, Instagram, TikTok, YouTube, and Twitter. 
Ready to be mesmerized? Catch the shows of our stars in the music universe and get passes now at the UMUSIC PH website. 
This event is presented by UMUSIC Philippines and co-presented by Omne, with Official Social Media Partners: Facebook and Instagram, Official Fan Sharing Partner: TikTok, Official Live Streaming Partner: YouTube, Official Music Partner: Spotify, Official Radio Partner: 99.5 Play FM, Official Media Partners: BusinessMirror, CNN Philippines, One Music PH, MYX, adobo Magazine, Manila Concert Scene, The New Hue, Pop Emergency, Manila Concert Junkies, Wish FM 107.5, MNL Online, CLAVEL, Rank Magazine, Philippine Concerts and SoundStrip.
Follow CLAVEL on Facebook, Instagram, Twitter, and TikTok for news, culture, and more.