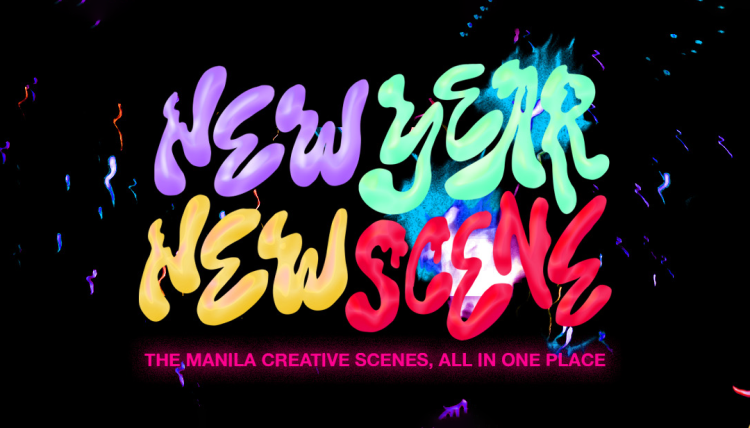 This is a sign to start the year inspired. Immerse yourself in a whole new vivid experience at New Year, New Scene—where Manila creatives from different scenes come all together in one place. As a melting pot of artists, musicians, and any kind of creative community, this event will definitely be colorful (both literally and figuratively) and unforgettable for anyone who gets to witness this art convention firsthand. 
SYQL PRODUCTIONS PRESENTS 'NEW YEAR NEW SCENE'
JAN. 21, 3 PM @ 123 BLOCK, MANDALUYONG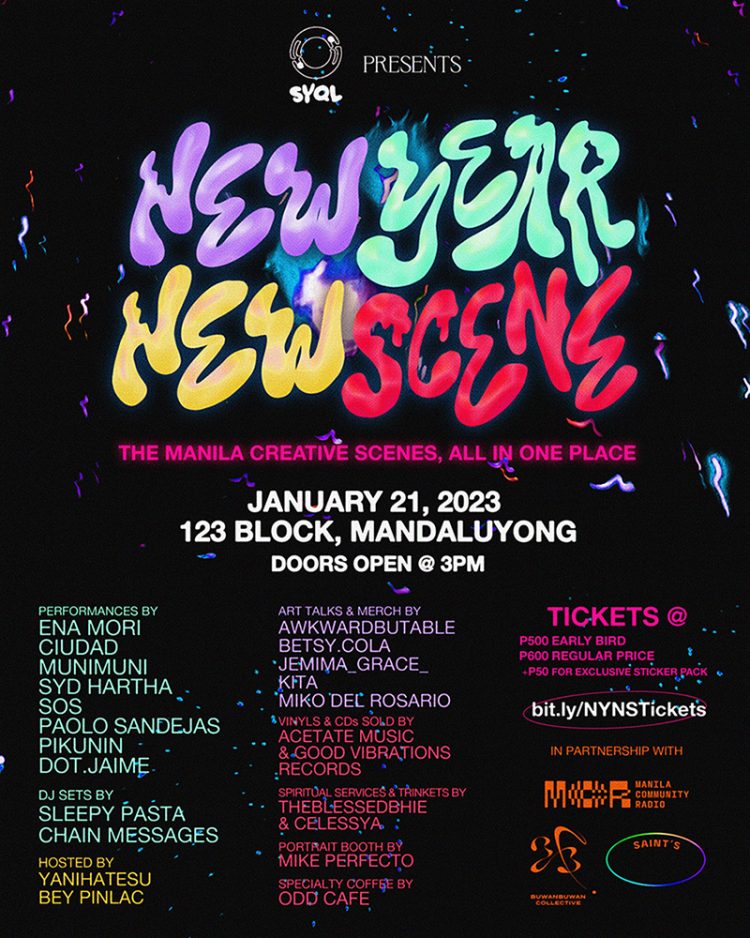 New Year, New Scene will be a collaborative artistic space; celebrating the comeback of live local music, a reunion of artists, and a resurgence of once-forgotten creative practices.
This event is hosted by SYQL Productions, an independent production house founded by Sofia Abrogar and Ninna Layug from their shared passions for local music and art. It came to life from their desire to create an accessible gig culture that bridges diverse Filipino creative scenes. 
And New Year, New Scene is definitely a huge step forward not only for SYQL, but for all aspiring creatives everywhere.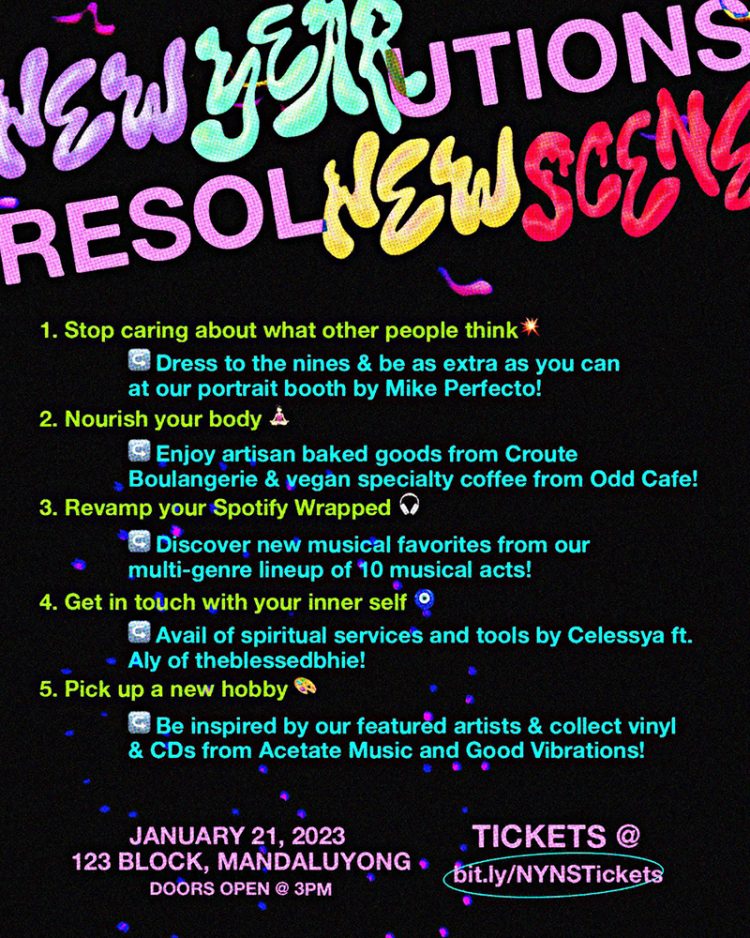 The Music Scene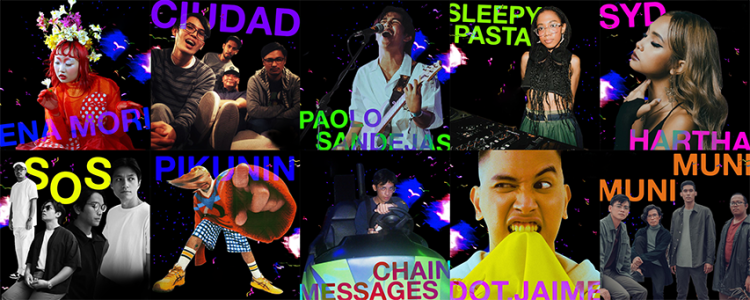 New Year, New Scene's artist line-up is truly diverse and one to look out for. From genres like electronic music (BuwanBuwan Collective), dream pop (ena mori, Ciudad), and the DJ community (Manila Community Radio), to alternative music (SOS, Paolo Sandejas), and folk-pop (Munimuni, syd hartha)—you get to explore different tastes of the music scene while having a rad listening experience.
The Visual Art Scene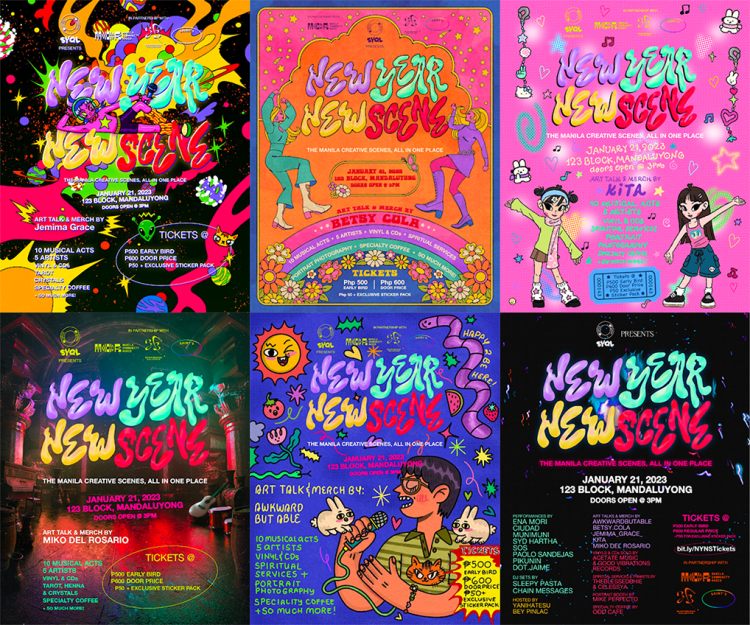 This event is the epitome of a New Year: an exciting beginning and bright future for all the creatives out there. Who would have expected multiple perspectives, takes, and flavors of what's supposed to be only one version of an event poster? 
Not only is this pre-event promotional idea a genius, but it's true to the goal of SYQL Productions of creating a space, where diverse styles and creatives can show their talents. 
Visual artists invited are illustrators like Betsy Cola, KITA, Jemima Grace, and Awkward But Able; visual effects artist Miko Del Rosario; video production house Saint's Production; photographer Mike Perfecto, and radio station Manila Community Radio.
Other Creative Communities
New Year, New Scene also shines a light on different kinds of modern crafts that were born out of passions, explorations, and experimentations such as third-wave coffee-making from Odd Cafe, food from the concept restaurant Tetsuo, spiritual guidance and tarot readings from The Blessed Bhie, Enchantress Eri, AstroloJill, Mango ☿ Mage, and Tarot Radio PH, as well as enthusiasts from the vinyl community like Acetate Music and Good Vibrations.
Reignite your passions and reunite with creatives in the scene this 2023 at New Year, New Scene, 123 Block, Mandaluyong on January 21 (3 PM). Get your tickets here and follow SQYL Productions on Facebook, Twitter, and Instagram for more updates.
Follow CLAVEL on Facebook, Instagram, Twitter, and TikTok for news, culture, and more.