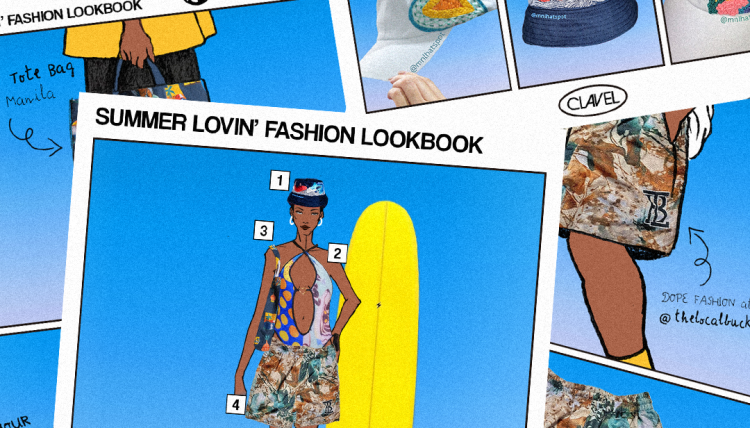 Swim through these creative pieces from CLAVEL's sketch pages out of a summer lovin' fashion lookbook.
It's summer, it's hot–but of course, amazing fashion 'fits will still make you drop. That's why CLAVEL drafted up some scorchin' and stylin' recos for your wardrobe this season.

Heart Swim Bathing Suit from TOQA (@toqa.tv)

PHP 10,800
Under the sea, indeed. The Heart Swim Bathing Suit by TOQA is a creative touch to live your summer fantasies. 
With its Gecko & Ocean Prints made in collaboration with Hawai'i artist Tutuvi—together with the sleek-styled Deadstock fabric sourced locally from the Philippines—you'll definitely feel dynamic and free in your escapades. 
Colorful and tidal patterns reminiscent of the sea's underneath is the trademark of TOQA. And for sure you'll find more rare gems when you explore more of their designs.

Follow sustainable fashion designer duo TOQA on Facebook, Instagram, and on their website.
Bamboo Mesh Shorts from THE LOCAL BUCKETS (@thelocalbuckets)


PHP 849
Definitely, you can find lots of dope drips at THE LOCAL BUCKETS. And one of these is their Bamboo Mesh Shorts. Ideal for a hot day out, this piece is double layered with high-quality polyester mesh material to make you feel cool and breezy in the summer heat.
Aside from that, you get to hang ten at the beach in style 'cause who wouldn't be impressed with their nature-like abstract patterns, right? Art and comfort—that's what  these dudes and dudettes at THE LOCAL BUCKETS offer.

Check out cool items from The Local Buckets at Facebook, Instagram, and their online shop.
Dragon Koi Bucket Hat from The Manila Hat Spot (@mnlhatspot)

Inquire for commissions and rates
An artistic flair to your summer days, order a custom-made and hand-embroidered hat from The Manila Hat Spot!
Sunny vibes and ocean shore tides: a marvelous mental photograph for a cool and relaxing daydream at the beach. And this cap from The Manila Hat Spot encapsulates this daydream perfectly.

We're letting you in on a secret—this cap is an original design, experimented by The Manila Hat Spot's artist! But certainly, if you want to add your own twist, you can send themes, colors, and imagined designs to The Manila Hat Spot. Eliška, its creator and owner, will then weave pieces of your imagination and design these ideas into reality.

Plus, if you're preparing for June—stay tuned for The Manila Hat Spot's Pride Cap Collection!

Send an order or a commission request to The Manila Hat Spot on their Facebook, Instagram, and website portfolio.
On-the-go Tote Bag from Team Manila (@teammanila)


PHP 595
This tote bag from Team Manila is the OG (summer) essential, especially for creative enthusiasts in the country: spacious, versatile, and artsy. 
From afar, it undoubtedly looks cool and you might think it's perfect for a chill hangout by the poolside or seashore (which it is)—but if you look closely, you'll notice familiar patterns and icons that also connect you back to Filipino culture. 
Yep, the art on this variation of Team Manila's on-the-go tote bag series is inspired by the iconic art and stickers we see on Philippine jeepneys everywhere. Awesome.

Follow Team Manila on their Facebook, Instagram, and drop by at their physical store at Suez & Zapote, Makati City.

Message for desired board and prices
Summer won't be cool without hoppin' on a surfboard and going with the flow! And if you don't have your own personal board yet, you better check out Electric Century Surfboards.
No doubt that you'd be electrified with their custom-made boards, ready-made ones, and surfboard accessories. From simple designs, bold colors, to creative graphics, and iconic illustrations—you'll be joyous with diverse choices for you to start off your summer adventure and get your surf on.
Visit Electric Century Surfboards on Facebook, Instagram, and at their physical store located in Tierra Villas Alabang, Muntinlupa City.
Got any recos or ideas from your own Summer Lookbook draft? Inspire your friends and share them with the world!
READ AND REVISIT: #LockdownSessions with Fashion Design Duo ḢA.MÜ
Follow CLAVEL on Facebook, Instagram, Twitter, and TikTok for news, culture, and more.