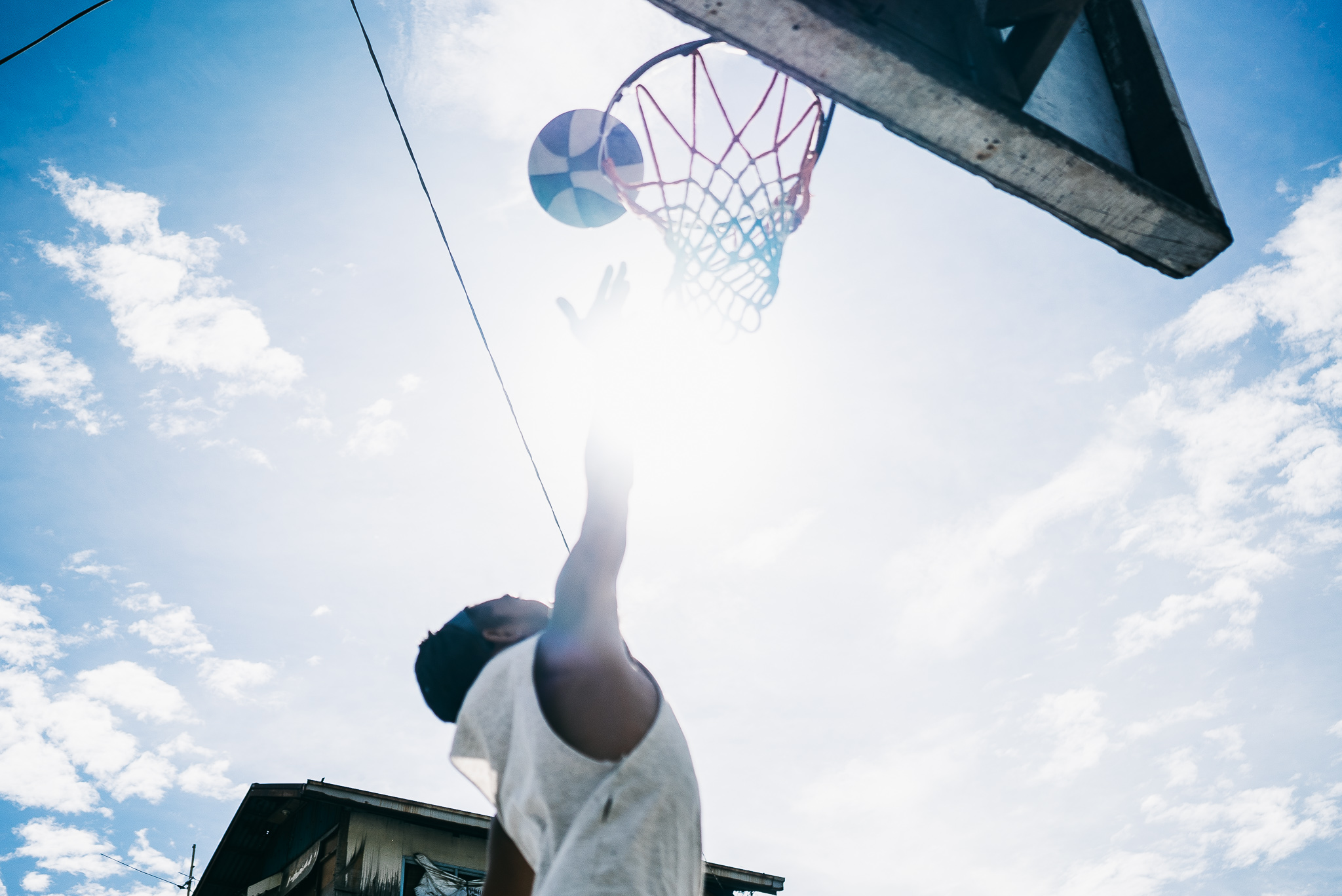 The sound of the swish, the bounce, the hardness of the backboard — the game that's loved by the Filipino is everywhere. The influence of basketball has stretched into every corner, every city, and every TV in the country.
While the Philippines' love for basketball is well documented, one sight that's prominent in pinoy hoop junkies is the makeshift basketball court. Almost everyone started playing the game with throwaway materials: stock plywood, some nails, a ring, and a stand. It's fairly easy to make, not to mention the game can be played anywhere.
We roamed Manila in search of the perfect manifestation of hoop love—self-built basketball courts in the most striking places and the story of how these were made.
Navotas City Cemetery, Navotas
Manila is known for being densely populated. Migrants from different provinces swarm the Metro hoping to find a better life. Upon reaching the Capital, the majority find themselves back to square one — no job, nowhere to live. There's no other choice than to live as informal settlers.
While these slums can be found in any city, some have grown inside public cemeteries. Inside the Navotas City Cemetery, people built homes on top of graves, stood up sari-sari stores, and even provide carving services. At the end of the main road was a funeral parlor–commonplace for a place like a cemetery, but the main attraction was the makeshift hoop right across it.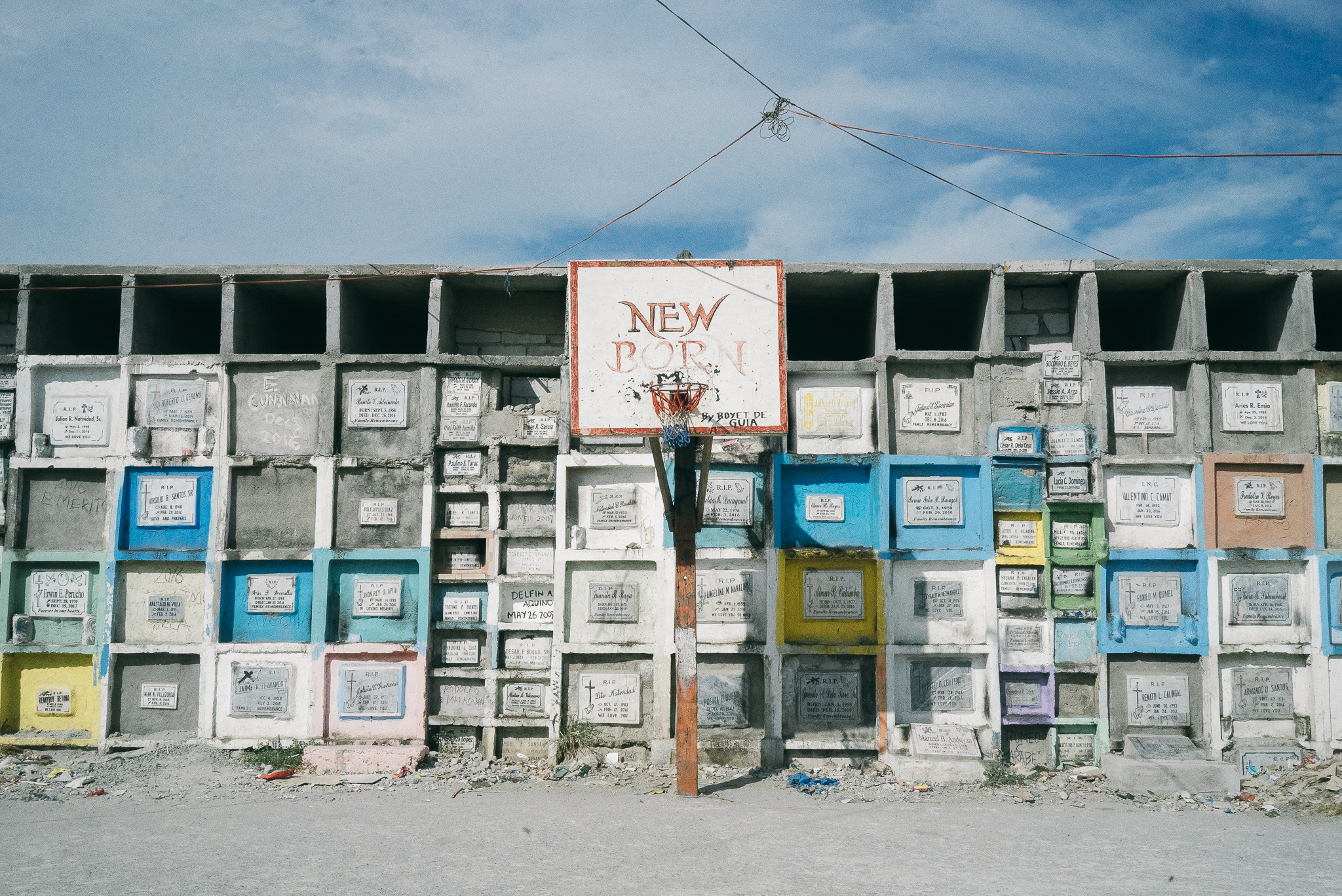 It was scorching hot outside when we approached the guys hanging out the court. There were two guys playing 1-on-1 while the others stayed on the shade. As we made our introductions, I asked them who's the best player among them. "Si Ranjie ayan," one blurted. "Pinakamagaling yan sa amin!"
Humidity further tickled the heat. "Ito, tap board!" shouts Ranjie, by way of a greeting of some sort. When asked about the origins of the court, "Pinag-usapan ng mga kabataan tapos dinaan sa Kagawad," he shared. "Si Boyet De Guia po nagpagawa nito para sa amin, dati siyang tumakbong Kagawad. Tapos kulang na lang 'yung pintura sa semento kaya kami na gumawa, ginamit lang namin 'yung tira sa mga construction."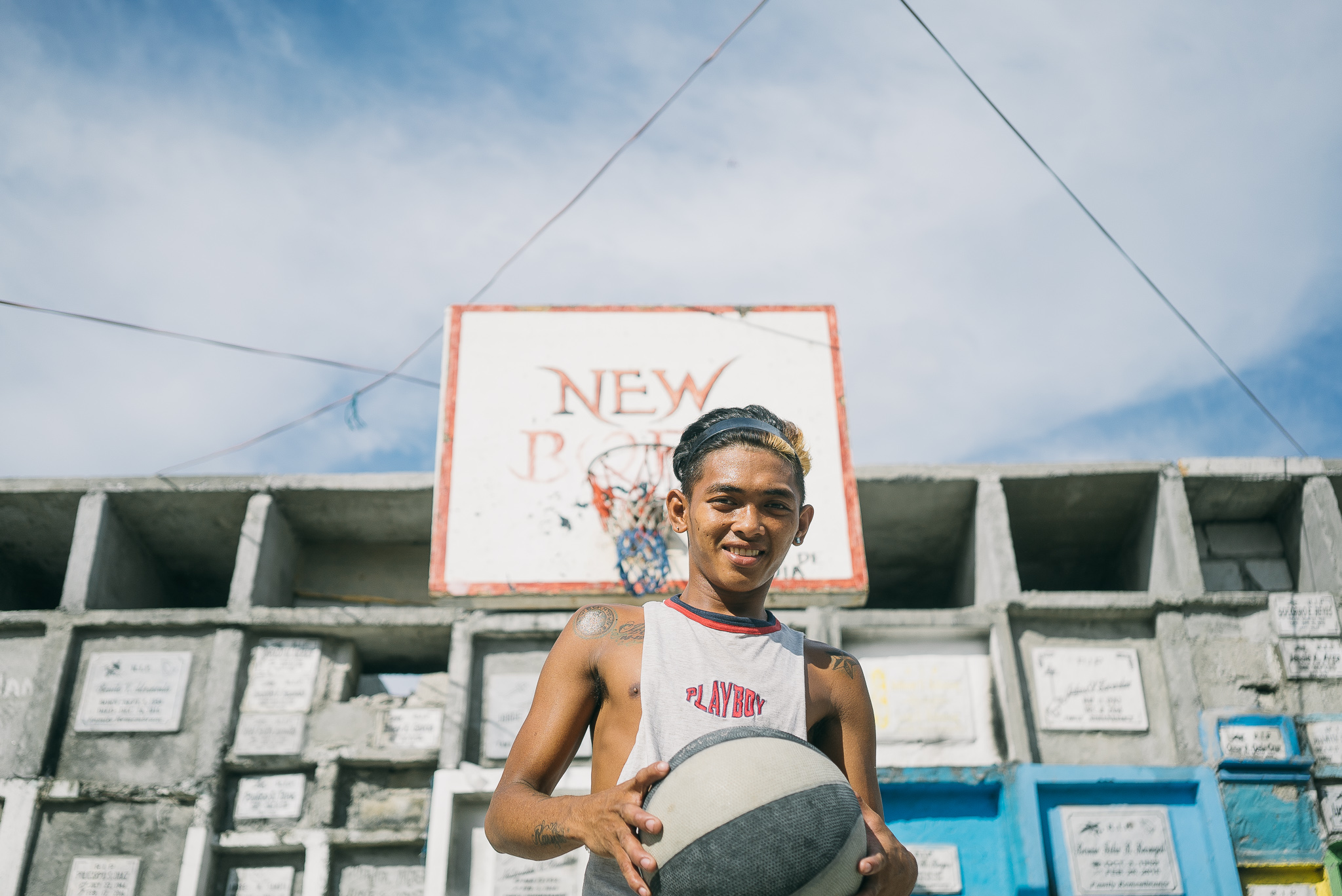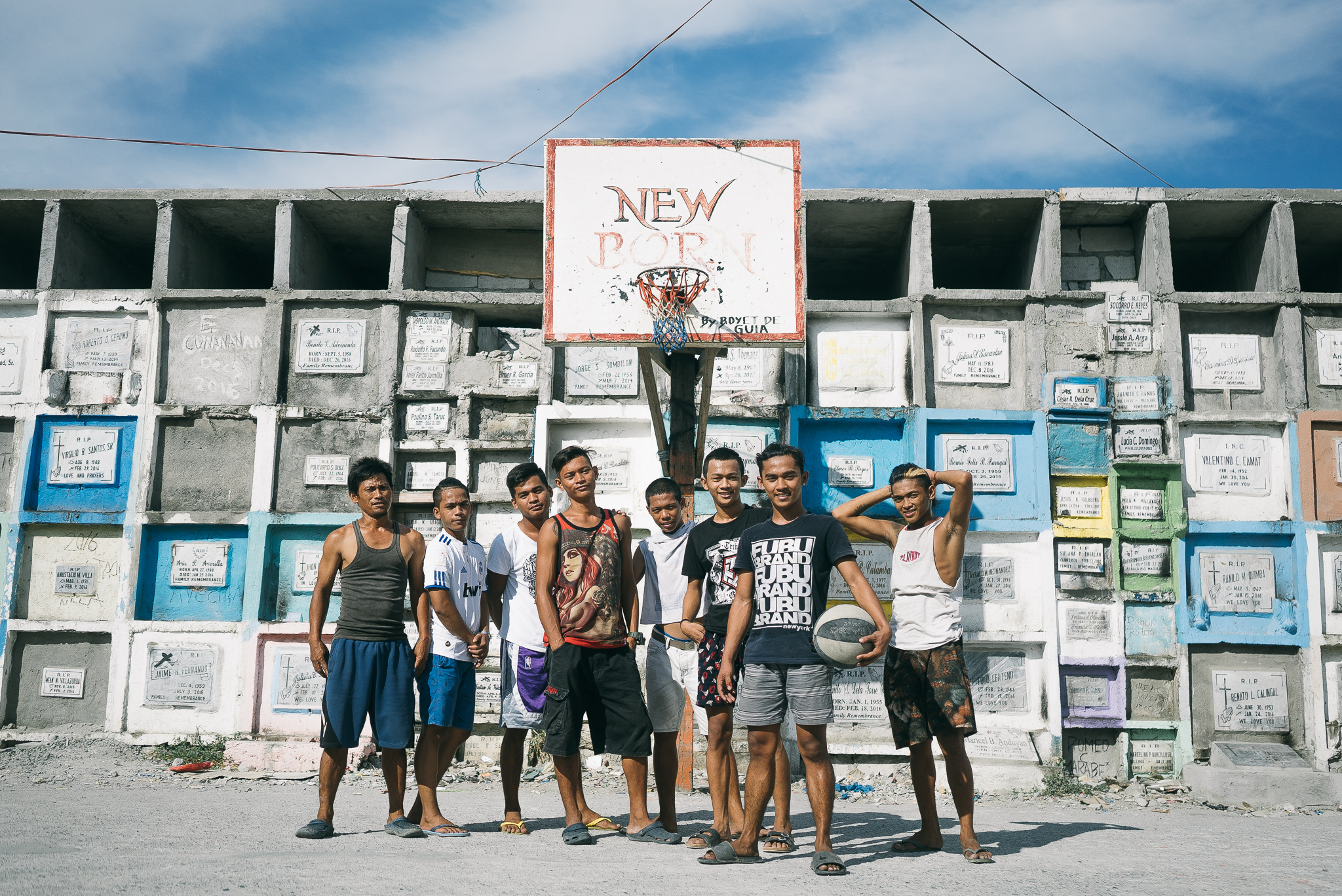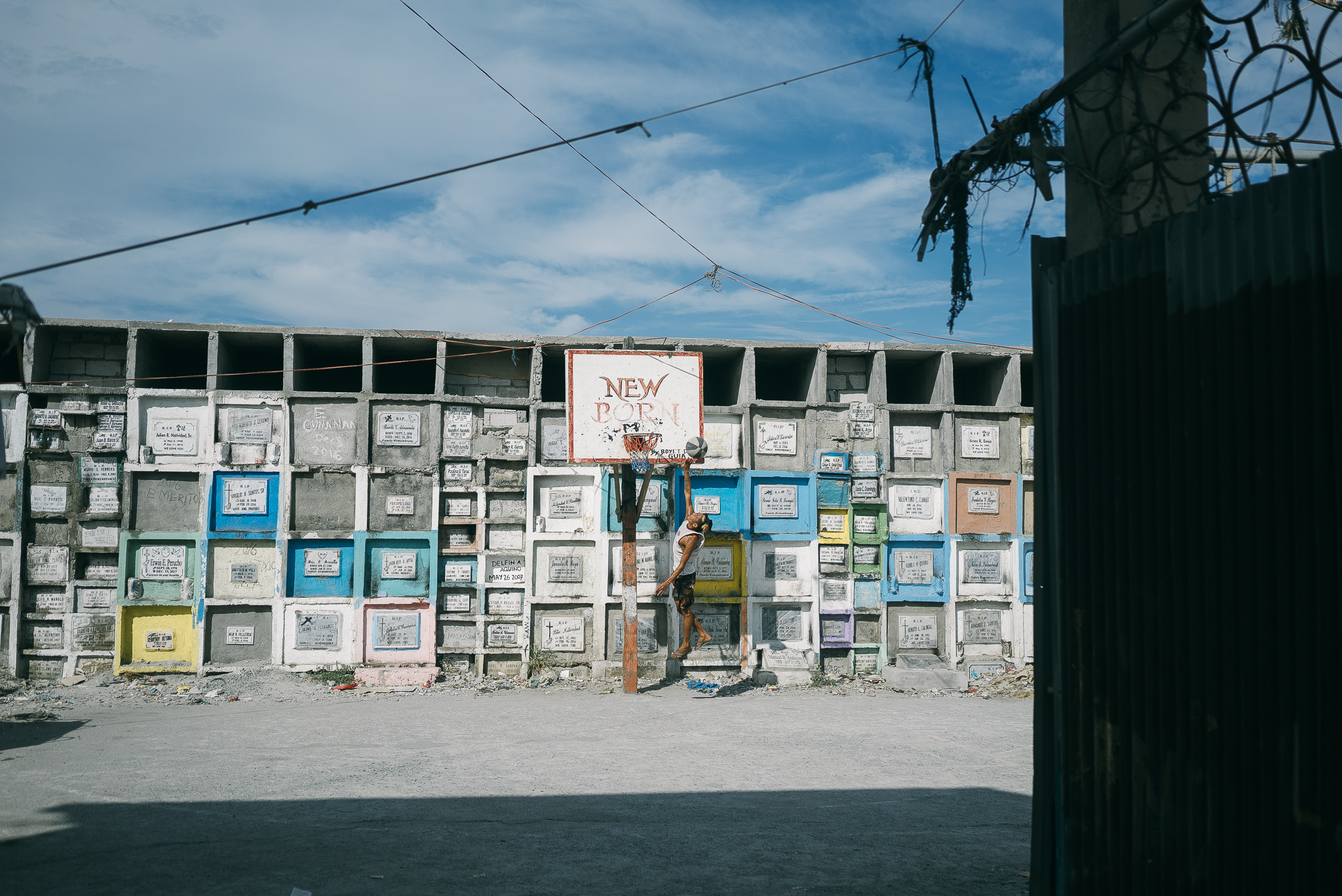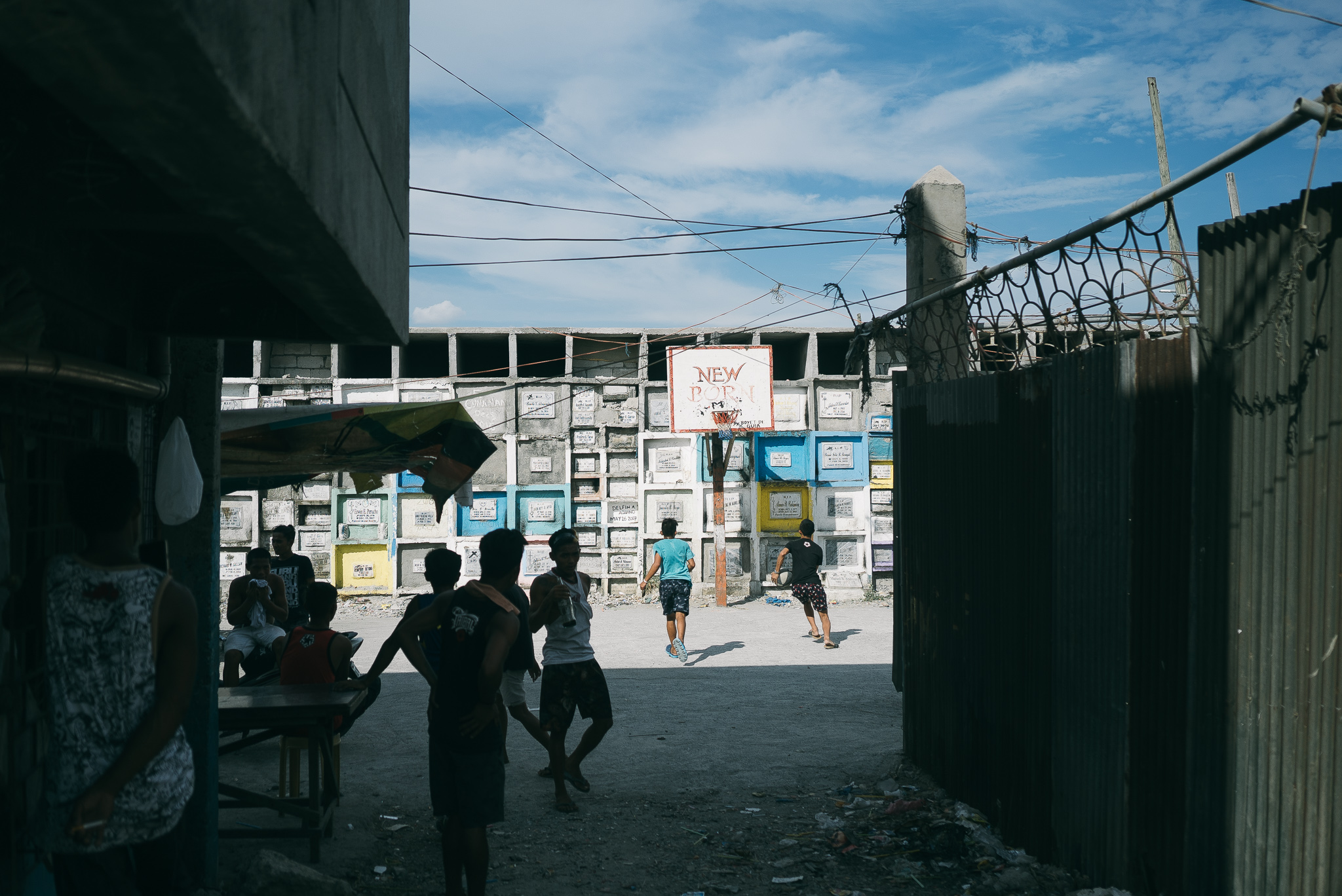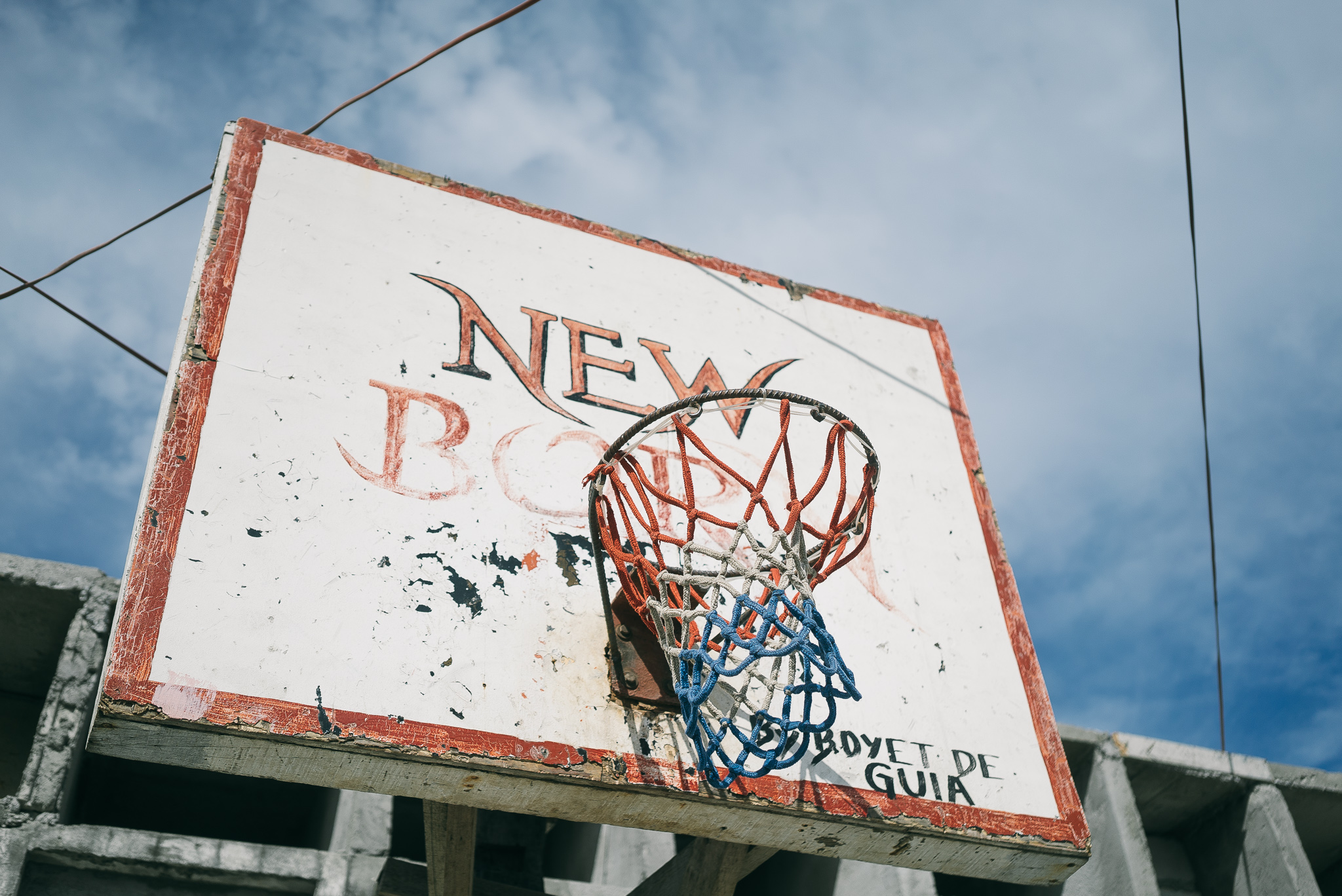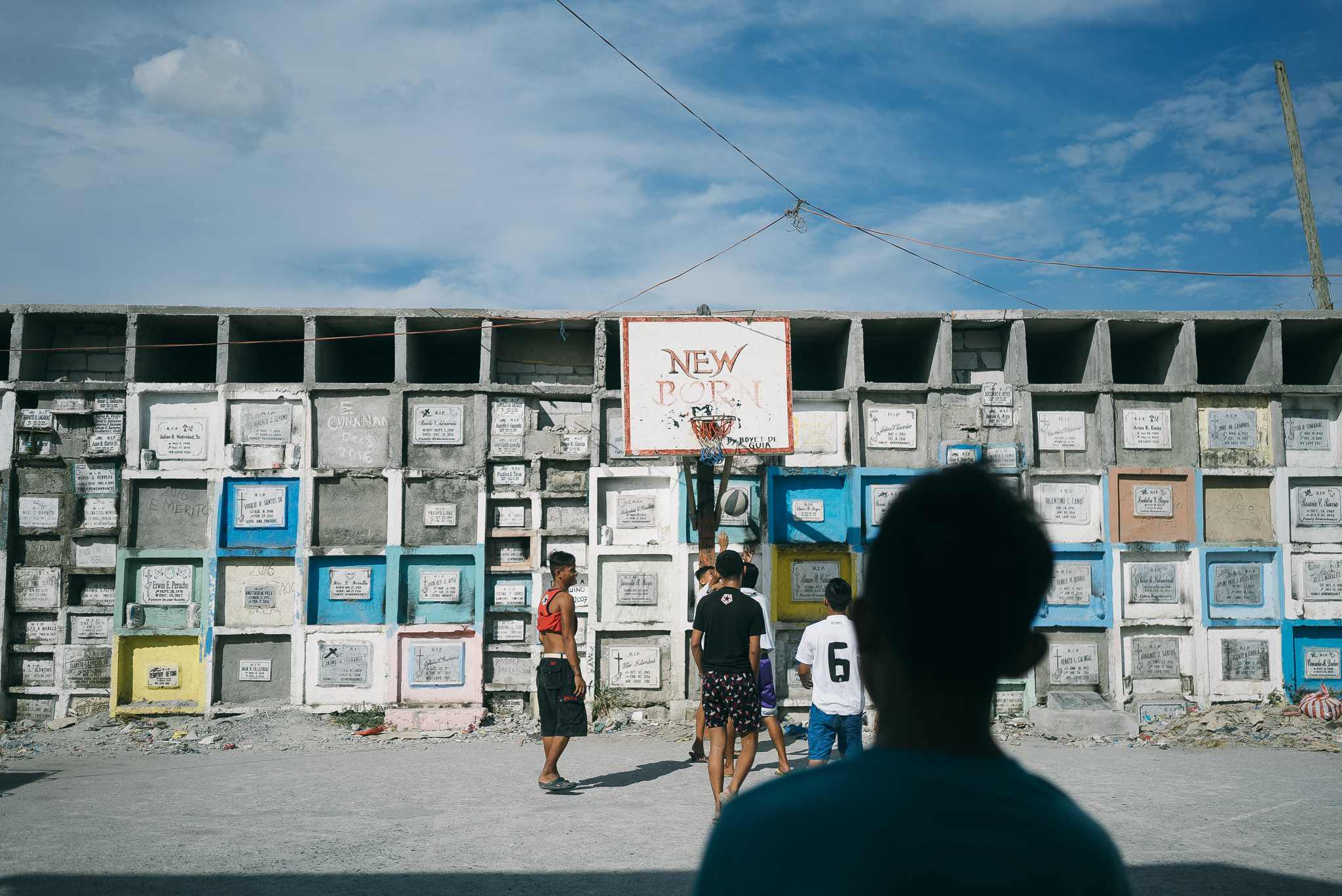 In a place that's environmentally challenging, the game of basketball serves as a safe haven. "Kailangan talaga ng mga kabataan 'to kasi kailangan din namin ng libangan. Marami rin kasing napapabisyo kahit sa mga kabataan. Sana rin may mga pa-liga kami rito para iwas talaga sa bisyo," he pauses, perhaps reflecting on life before they had the court. 
"Malakas kasi 'yung bisyo dito sa amin. Buti na lang may basketball kami. Ito lang nagpapasaya sa amin dito."
C5 Elevated U-Turn, Taguig
It's 5:00PM on a Friday and the sun is getting ready to set. In the gloom, the kids along the C5 Elevated U-Turn road are making the most out of their time left to play in their makeshift basketball court. The court has been there for the longest time. Curious as to how long the court has been there, we approached the kids to ask a few questions though no one really wanted to chat.
A kid holding an almost-ruined basketball suddenly appeared, as if he found enough interest in accommodating us visitors.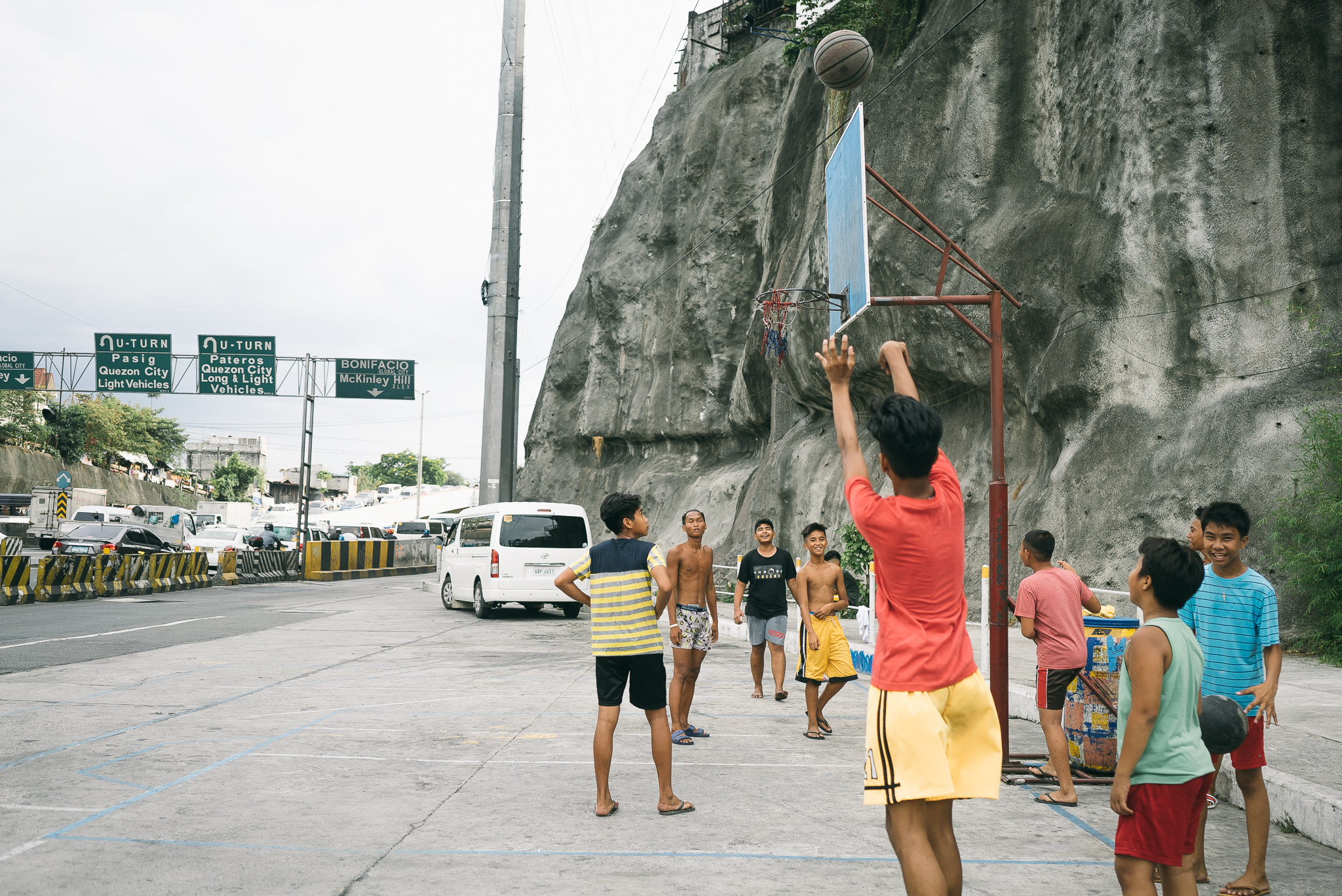 "Five years na po ito, kuya", says TJ, an 8-year old kid. "Papa ko nag pagawa, kasama siya sa barangay namin."
Proud of having someone to tell of his father's sincere accomplishment in the barangay, TJ tells us of his father's willingness to listen when the kids of the neighborhood requested for something (somewhere) to play in their community. Although it was tough, the kids helped create the basketball court—from painting the backboard, down to nailing the rim. "Noong pinayagan na magbuo, nagtulungan kami lahat dito para magkaroon ng court. Excited, e," recounts TJ.
Having a basketball court is all fun and games until it causes a disturbance though. In this case, they're on the side of a major highway which means if the ball bounces too far back, it might hit a car and cause an accident. "Lagi kami pinapagalitan dito kasi minsan tumatama 'yung bola sa mga kotse," TJ said. "Wala naman kaming magagawa kundi mag-sorry lang. Naglalaro lang naman kami pero siyempre minsan mahirap."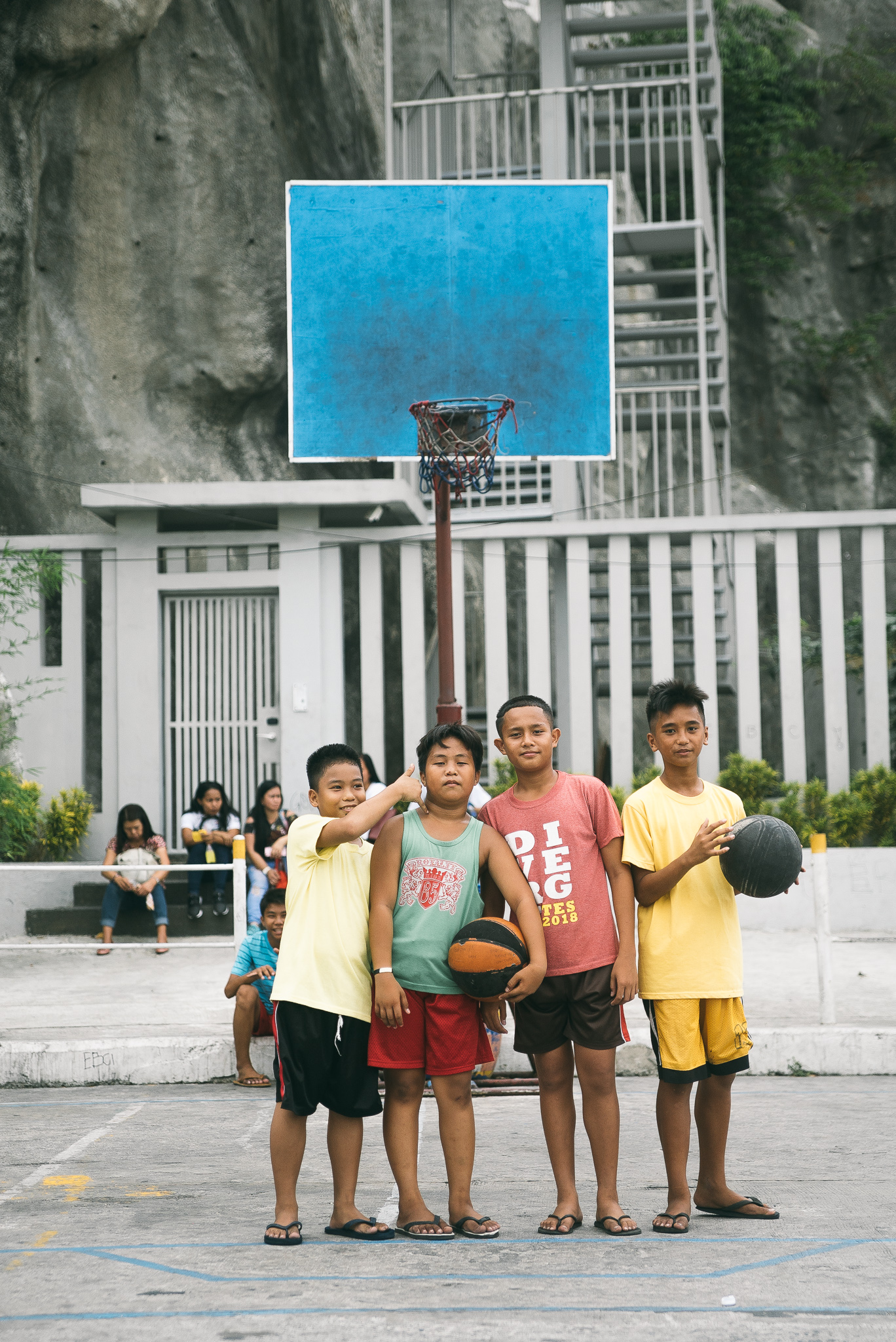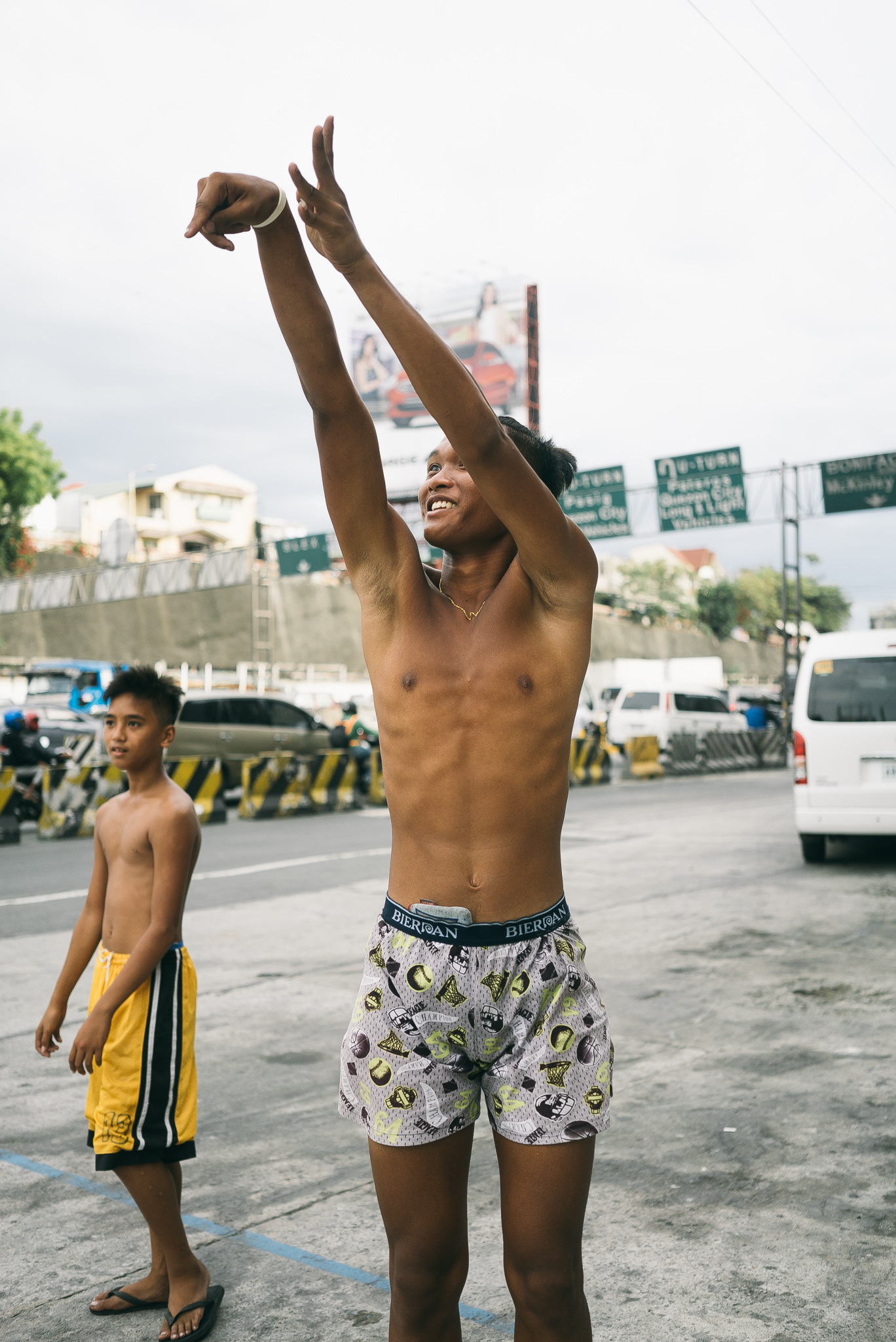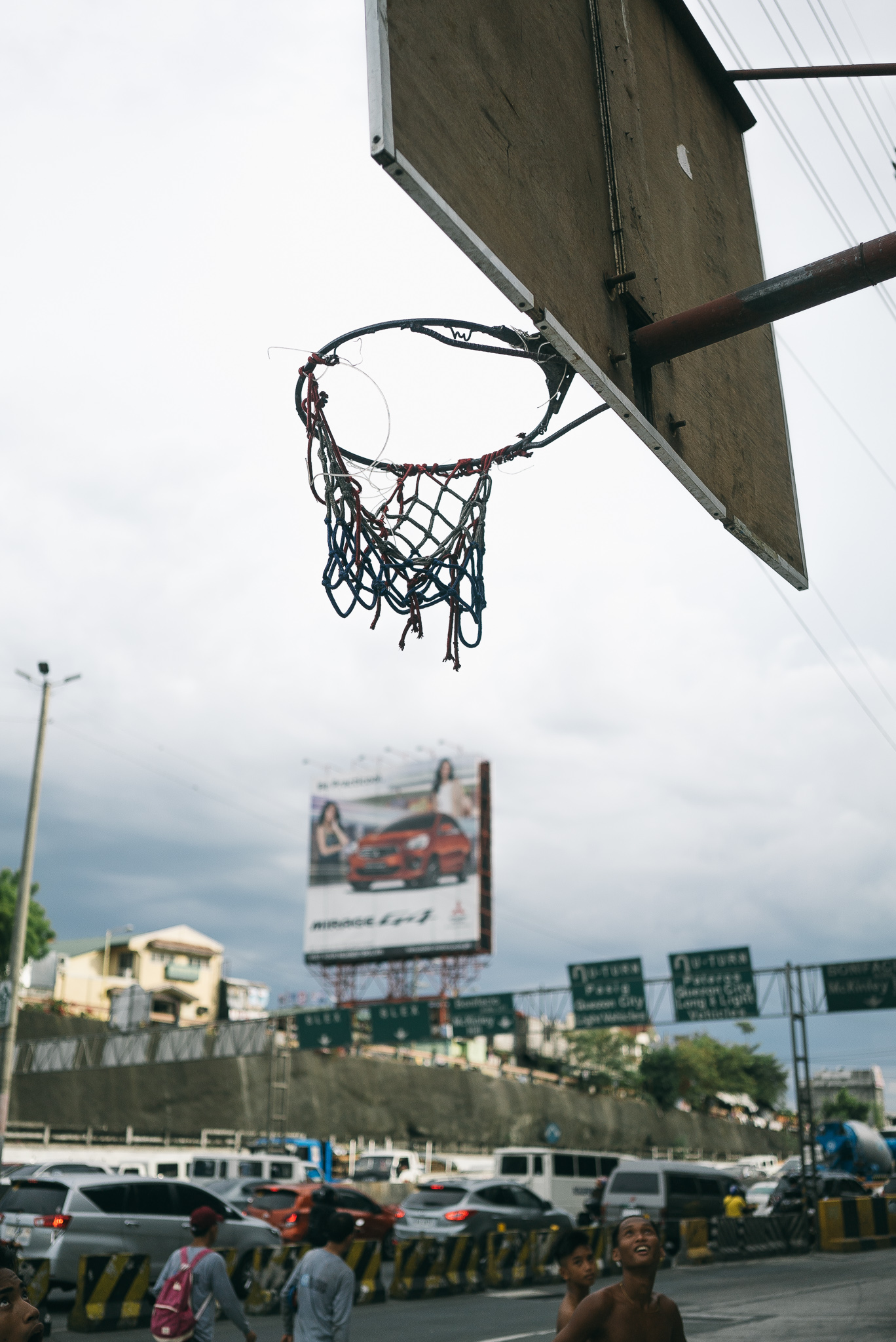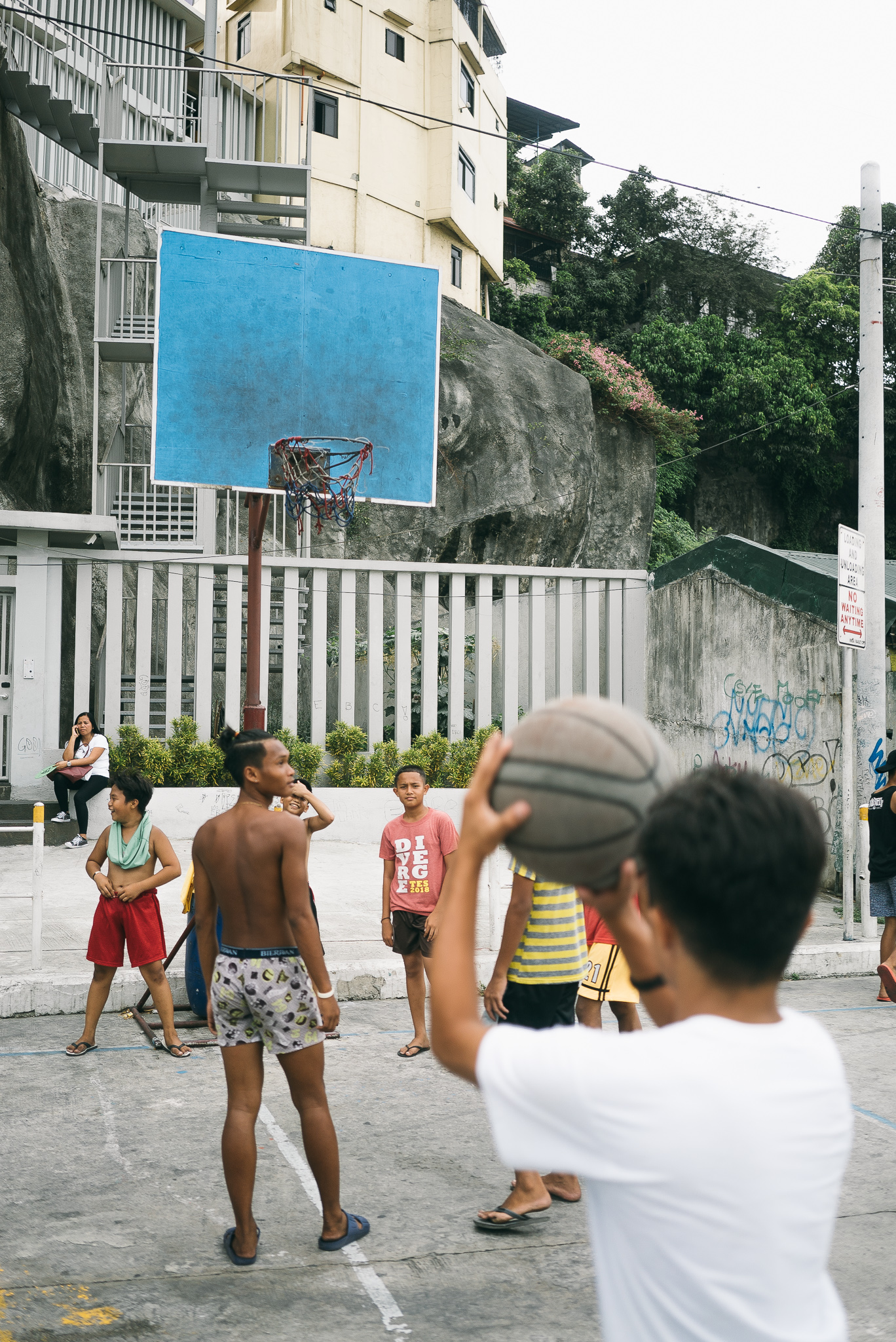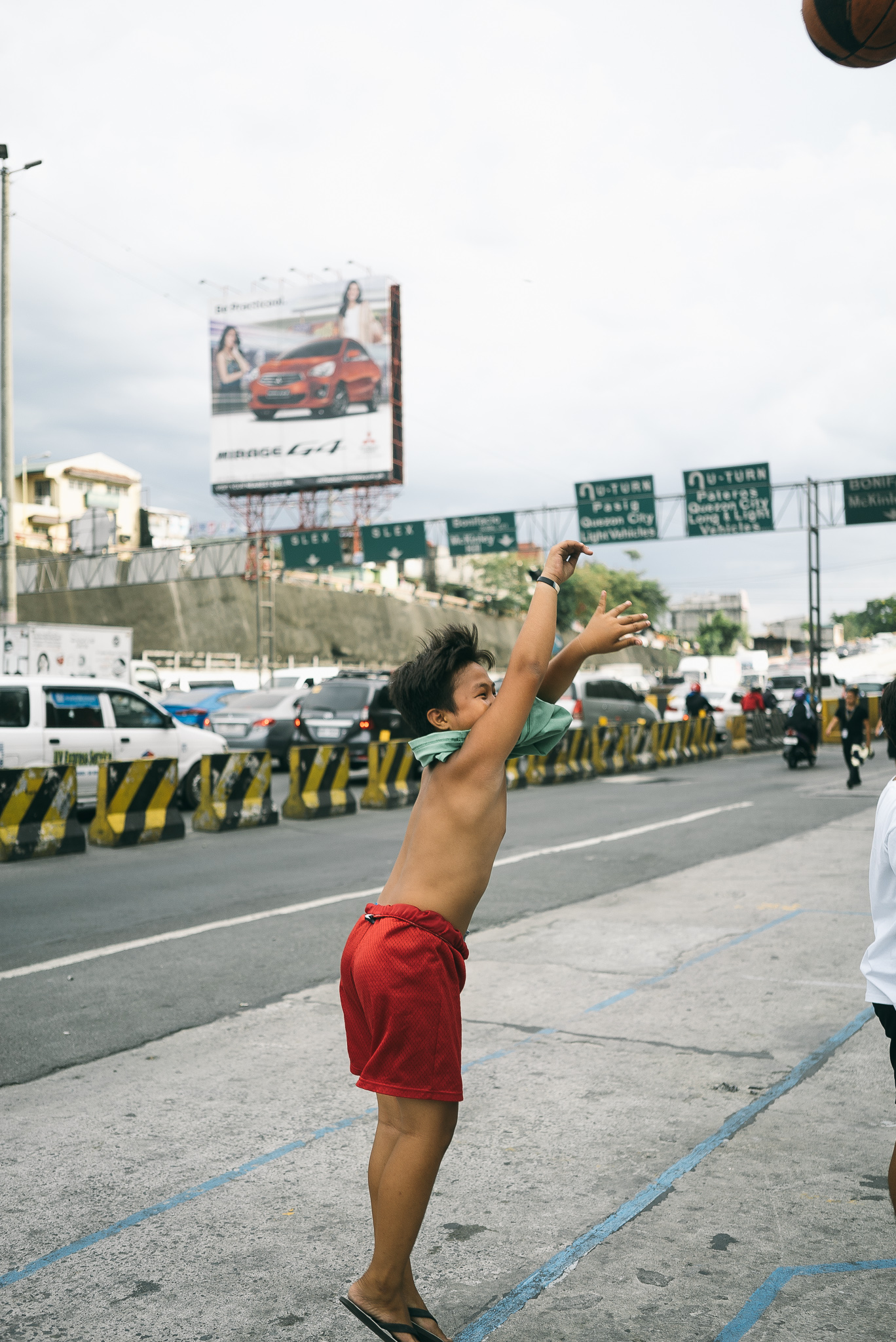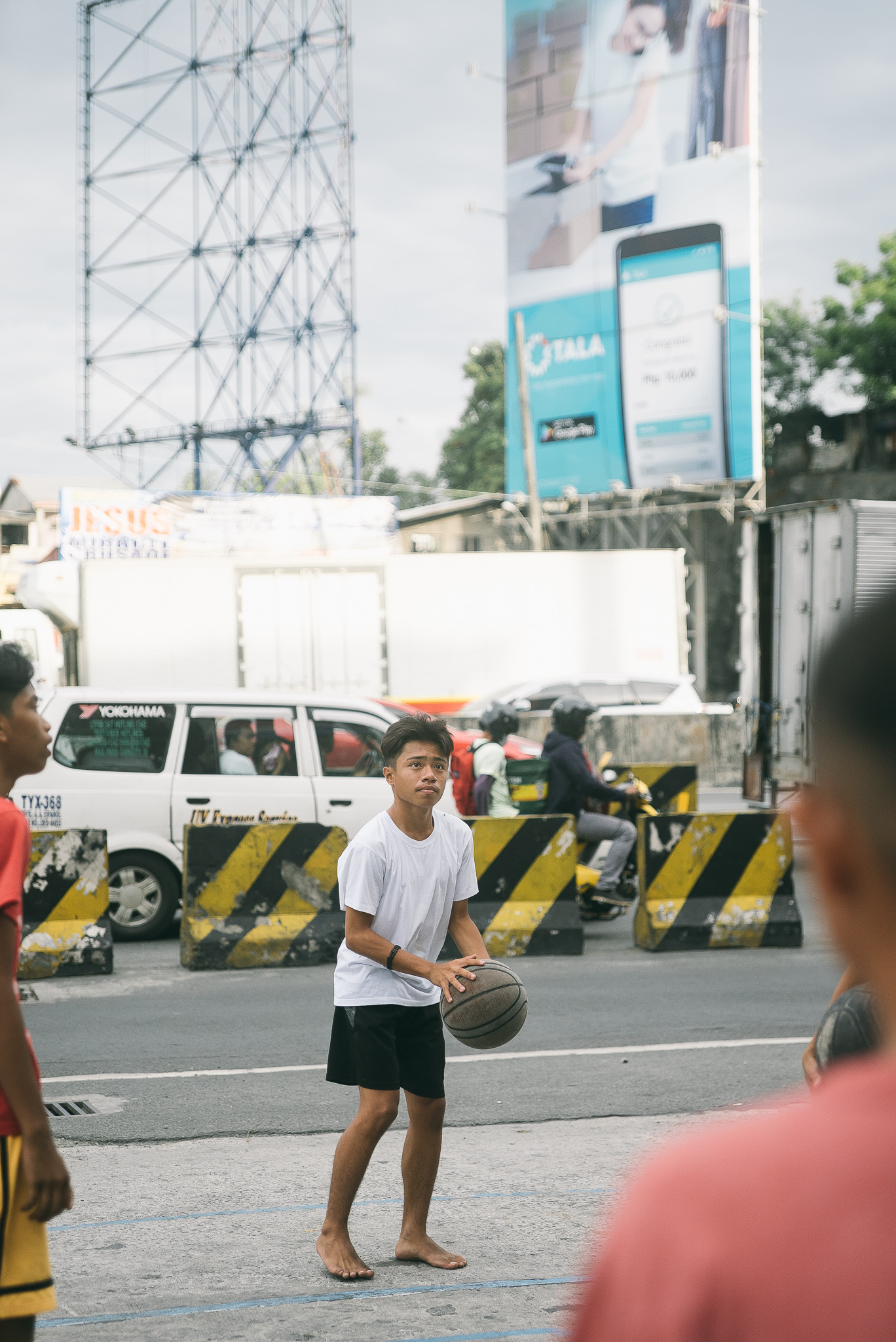 Despite the lack of space and the high risk for disaster, the game goes on. Instead of worrying where the ball bounces, the kids found beauty in their struggle.
"Kaya 'yung practice namin dito dapat swak. Kasi kung hindi, tatalsik talaga 'yung bola. Kaya marami sa amin dito shooter na."
Sct. Bayoran, Quezon City
"Bola mo na, 8-6 na dali," says Pablo, a 9-year old kid playing ball along the bustling street of Sct. Bayoran in Barangay South Triangle. With a grin full of confidence and a wary glance towards his opponent, he strips the ball and makes a basket on the switch. It felt like a full-blown competition out there. Even if they were just playing in the streets, Pablo's intensity mimics that of a pro-basketball player, no doubt emulating his idols.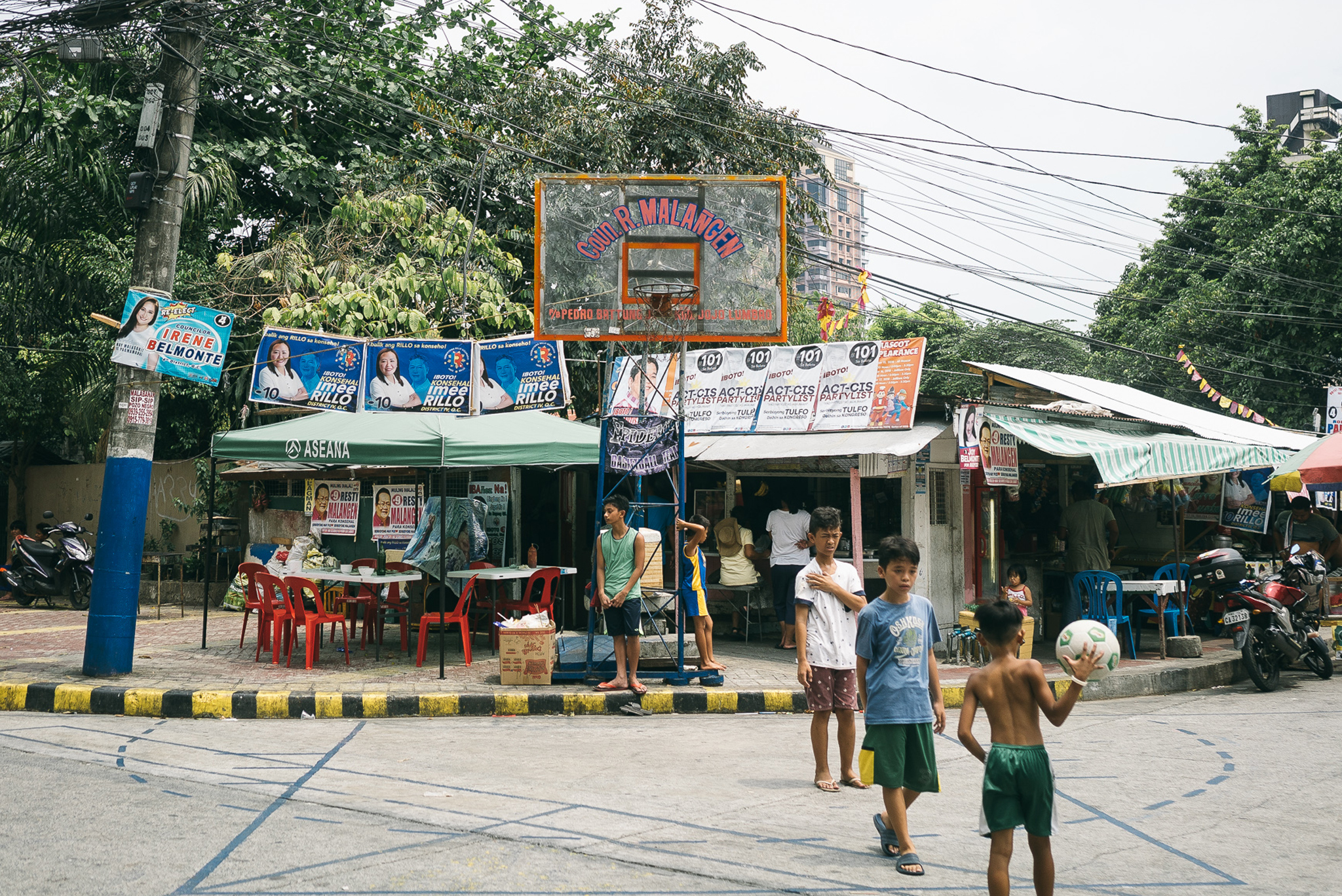 When the game was over and the winner crowned (so to speak), we ask Pablo about the origins of their corner court. "'Yung konsehal po dito nagbigay ng board. Matagal na po kasi 'yung poste, board na lang kulang pati mga linya," he shared. "Noong nabuo ito, dami ko naging kaibigan dahil sa basketball."
Among the ballers we've met through this excursion, Pablo really stood out. It wasn't just his skill level, but it was his willingness to improve his game. "Magta-tryout ako next year sa school namin kaya kailangan ko mag-practice araw-araw," he said with confidence. "Iba nga 'yung gamit namin na bola (a football) pero laro pa rin!"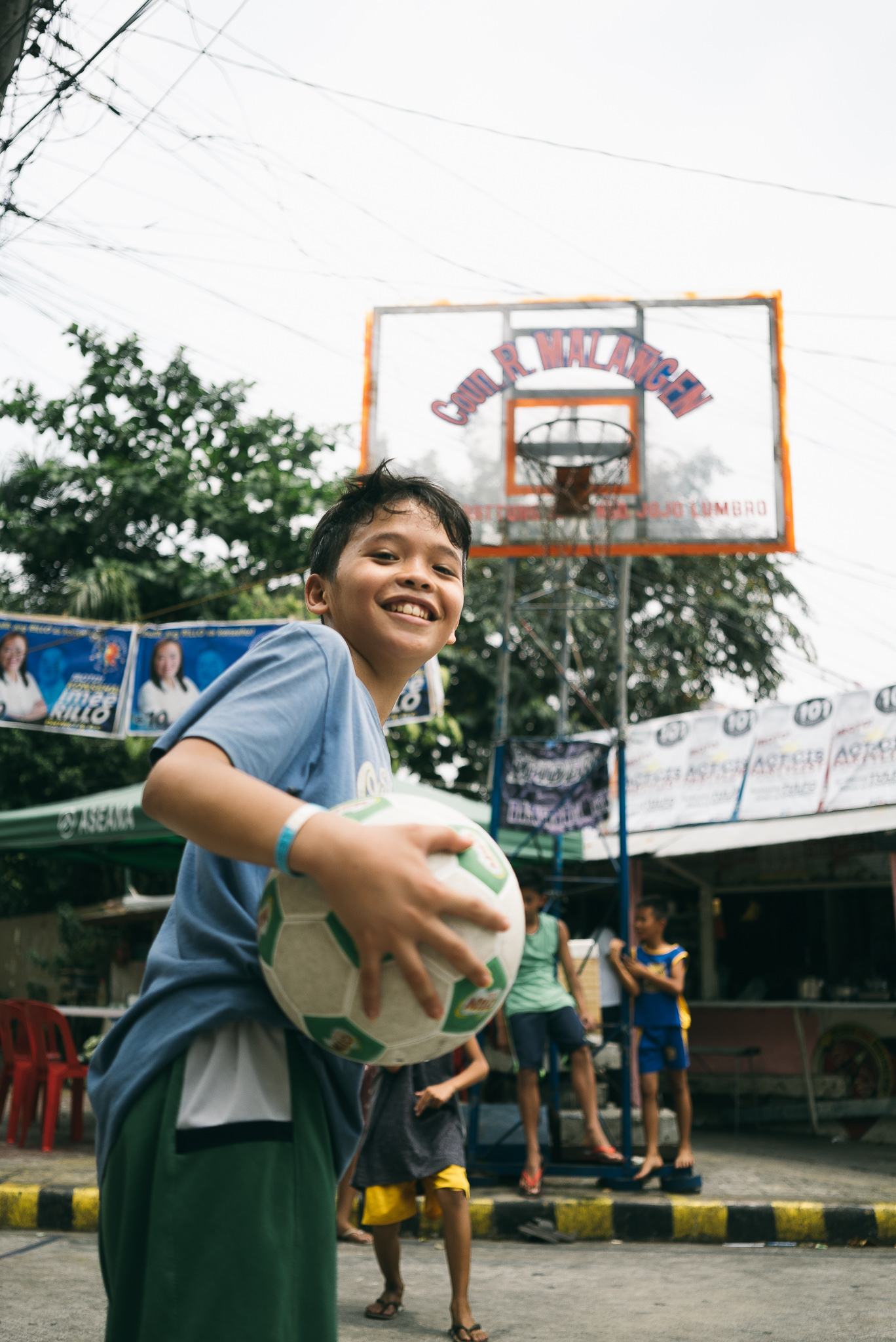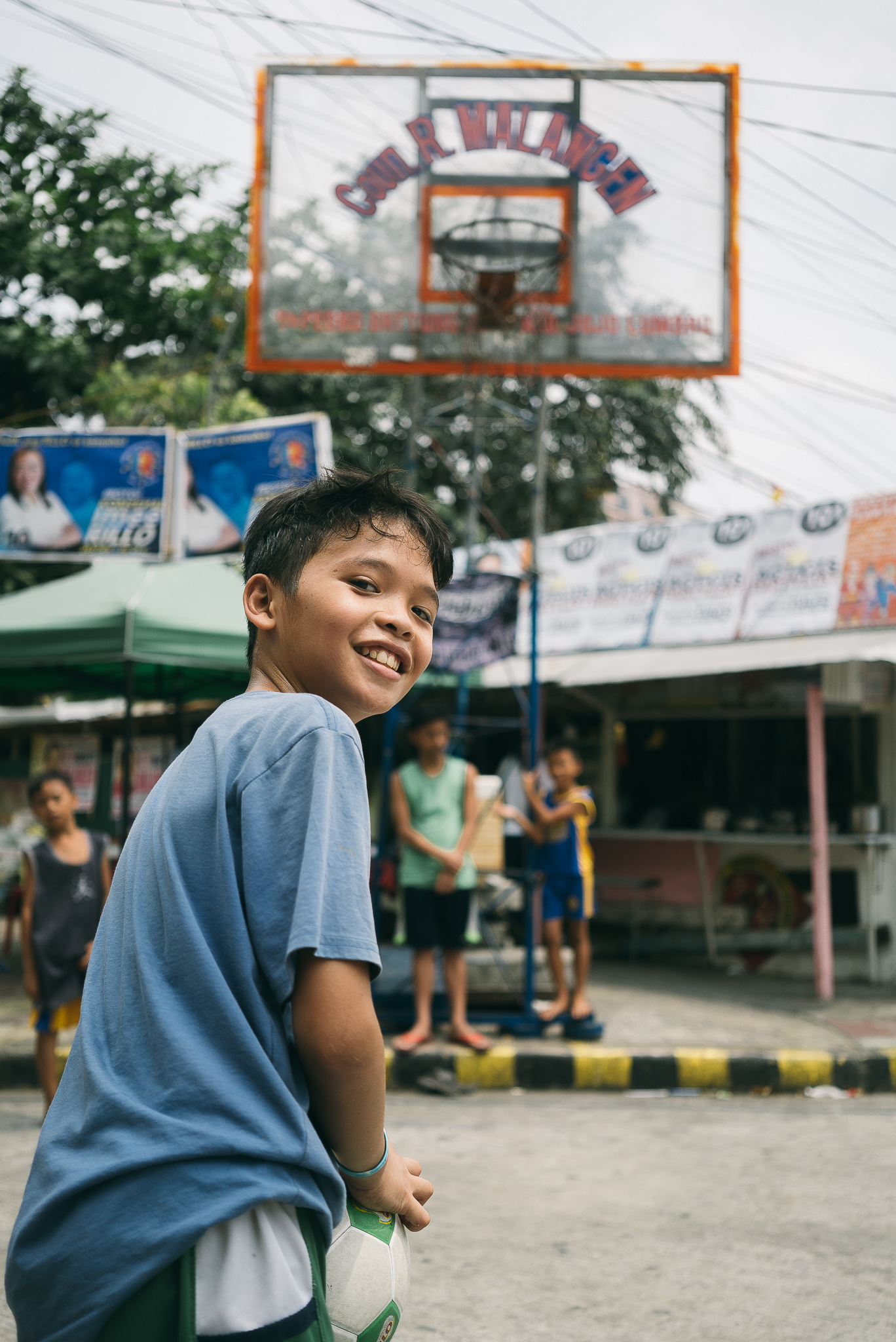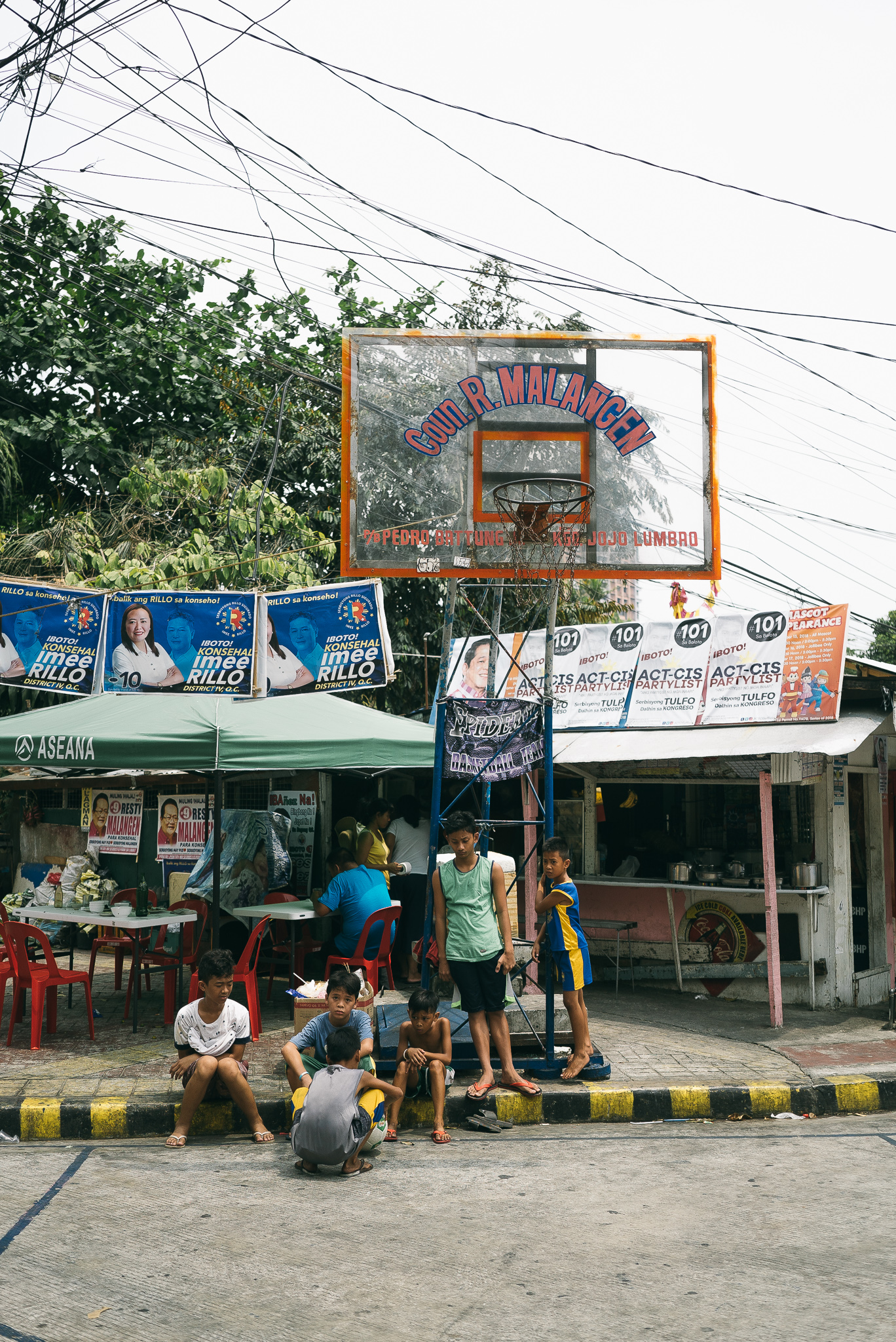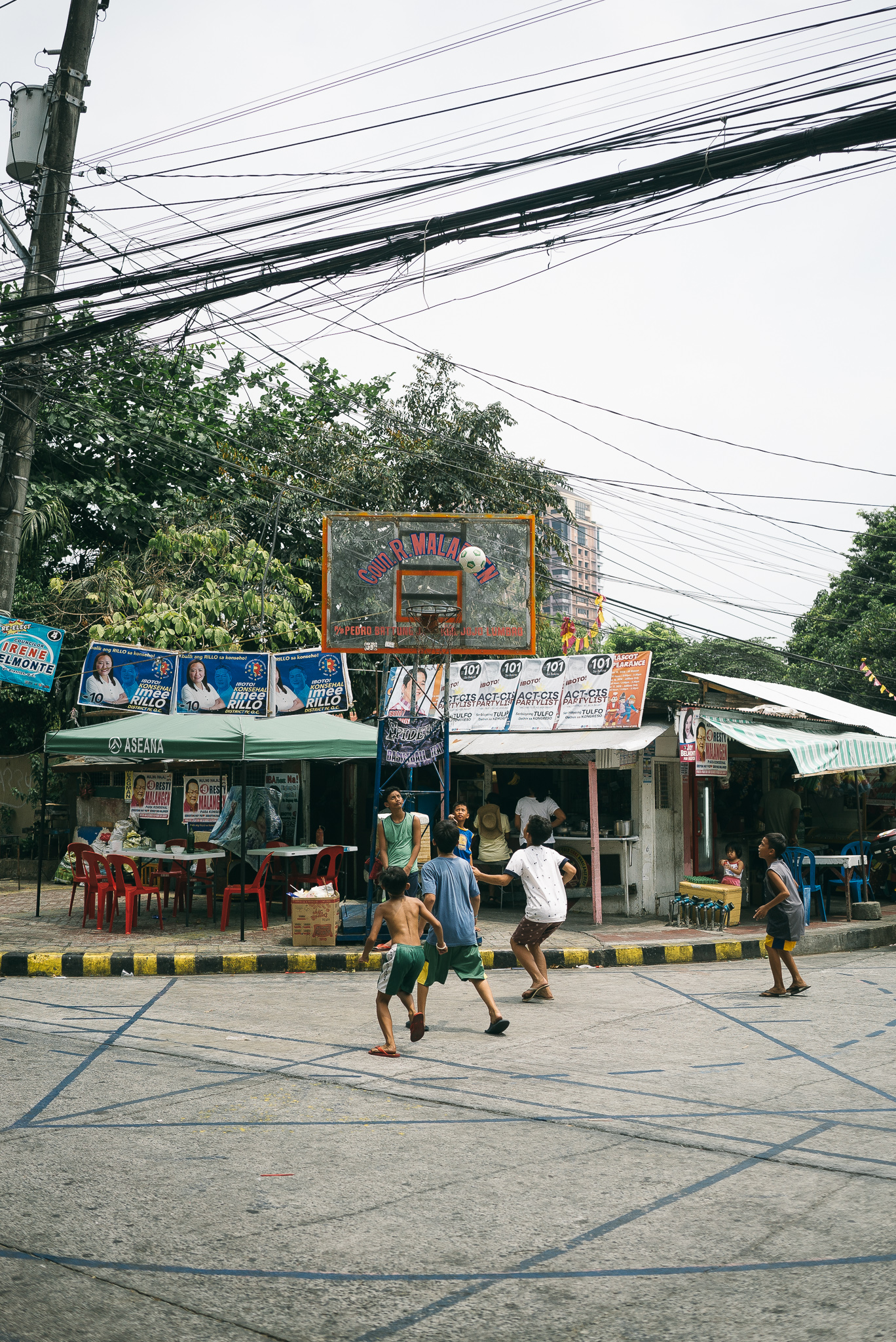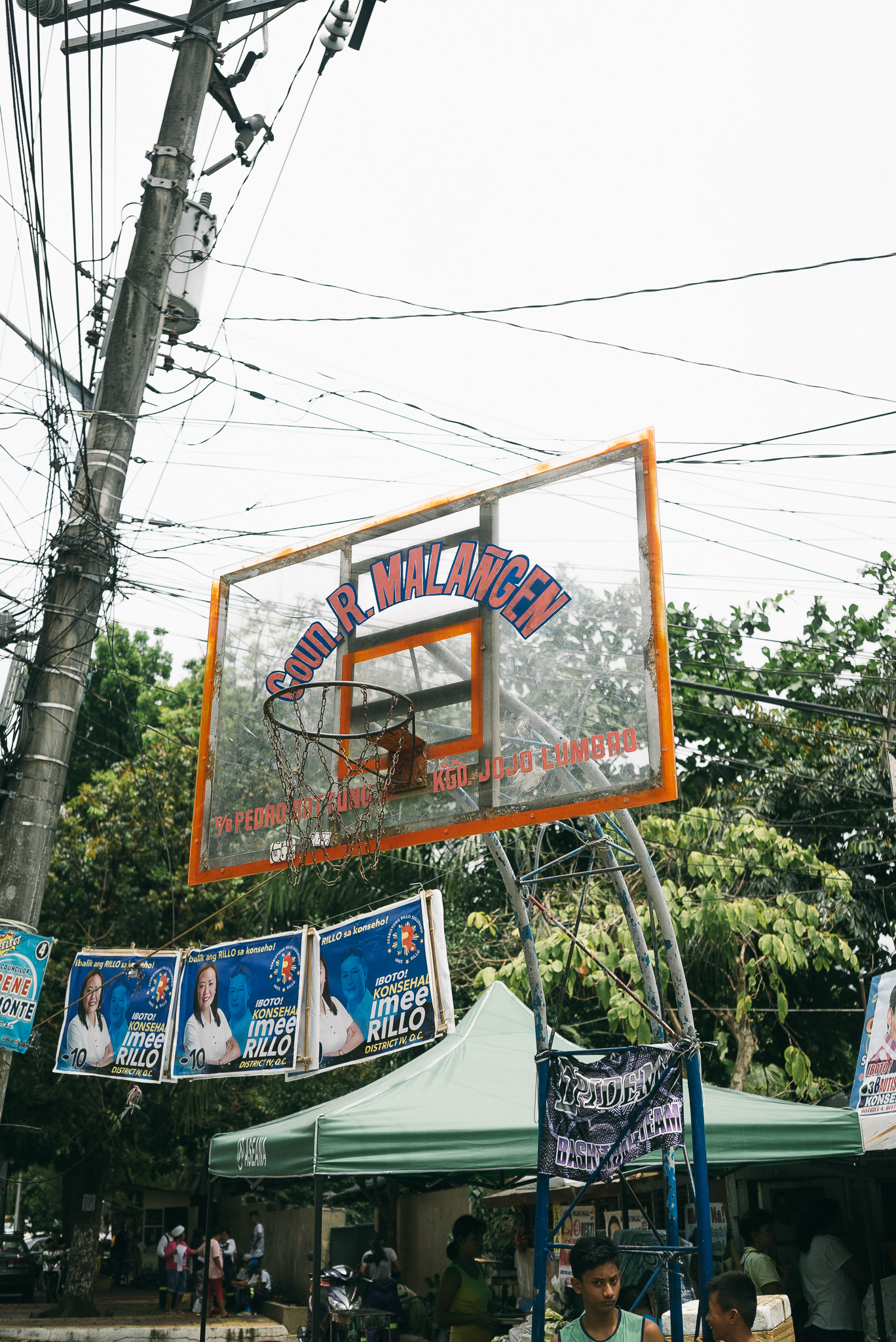 We've seen it before: the rags-to-riches story of unprivileged players making it to the league. In this case, Pablo's journey has just begun. If he can cultivate his vitality to withstand any challenge presented and always strive to improve, he'll surely be rewarded. And who knows, he might just get that basketball along the way.
"Noong nabuo ito, dami ko naging kaibigan dahil sa basketball."
Behind this narrative, our passion for the game became more insistent. The thought is this: basketball is a cultural phenomenon that has shaped our identity because it can be played just about anywhere. It may only take a hoop and a ball to play, but to love it to the extent of using whatever's available, on all sorts of landscapes, is unrivaled.
~
Photos by Rendrick Estrella
Follow CLAVEL on Facebook and Instagram for news, culture stories, and updates.
Related Posts