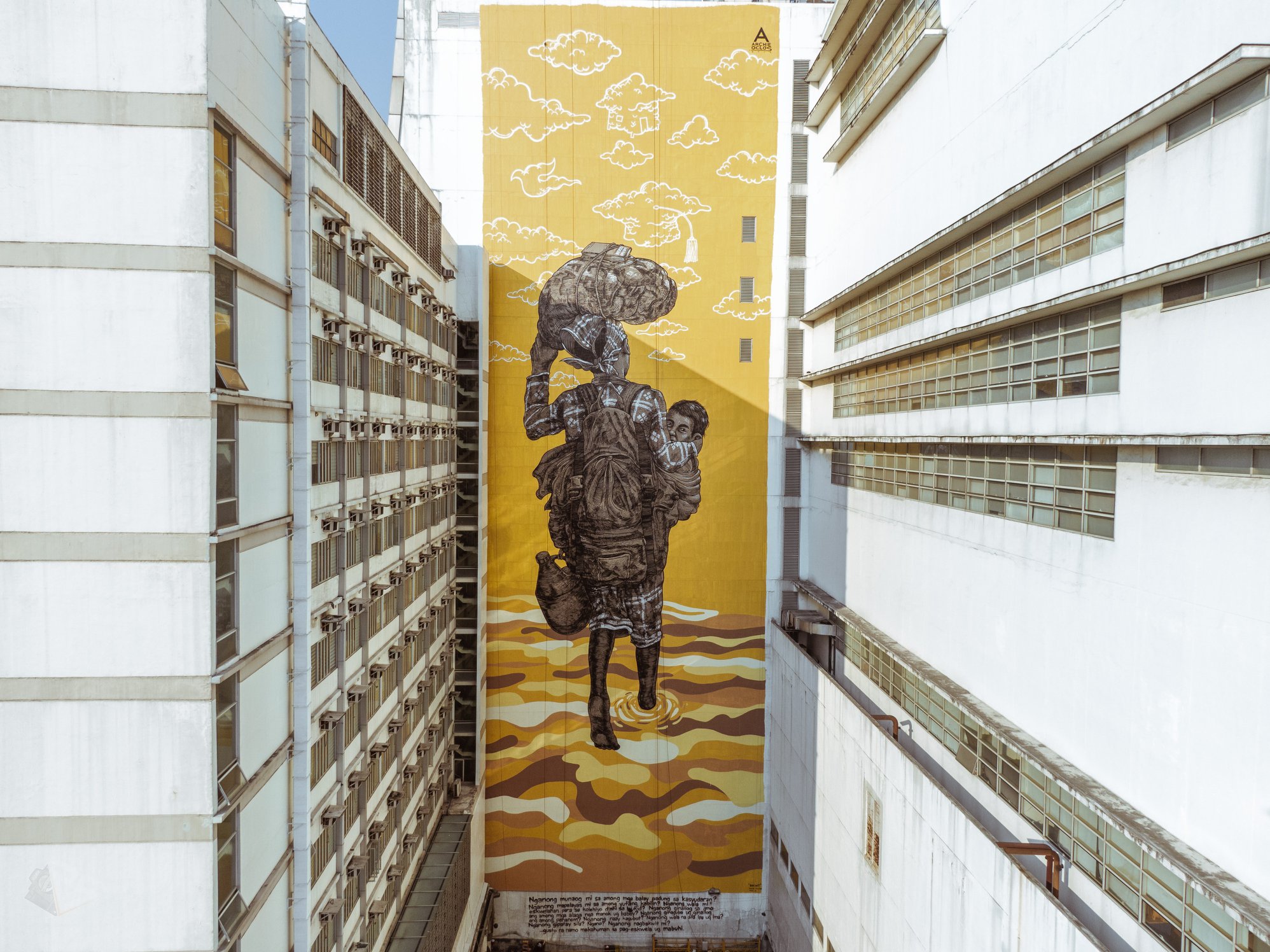 Street artist and painter Archie Oclos recently shared his newest mural found on the wall of the De La Salle College Of Saint Benilde School of Design and Arts. Oclos, whose murals often depict the struggles of indigenous people and socio-political issues, presents his new body of work called 'BAKWIT'.
We talked with the acclaimed street artist to discuss his new mural and the message that it sends.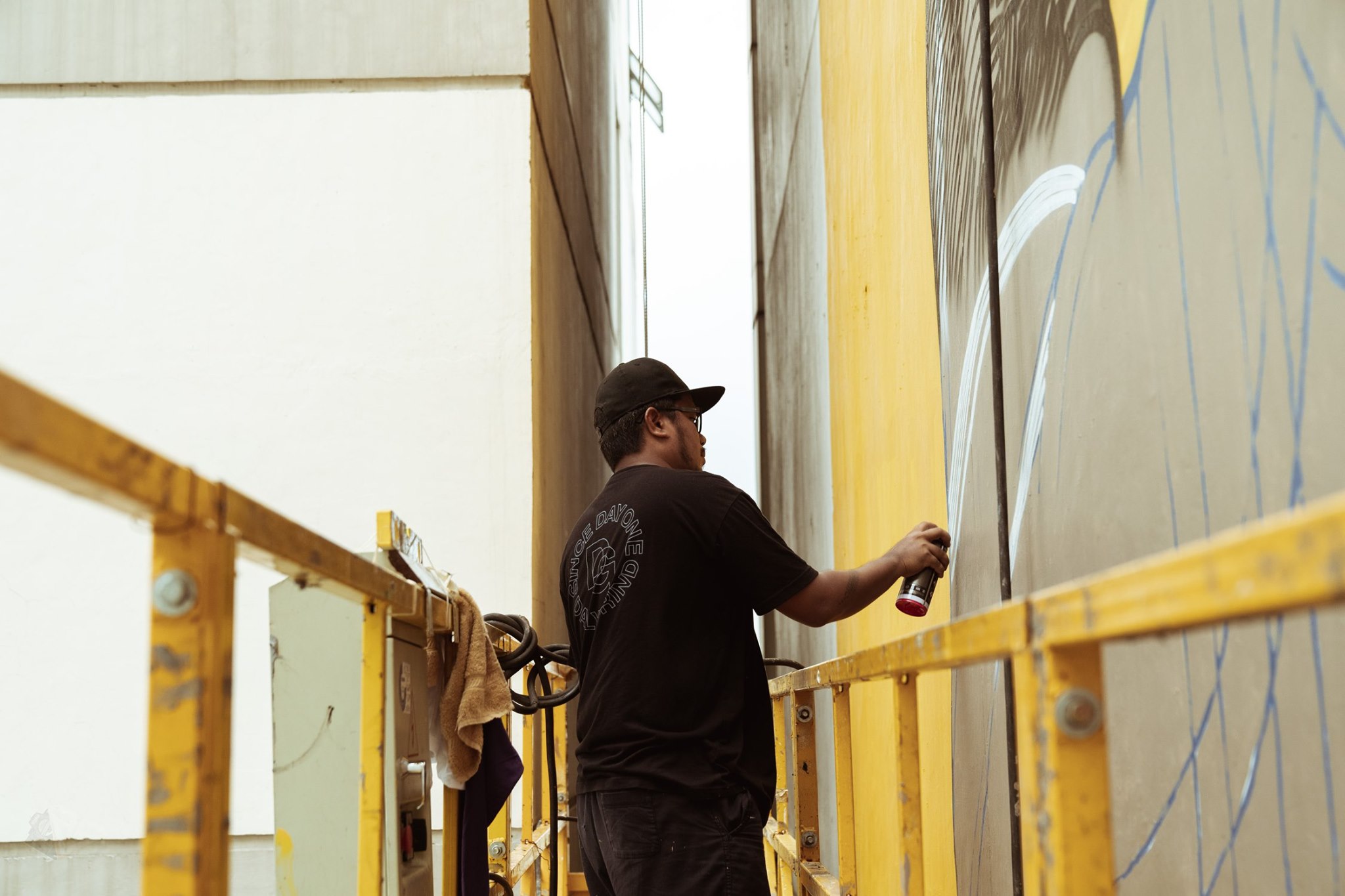 Congratulations on the new mural! What's the reason behind the name 'BAKWIT'?
Bakwit is a term meaning Evacuees. I tried to discuss visually our Indigenous People's struggles especially on the perspective of the youth during the times of evacuating their ancestral lands because of militarization in their lands, aerial bombing, harassments, and killings [in] their community.
How extensive was your creative process for this particular piece?
My creative process was immersions—for doing research and fact-based information, finding a location—where to paint the mural so that it can communicate well to the audience, materials and equipment I should use for execution, and the period of time to when I am going to paint the mural.
Why choose the CSB-SDA campus for this mural?
I didn't choose the CSB-SDA as a location for the mural, rather I [found] the location as a good platform to tell the narratives of our youth in the mountains. It's part of the project of CSB-SDA to showcase the works of all the CCP 13 Artists Awardees–we were the first batch artists to work on them.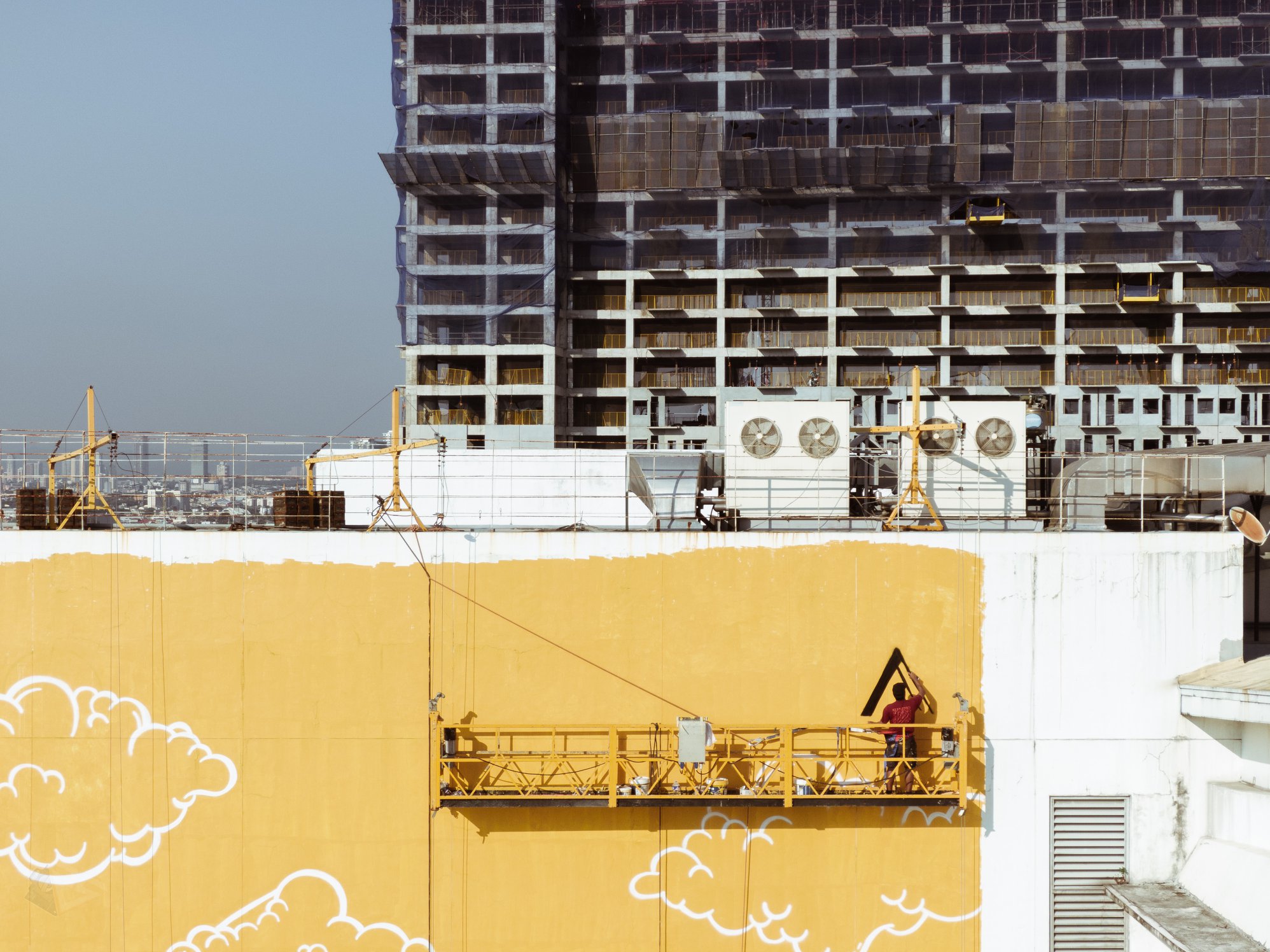 What are you trying to say with 'BAKWIT'?
The mural is a narrative of Bakwit siblings trying to survive during the times of militarization on their ancestral lands, walking on [foot] from top of the mountain going down to the barrio, as you can see their parents were not on the image because they were killed, a youth carrying his younger sibling giving protection for the younger generation, his bag instead of school supplies or books were a pile of their clothes, a water container on his side for them to have a drink, carrying a sack of their harvested food and some books tied on top of it. The clouds on top of it [forms] a lot of their dreams and aspirations—the access to good and quality education, peace, and a safe home.
"The image of the mural is contrast to the location itself wherein a lot of youth has privilege and access to education–the mural is a reminder how important education is, and that it is a right not a privilege."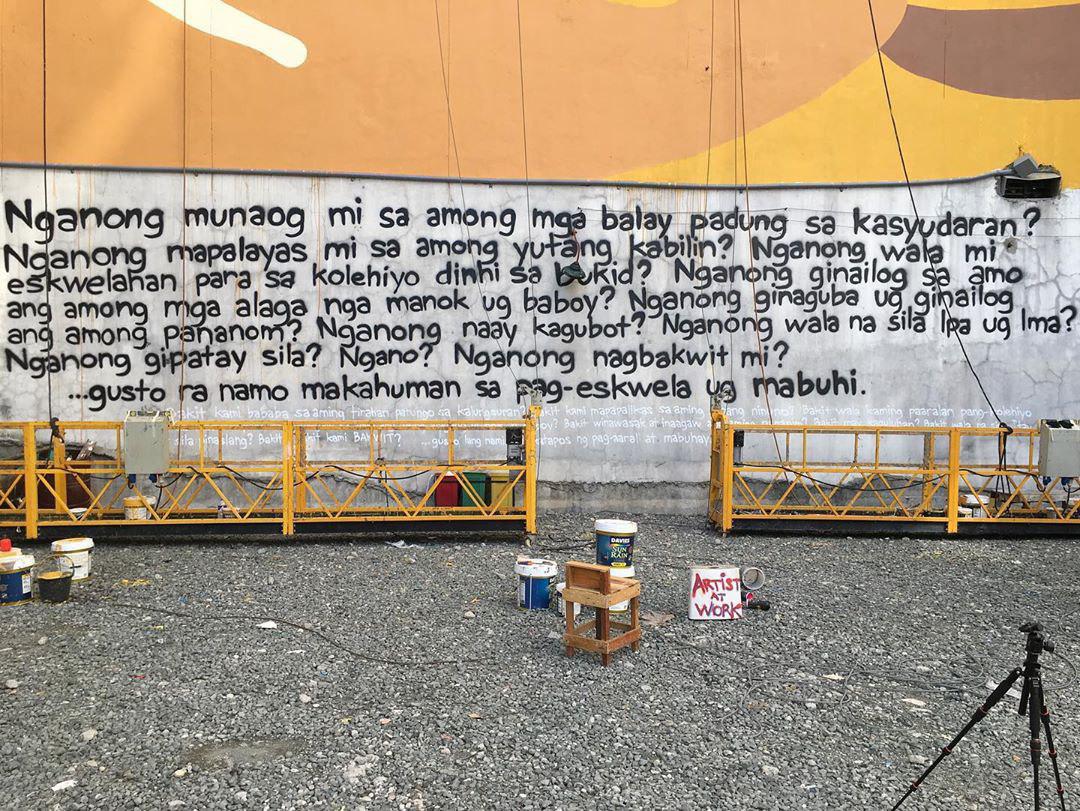 Below the mural, Archie leaves us a message in Bisaya. It says:
Nganong munaog mi sa among mga balay padung sa kasyudaran?
Nganong mapalayas mi sa among yutang kabilin?
Nganong wala mi eskwelahan para sa kolehiyo dinhi sa bukid?
Nganong ginailog sa amo ang among mga alaga nga manok ug baboy?
Nganong ginaguba ug ginailog ang among pananom?
Nganong naay mga militar?
Nganong naay kagubot?
Nganong wala na sila Ipa ug Ima.
Nganong gipatay sila? Ngano? Nganong nagbakwit mi? …gusto ra namo makahuman sa pag-eskwela ug mabuhi.
Translated to Tagalog:
Bakit kami bababa sa aming tirahan patungo sa kalungsuran?
Bakit kami mapapalikas sa aming lupang ninuno?
Bakit wala kaming paaralan pang-kolehiyo dito sa kabundukan?
Bakit inaagaw sa amin ang aming alagang manok at baboy?
Bakit winawasak at inaagaw ang aming pananim?
Bakit may mga militar?
Bakit may kaguluhan?
Bakit wala na sina Itay at Inay?
Bakit sila pinaslang?
Bakit?
BAKIT kami BAKWIT? …gusto lang naming makatapos ng pag-aaral at mabuhay.
"BAKWIT" by Archie Oclos can be seen at De La Salle College Of Saint Benilde School of Design and Arts, Dominga St., Malate, Manila. 
Photos by Rainier Gonzales (@rgvizuals)
Follow CLAVEL on Facebook and Instagram for news, culture stories, and updates.
Related Posts