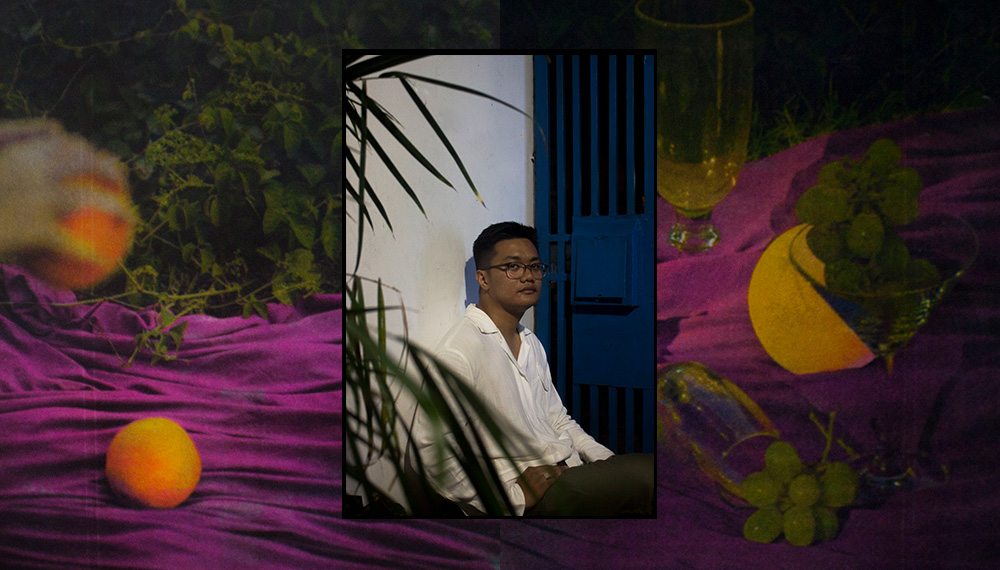 Photography is a language anyone can understand, but in our image-saturated era, a good photo is less about what just looks good and more about what goes deeper—or, at least, it should be. When I first set eyes on Renzo Navarro's work, it was the first time in a long time I'd felt moved by fashion photography. His images, washed in warm light and colors that look like a heatwave, exude a rare sensibility that's become signature to his work. While visual noise bombards us from every inch of our touchscreens, looking at Navarro's photographs almost feels like a reprieve.
This talent, of course, hasn't gone unnoticed. After only three years as a professional photographer, Navarro's portfolio already boasts of work for designers like Carl Jan Cruz and Vania Romoff, a billboard campaign for Bench, along with features in numerous online publications. That's just his editorial work—Navarro's personal photo projects are a whole other story, which brings us to his most recent milestone: his first solo exhibit.
Shot on the banks of the Pasig River, Navarro's still-life series titled Boy Who Eats His Feelings is a glimpse into the more personal side of his visual journey (and an ode to his not-so-secret love for food photography). We sat down for a quick chat about his origins, process, and the emotionality that inevitably spills into his work.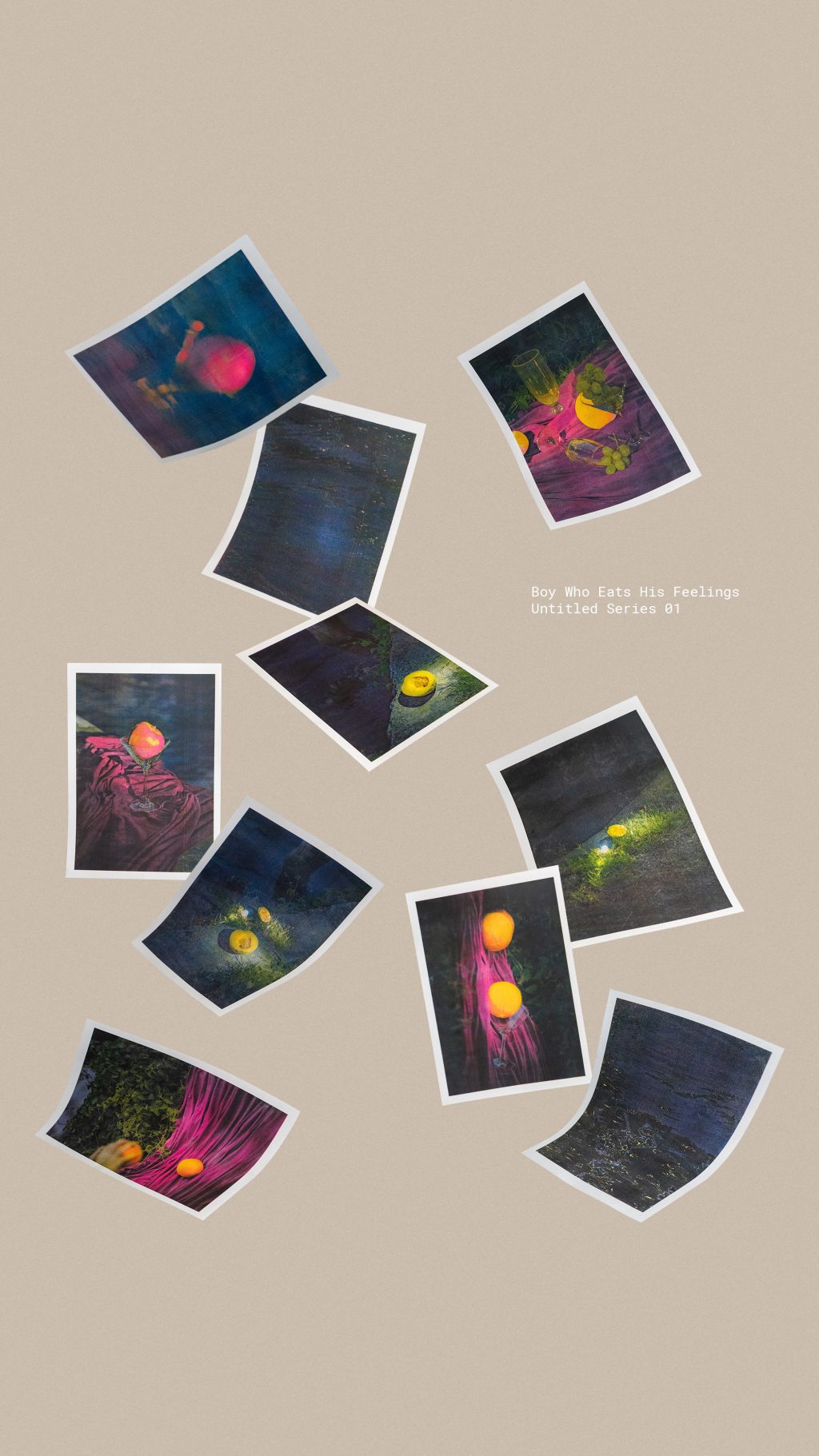 How did you start out with photography?
I started with Santugon, our org back in La Salle, but it was very corporate style. I used to do graphic design talaga, pero I saw photography as a…not a prerequisite, but I thought it was something I needed to know how to do at the very least. My career really started when my friend, designer Carl Jan Cruz, pushed me to try fashion [photography]. Konti lang yung experience ko at the time. Nothing serious, parang puro shoots lang with friends.
I guess he really trusted you to pull it off. Were you anxious at all?
Super! I was super anxious because at that time he was already gaining cachet among the local fashion scene. It was a big deal na back then. After that, I interned for L'Officiel Manila. I was planning to do graphic design for them, but they were like, 'No, you're doing photography'.
Why didn't you want to focus on photography at first?
Yeah, because I thought I'd go into advertising, not fashion. But I wanted to do photography pa rin on the side. I just thought, how will I survive [on photography]? I didn't think it was possible at the time. But then, yeah, I started shooting fashion. Besides having a personal interest in it, I feel like it's the most forgiving, creatively. I just kept shooting and I knew naman that I had an eye for it. I basically left graphic design overnight because I didn't feel like I could do passion projects with it.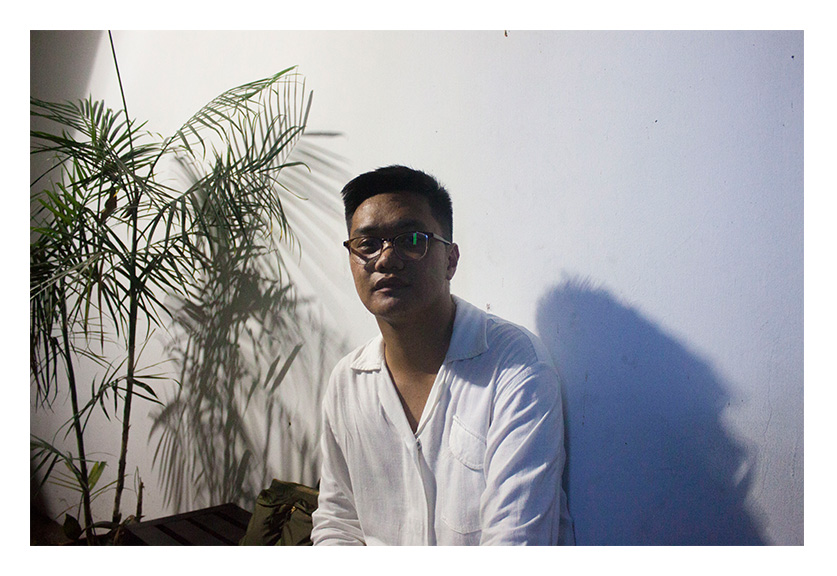 You've had personal work displayed before, but this is your first solo exhibit. Can you tell us more about the concept behind "Boy Who Eats His Feelings"?
I have another Instagram kasi…kind of like a finsta, pero it's public. You wouldn't know it's me. It's really called "Boy Who Eats His Feelings". Wala, it's just, like, sad stuff, it's very sappy. I'm scared nga to post this in public, but it came from this. Sometimes it gets sad and dark, parang if it's too sappy for Twitter, I put it here. Most of it, I've posted around 2 AM.
I wanted to make art out of it talaga. It was supposed to be a zine, so this was gonna be one of the spreads, pero hindi natuloy. When Marvin [Conanan of PURVEYR] asked me to do an exhibit, I finally thought, why not do Boy Who Eats His Feelings as a series of prints? It's easier for me to do my art when it's about my feelings, which I thought was selfish at first, pero why not? My comfort zone is myself. The concept for this was…feelings I wish weren't there. So, I thought of putting food somewhere where it's out of place. This was shot in Pasig River—it doesn't show kaya I decided to call it Untitled. In some prints, it looks like a picnic, like why would you have a picnic on Pasig River? It was lit lang by a flashlight.
My language when it comes to fashion and food are very different. Most of the food photography I've done is very bright and colorful. I didn't do personal projects with food, so wala akong creative control unlike with fashion. I know if I did more fashion or art photography, it would be dark—I couldn't do that with food until now.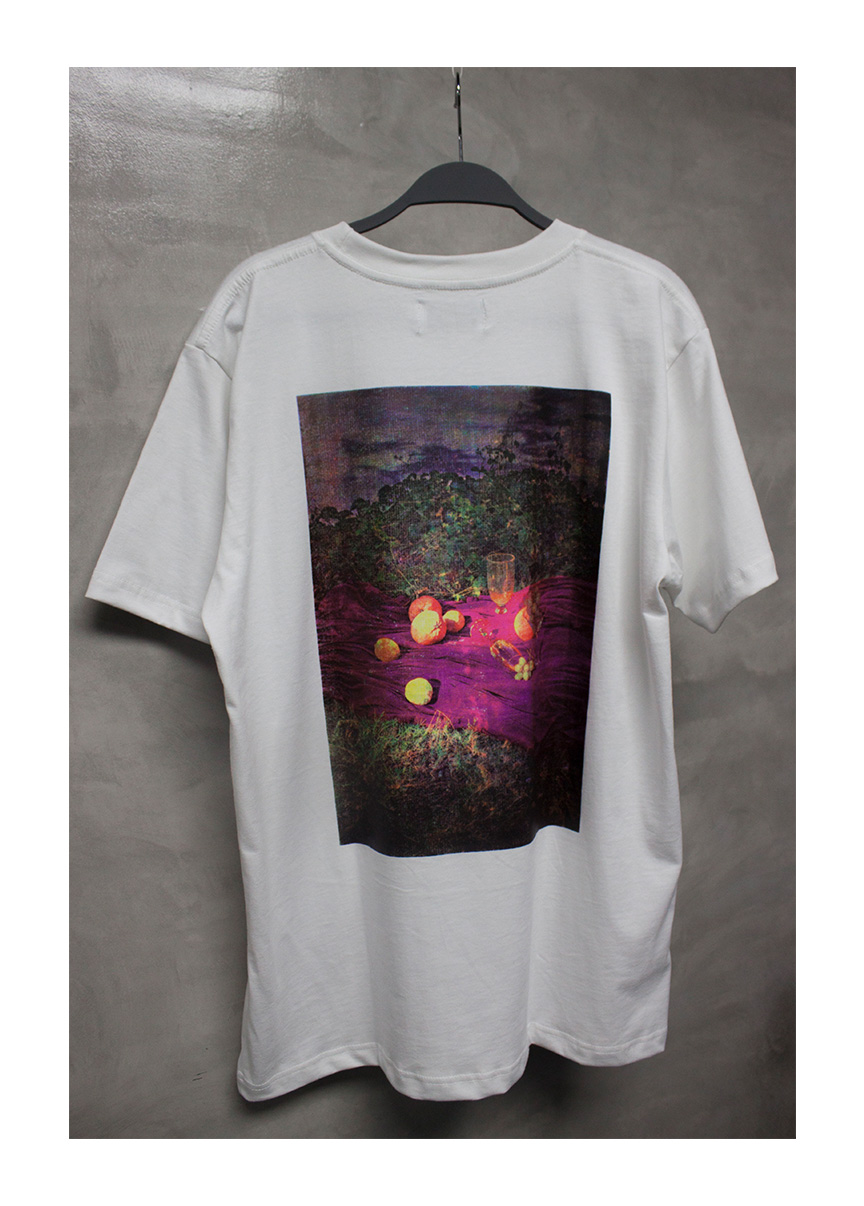 Is there a reason you chose this particular photograph to be printed on the shirt?
No reason! I thought it showed the most context.

As opposed to your usual fashion photography, there's no human element here. How did you work with the objects to portray your intentions? What visual aspects did you have to play with?
Before, I didn't want to work with products—like flatlays, mga ganoon—just because I wanted to focus on fashion talaga. The food stuff came after. I enjoyed it so much because I don't have to talk to anyone to do it. It's really just creative direction. It's always lighting, color, and the editing process talaga. In that way, it becomes formulaic, almost, but it's always intentional.
For me, sadness is the easiest thing to convey just because it's always there. It's easy to show and to put out, but not so much to talk about. I feel like it's gonna be the driving force of this series for a while.
Do you have a different approach when it comes to photography that's just for yourself?
It's all different. It's both a problem and a blessing that I get to do so many other things. Personally, gusto ko na itahi lahat. This exhibit is my way of bridging my food work with my personal work and expressing my emotions through photography.
Your photos have a very visceral quality, and they seem to celebrate familiar characteristics of living in the tropics. Is this intentional? And how does living in the Philippines shape your visual style?
[My photography] is very warm. You know what I learned? Photography in the Philippines tends to be warm, as opposed to Japanese [photography], which can be cold. It's affected by climate pala. Most of my street photography naman has been about my daily commute. I've been taking the train since high school. It's mostly about the mundane.
It's always a good exercise to have something in mind when you're taking photos. I find it easier when I'm given a theme. This exhibit, yun yung wake-up call ko na parang, what's your personal work gonna be about? I was super hesitant to make it about my feelings because I felt it was selfish. But if doon ako comfortable, then I can do that for now, as long as things start to make sense, too, because I'm doing what I'm doing. I'm just making sense of my secrets. Yuck, ang sad!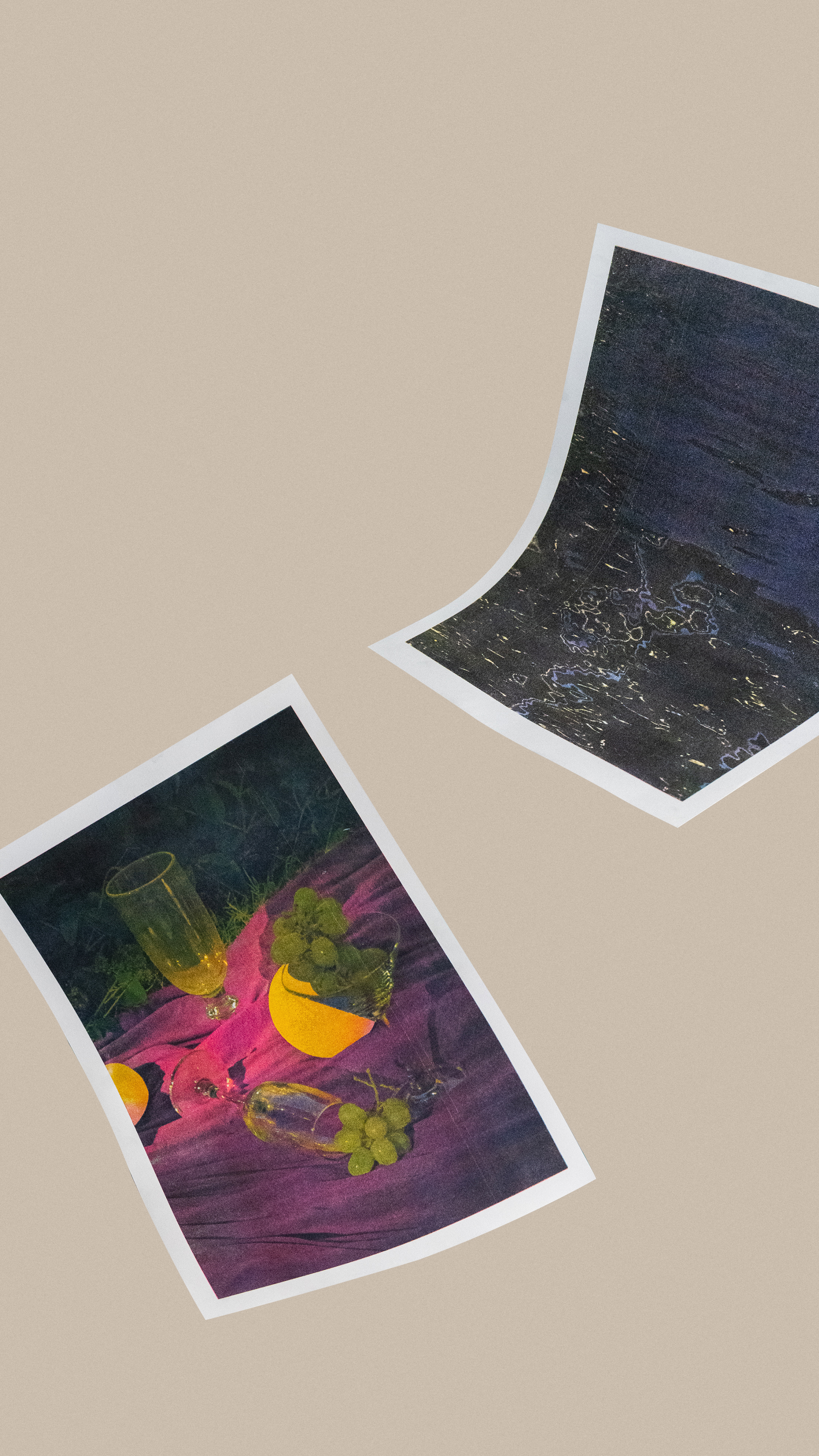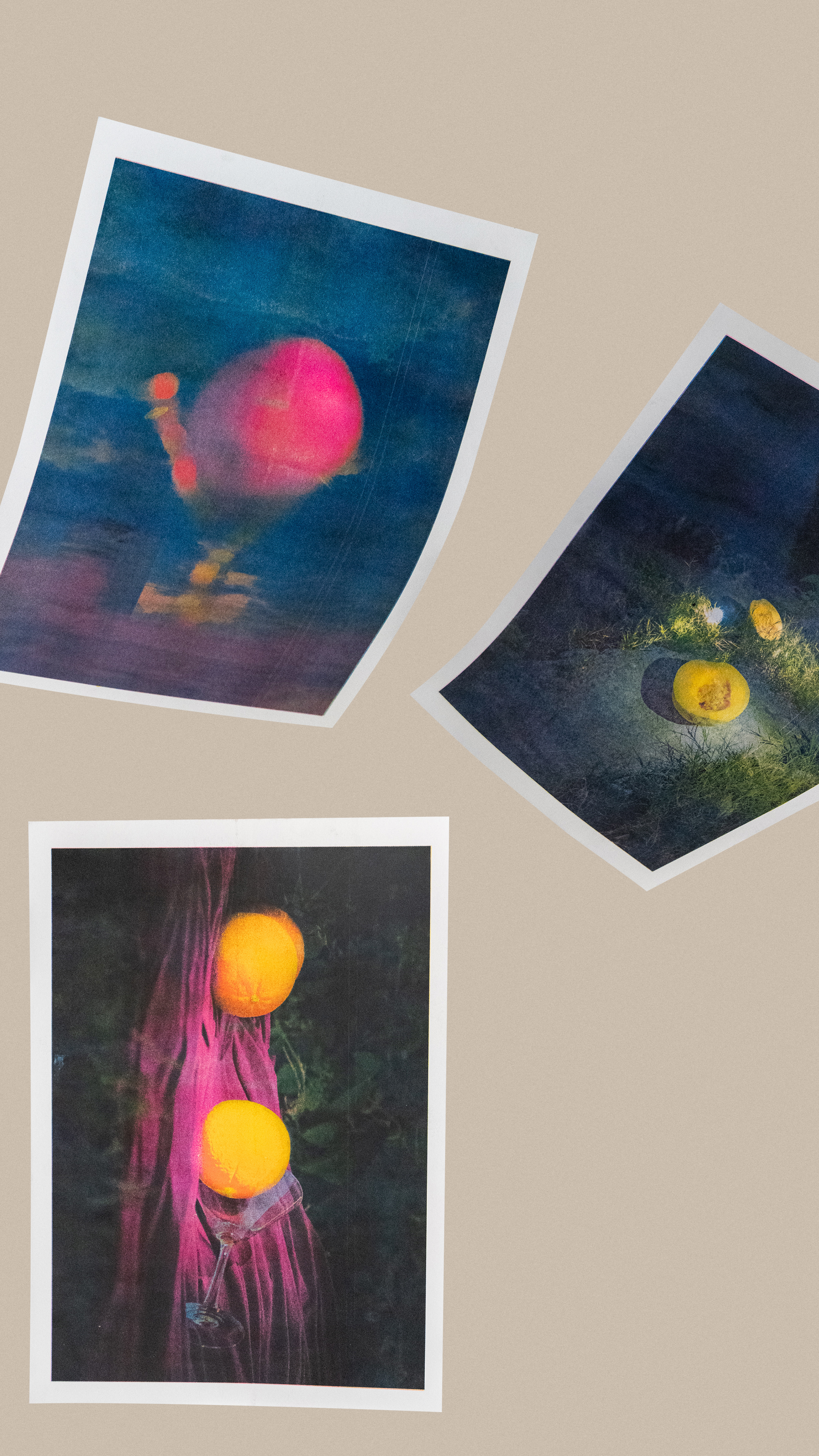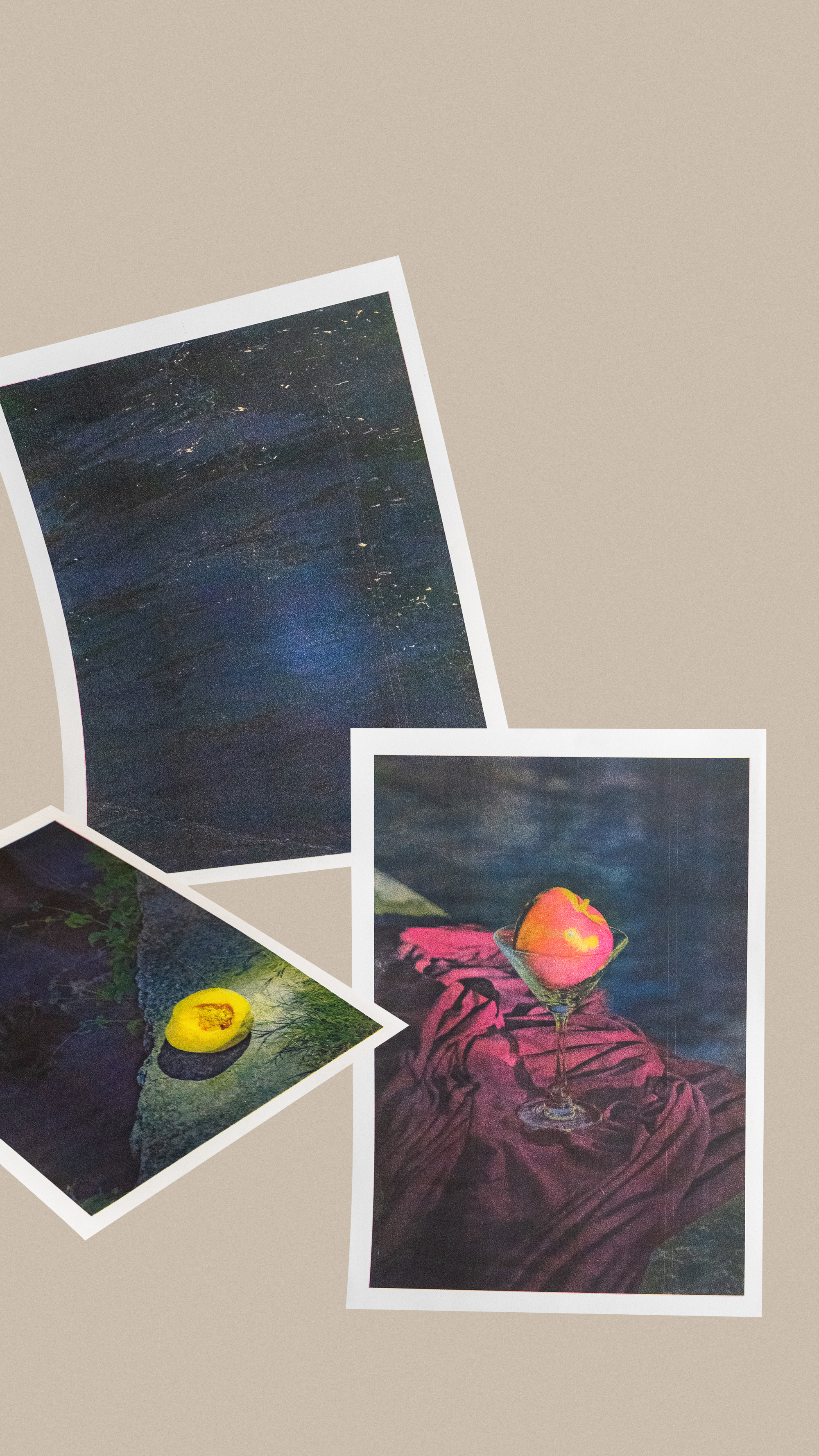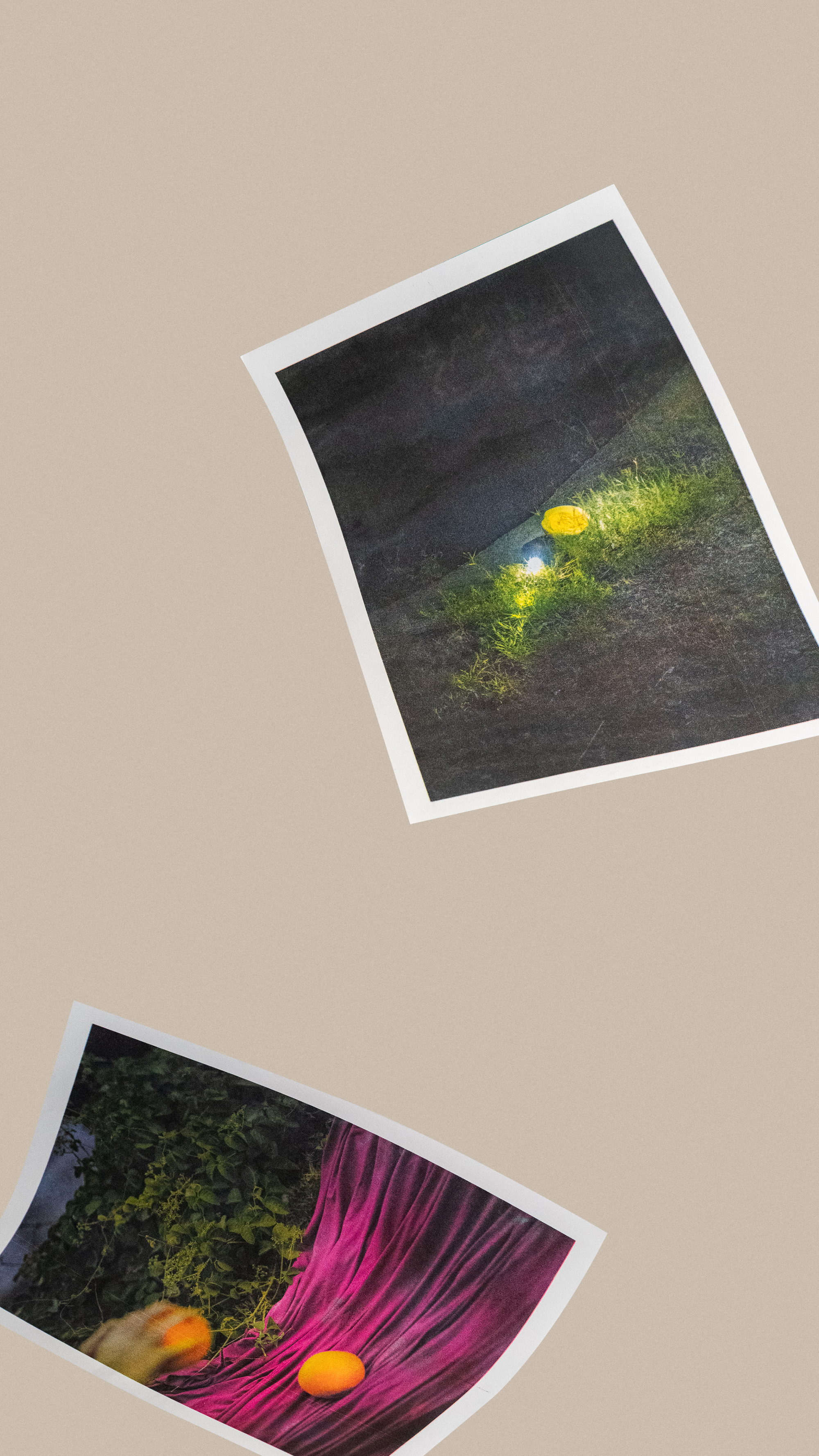 Who would you say are your biggest influences, photographer or not? And how important is collaboration in your work?
For me, it's really the whole industry. I'm just feeding off of it. In the early days, it was Terry Richardson and Juergen Teller, who both used harsh flash, so most of my work then was also like that. I just kept on experimenting. I'm amazed talaga when people say they can identify when something is mine because sometimes they're so different from each other.
I get opinions on my work from other people talaga and I always just feed off of that. It's not that I don't have an opinion on my own work, but that's how I collaborate with the viewer naman. When people tell me my work is like this or that, I'm like, ah, hindi ko naisip yun. How do you reconcile what people think of my work and what I think of my work? I think it's always gonna be a two-way street.
What do you want this body of work to show about you as a photographer?
When I acknowledged my feelings as the driving force for my personal work, I think I want my future images to tap into emotion, and let that inform and shape my photography through abstraction.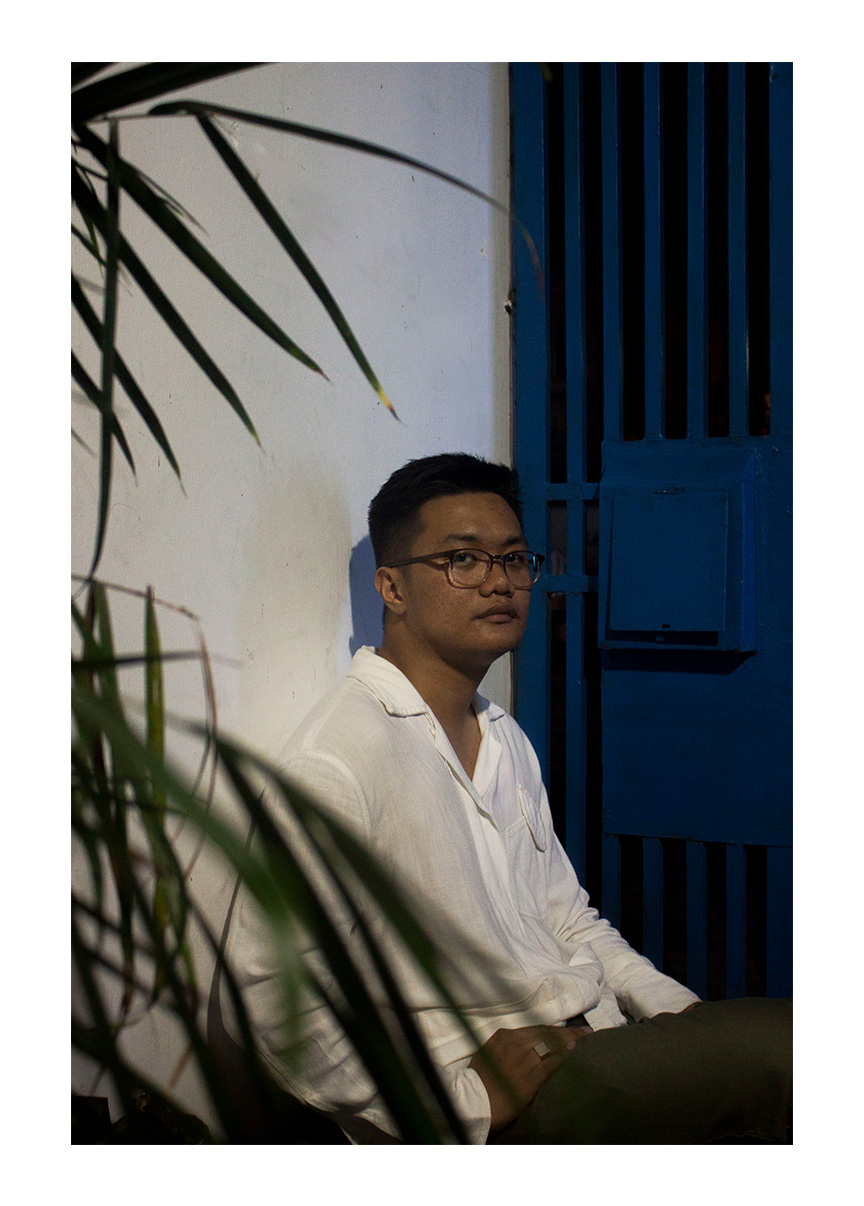 What's next for Renzo Navarro?
I just want to do more with print, more exhibits. I want to do more personal work. I get caught up kasi with work that's for work, so even if I have time, I'm never in the right headspace for personal work. It comes in waves. I feel like I need to pressure myself more, I just need to decide what I want it to be about.
"Boy Who Eats His Feelings" by Renzo Navarro runs until the end of June 2019 at PURVEYR Post in Poblacion, Makati.
Words and photography by Kim Visda. (@kimvisda)
Related Posts