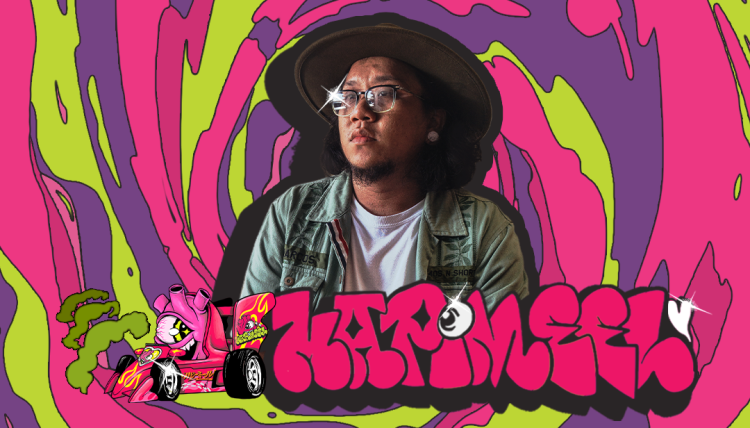 Somewhere along the roads and villages of Sta. Rosa lies the humble abode of surrealist artist Quatro Hapimeel, where he spends days passionately crafting in his small studio. Entering his studio is like being introduced to a world of inspirations and creations: a patchwork of every connection Hapimeel has ever made, a collage of concepts and musings from his mind. 
As a multidisciplinary artist, you'll get to see pieces of different artworks and a glimpse of every experience he has ever had in this room splashed with colors of yellow and pink, pencil drafts of drawings on the table, finished projects and ideas taped on walls, and toys that are reminiscent of childhood memories. Hapimeel's studio is truly a collection of meaningful paraphernalia from past, present, and even future projects.



"Ako'y isang multidisciplinary artist. Anything from animation, illustration, to quilting and fiber art, and to automotive art din. So, from painting to street art…parang 'yun ang foundation ko talaga."
With street art as his foundation, Hapimeel indulges in exploring different mediums and ways to create art, allowing him to continuously grow as an artist and a person.
He started drawing as a kid, but the journey of Hapimeel began back in High School when he was having fun with his friends silkscreening and printing on t-shirts. And then upon taking Multimedia Arts at Mapúa University, he discovered Morales Street and met different artists from the Cavity Collective—beginning his venture into street art. A little ways down the road, he freelanced and worked at Gnarly. After this, he continued to paint, explore, and discover multiple ways to experiment with his art like building the Tactimeel and quilting.
"Nag-start talaga 'yung HAPIMEEL na parang clothing, trip lang namin mag-print ng High School friends [ko]. 'Tas noong first exhibit ko, gusto ko lang ma-apply 'yung silkscreen na hindi t-shirt," Hapimeel shares. 
"Naghanap ako ng mga tela na ni-repurpose ko 'yung fabric. Nag-silkscreen lang ako ng mga character ko. So, parang kahit anong blanket…minsan kahit punda ng unan. 'Yung meaning ng mga 'yun ay parang family picture. 'Yung mga tela ng kuya ko, ate ko, or higaan nila—parang ni-repurpose ko lang. Sinilkscreen ko lang tapos may heart [character]."
Through Hapimeel's stories, it's undeniable how passionate and enthusiastic he is about crafting. And this says a lot about him and the origin of the name HAPIMEEL.
"Inisip ko ano 'yung nagpapasaya sa akin before, noong kabataan ko, which is 'yung mga Happy Meal toys. Nag-start siya as t-shirt. After mga ilang years, 2017, nagsimula na rin kami mag-art toys…[parang] bumalik na siya sa core memory na kung ano nagpapasaya sa akin."



Hapimeel still remembers the voice that encouraged him to pursue arts. "Nakita ko 'yung isang magazine bago ako mag-college. Lumaki kasi ako sa Cavite City tapos parang wala naman talagang artist[s] doon. 'Yung nakita ko 'yung magazine na Juxtapoz, parang nabuhayan ako."
"Noong first time ko makita 'to [magazine] tapos nakita ko si Louie Cordero…nagulat lang ako kasi artist siya tapos Pinoy, nasa magazine. 'Tas sobrang gore ng gawa niya. Naisip ko na pwede pala 'yun, pwede pala 'yung mga doodles ko noong High School."
That's the time when Hapimeel decided to embrace himself as an artist. Along with the encouragement and support of his friends, Hapimeel continues to think of out-of-the-ordinary ideas and bring them to life. A true testament to low-brow art and surrealism. It's also obvious how grateful he is for his circle of friends. He shares how they inspire him to keep on going as an artist. "Sobrang wild palagi ng iniisip nila. 'Pag kasama ko sila, iba 'yung energy."
Hapimeel continues to tell how his friends are extremely supportive of him despite his doubts on pushing through with an idea, "Kunwari 'yung sa motor (Tactimeel), noong una iniisip ko: gawin ko kaya siya? Wala pa gumagawang mag-paint ng ganoon pero marami [akong] iniisip din. So, mga friends ko, [sabi nila]: Do it lang. Kung ano 'yung first thought mo, go lang."
He thinks that any artist should have these kinds of support, building up the courage to traverse different styles and mediums.
"Marami ka pang pwedeng gawin [bilang artist]. Limitless ang pagiging artist."
Hapimeel values the role of experiencing life and different mediums first before delving into the technicalities of making art. For him, the most difficult part is brewing the concept. "Parang 'yung execution is 20%. 'Yung concept and experience ay 80%," Hapimeel says. "Masasaulo mo sarili mo 'pag na-eexperience mo ang mga bagay-bagay…mag-grogrow ka."
He also shared experiences and core memories that inspired some of his artworks and contributed to his growth as an artist. Like his trips to Divisoria with friends in his car or painting larger-than-life graffiti; breaking his own records as a street artist. He said that you'll get a lot of insights and advice from the people you meet and the stories they impart to you along the way, especially on the streets. "Actually, 'yun ang the best feeling [sa street art]. Kahit random people [lumalapit]. Nakakatuwa, iba-iba reaction."
"Ginawa ko lang 'yun [character] kasi may isang wall sa may Bacoor, gusto ko lang sana maging positive ['yung environment] kasi nga sobrang traffic doon. So, nagpaint ako doon para may positive character looking na na-rerelax ka lang after ng traffic. Doon siya nabuo. Si HapiHeart."
Whenever Hapimeel releases art, he looks forward to different interpretations from those who view his work. "Para sa akin 'yun nga ang kagandahan ng surrealism," Hapimeel says. One art piece can have a multitude of meanings, resonances, and translations from person to person.

It's impossible not to notice the hashtags on Hapimeel's socials: #EndlessDisconnect and #EndlessDisco. These words have meanings more than what meets the eye. During the time when Hapimeel's sister passed away, he started to embrace the ephemeral connection of everyone and everything.
"So ngayon, Endless Disco [Endless Disconnect], parang enjoyin mo na lang yung time niyo sa isa't isa kasi soon mag-didisconnect din kayo. Enjoyin niyo yung time na magkasama kayo."
He incorporates this belief into his life and work. That is what makes his creations more alluring. Hapimeel also hopes that one day, the appreciation for low-brow artwork and surrealist artists like him would flourish. And this is the reason why he keeps on going and creating.
Artists like Doktor Karayom or Dex Fernandez a.k.a Garapata are some of the inspirations that motivate Hapimeel to continue his passion. Whenever an artist puts their work out there, it makes a collective ripple effect that is unfathomably amazing for the community.
"'Yun ang nag-pupush din sa akin…may magsasabing ang pangit ng gawa mo, pero may tao rin na matutuwa sa gawa mo. Kahit ano pa 'yan." Hapimeel wholeheartedly says.
He also encourages aspiring artists to continue being inspired and reach out. "Gawin niyo lang [ang] ginagawa niyo. Kausapin niyo rin 'yung artist na idol niyo…malay niyo mabait, wala naman mawawala."
Hapimeel says that his inbox is open to anyone who wants to talk to him about his art as he started out the same way with his role models. "Kunwari ako, finofollow niyo ako tapos may tanong kayo. I-pm niyo lang ako. Kasi para sa akin, mahalaga na nabubuhay 'yung culture natin. Pasahan lang naman 'to."
Diving into his whimsical universe, Hapimeel is genuinely someone who inspires anyone to relive their childlike wonder in a different light, revisit the memories they are most fond of, and reignite the spark that makes them want to create art.
Check out Hapimeel on Instagram, Facebook, TikTok, and his website to be updated on collaborations and shows.
Follow CLAVEL on Facebook, Instagram, Twitter, and TikTok for news, culture, and more.