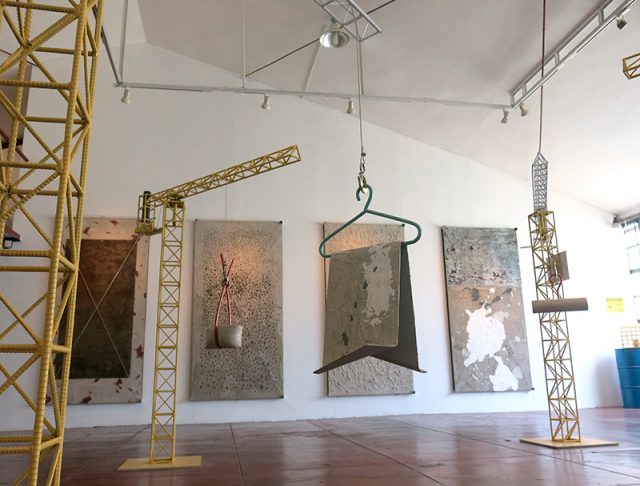 Vinyl on Vinyl is currently hosting the exhibits of 3 artists: Van Tuico, Jeffrey Jay Varin, and Tano Panaligan. Each with a message they relay through their chosen unconventional media. Read up on each artist's gallery below.
The exhibit has been open since April 19, its run ends on May 8, Monday.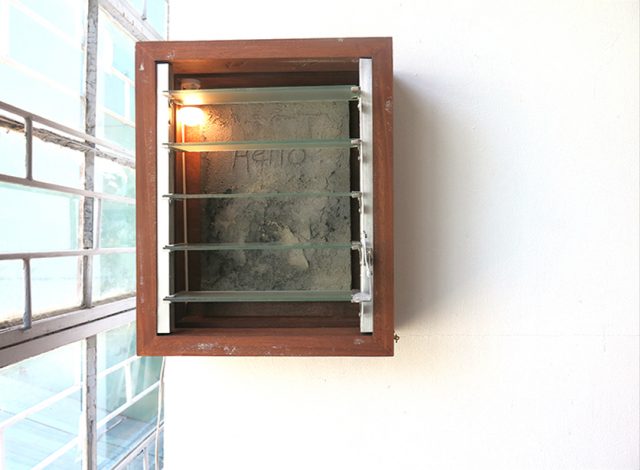 UNDER CONSTRUCTION
Van Tuico
Aside from acrylic, objects like metal and wood add character to Van Tuico's piece. Cement as a medium represents raw texture and builds the composition of the painting. The use of materials such as metal and cement play a vital part in his composition. He uses stainless steel because of its rigidity and strength as a metal, symbolizing the strength in character he gets from overcoming trials his my life. Using cement as a material interests him because of its raw form. The mixing of this material and the forming of it into an object fascinates him quite greatly. The application of cement brings beautiful surprises along the way. It is a personal reminder that committing mistakes is all part of the learning process.
DITO KITA IIWAN (THIS IS WHERE I LEAVE YOU)
Jeffrey Jay Jarin
In "Dito Kita Iiwan," Jeffrey Jay Jarin returns to the characters of his previous works: unseen organisms lurking around and plants still bound by pots (or uprooted from its pot) within a concrete space. Amid the lifeless space, absence of man is the most natural thing.
 The artist presents his characters in a state of vulnerability. Unlike his previous works, his latest works acknowledge the fluctuations of life: a philodendron whose leaf edges are turning brown and an uprooted fig. It's not a question of intention as the artist left the plants to both grow and wither on their own.
ANOMALOUS GENERATION
Tano Panaligan
They began to piece themselves together, start from scratch. Start anew. Humans are good at it. After all we have been broken time and time again, and whoever we were once piece by piece was replaced and renewed, until nothing remains but a new man. The changes may seem outlandish, but is not that the point of change? A bringer of new ages? A catalyst to a new renaissance? The moulting, the shedding of one's old self to reveal the majesty of a new, better being forged by the fires of adversity and suffering, tempered stronger than it ever was? Eventually as humans continued stitching themselves back together, enlightenment continually seeped through from the shadows of their wretched form- a new path paved from the entrails and blood they have sewn into their flesh, but not towards the state of decay but towards the state of being. This is a new age; and as the great human species there is no other way to go but march forward, into battle, into time unknown.
UPCOMING EXHIBITS
May 11, 2017
Vinyl on Vinyl
2135 Warehouse II – Chino Roces Ave. – Makati
[email protected]gallery.com
[email protected]
Related Posts